3 Candidates for NFL Offensive Rookie of the Year
In retrospect, the 2016 NFL Draft was top-heavy. A few picks showed superstar potential far beyond those of the faceless masses. Legitimate competition for the NFL Offensive Rookie of the Year award has already degenerated into a three-horse race well before the midpoint of the season. With this elite group, the NFL Offensive Rookie of the Year may come down to opportunities to shine through touches.
Quarterbacks and running backs took five of the last seven Offensive Rookie of the Year awards, with Odell Beckham, Jr. (2014) and Percy Harvin (2009) serving as the lone exemptions. Last year, Todd Gurley literally ran away with the award, after racking up 1,106 rushing yards through only 12 starts. For the following three special players, the 2016 NFL Offensive Rookie of the Year award will likely signal bigger and better things ahead on the road to Super Bowl glory and the Pro Football Hall of Fame.
3. Dak Prescott
Supportive, if not outright delusional Dallas Cowboy fans already anoint Dak Prescott as the second coming of Tom Brady. Like Brady, Prescott was an overlooked prospect who went in the later rounds of his draft. After being taken in the sixth and fourth rounds, respectively, both Brady and Prescott were shoved into the starting lineup after the incumbent starter took a shot and landed on the injured reserve list. Brady, of course, went on to rack up 58,434 yards, 431 touchdowns, and four Super Bowls to his credit. Even Prescott himself admits that Dallas is still Tony Romo's team.
Opposing coaches already mistakenly assumed Prescott was merely a mobile quarterback. They thought Jason Garrett and the Dallas offense would run a limited playbook through the rookie. Prescott, however, has already emerged as one of the more accurate passers in the league, repeatedly torching defensive coordinators who stack the box and dare him to throw. He has completed 69% of his passes for 1,239 yards and four touchdowns through five starts. Perhaps most important is the fact that he has thrown 155 passes without an interception.
Like a poised veteran, Prescott is especially good at reading defenses, going through his progressions, and hitting the open man. He will make quick decisions out of three- and five-step drops and has come to rely upon backs, tight ends, and slot receivers working underneath routes to methodically work his way downfield. As a last resort, Prescott will take off and run; he has picked up 61 yards and three touchdowns on the ground through this short season. With the Cowboys at 4-1, he looks like the future face of the franchise.
The Cowboys have unwittingly backed themselves into a quarterback controversy, with 35-year-old Romo looking on from the sidelines. For his part, Romo has also passed for 34,154 yards and 247 career touchdowns after literally coming from nowhere (Eastern Illinois). At one point, Romo had the "it" factor, while an aging Drew Bledsoe was put to pasture. Romo has already been scheduled to return in Week 8 for a home game against division rival Philadelphia. Still, Prescott will be ready if — or when — the brittle Romo takes another hard hit behind the line of scrimmage and ends up writhing in pain on the field turf again.
2. Carson Wentz
The Philadelphia Eagles rolled the dice and bet the farm on Carson Wentz, trading three 2016 picks, one first-rounder in 2017, and one second-round pick in 2018 to Cleveland in order to move up in the latest draft. Then, they drafted Wentz with the second overall pick in 2016, right before shipping Sam Bradford to Minnesota. Wentz was an unknown commodity despite winning five straight FCS National Championships out of North Dakota State. Many analysts even suggested that Cleveland won the trade, with RG3 ready to break loose at QB. Wentz, however, immediately came out with guns blazing.
As the Day One starter, Wentz went an efficient 22-for-37 for 278 yards and two touchdowns in a 29-10 blowout win over the same hapless Browns that passed him up in the draft. Robert Griffin III threw one pick and took three sacks, with Cleveland already looking forward to their next answer at quarterback. For Week 3, Wentz went over the top with 301 yards and two touchdowns for a 34-3 statement win over the Pittsburgh Steelers.
In all, he has completed 67% of his passes for 1,007 yards and seven touchdowns. As the total package, Wentz is the prototypical combination of size and understated athleticism at quarterback; one who will keep plays alive while surveying the entirety of the field. Beyond the physical, he impressed Eagles scouts most with his poised leadership and photographic recall for football concepts. Wentz will only improve as the season wears on and he grows more familiar with exotic looks and blitz packages.
If the Philadelphia Eagles make the playoffs, Wentz will further solidify his case for NFL Offensive Rookie of The Year. Right now, the Eagles are 3-1 and first in the NFC East, with Wentz taking his shots downfield, instead of simply riding his defense and handing off the football as a rookie game manager. Expect him to close out this season with more than 4,000 yards and 30 touchdowns to his credit. In any other year, this type of production would automatically bring home the NFL Offensive Rookie of the Year award. For 2016–17, however, Wentz is more of a dark-horse candidate; he needs two hot-shot Dallas rookies to split votes in order to move into position.
1. Ezekiel Elliott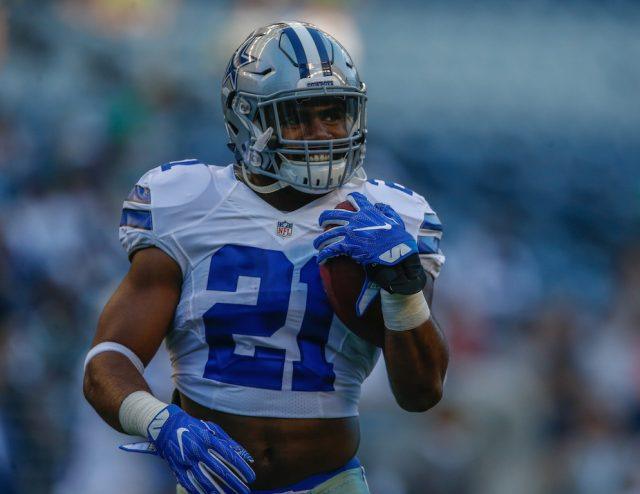 The Dallas Cowboys took Ohio State running back Ezekiel Elliott with the fourth overall pick in the 2016 NFL Draft. As a Buckeye, he ran roughshod over the competition for 3,961 yards and 43 touchdowns on the ground, after only two seasons as the full-time starter. On draft night, Elliott walked across the stage in a crop top to meet Roger Goodell. Cowboy fans then immediately cycled through images of this rookie bursting through gaping holes at the line of scrimmage and bowling over defensive backs at the point of attack.
The Dallas Cowboys do field the best offensive line in football, with Tyron Smith, Travis Frederick, and Zack Martin as perennial Pro Bowlers. Last August, Elliott announced himself to the NFL, when he lowered the boom on Kam Chancellor and the Legion of Boom in Seattle. Zeke bounced the football to his right, cut back inside, and plowed through Chancellor to pick up five more yards to finish off the run. From there, Elliott improved every week. In Week 5, he came off an awesome 15-carry, 134-yard, and two-touchdown performance at home against the Bengals.
With time, Elliott has learned to set up his blocks and weave his way through traffic at the professional level. As a rookie, the coaching staff members trust him to stay on the field as a complete back who can also check blitzing linebackers before releasing out into the flat as an outlet receiver. Elliott does have 546 yards and five touchdowns to his credit through five regular-season games. He is projected to run away with the league rushing title. He may even threaten Eric Dickerson's rookie rushing record of 1,808 yards.
For the sake of comparison, the legendary Emmitt Smith bullied his way for 937 yards as a rookie in 1990. Certainly, the NFL should notice that Elliott may emerge as a bigger, faster version of football's all-time rushing leader. It seems like only yesterday that the talking heads exploded after video surveillance caught Elliott strolling through a marijuana dispensary.
Statistics courtesy of ESPN and Pro-Football-Reference.