Cardinals 18, Chargers 17: 3 Things to Know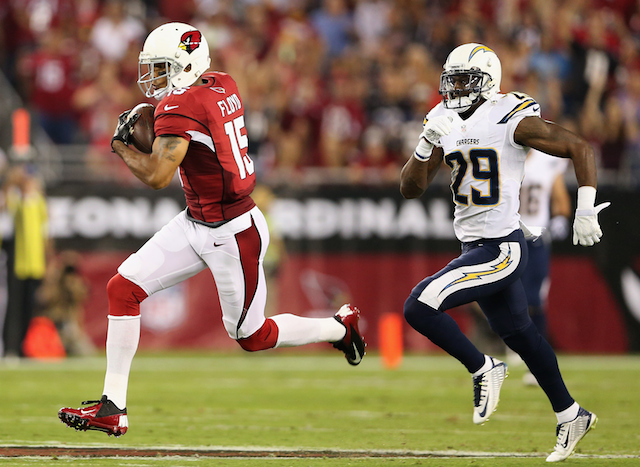 The Arizona Cardinals rallied from a 17-6 fourth-quarter deficit to edge the San Diego Chargers, 18-17, for a season-opening win on Monday Night Football. The game was the only one of 16 NFL Week 1 contests to be decided by a single point.
While neither team will get many style points after a struggle that could honestly be described as difficult to watch at times, Cardinals coach Bruce Arians said it best: "It wasn't the prettiest game, but a win is a win."
Here are three things we learned from Cardinals 18, Chargers 17.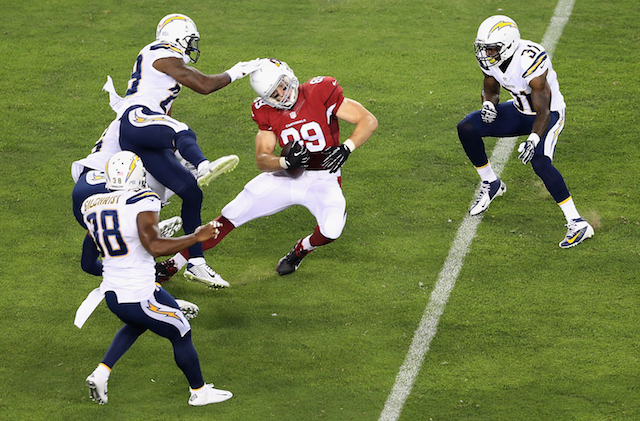 It took a while for either offense to get untracked
The halftime score — San Diego 6, Arizona 3 — looked more like an NL West baseball matchup between the Padres and Diamondbacks than a Monday Night Football game. Points were at a premium, and big plays were practically non-existent. "It was going to be that type of game," Arians said. "It's not like we're going to go out and just throw for 500 yards. We're not that good, and a team like that — that's a playoff team. But we did good enough to win."
"It's not like you draw it up, but it wouldn't be an NFL game without a little adversity," offensive lineman Lyle Sendlein told AZCardinals.com.
And while even the winning team's offense sputtered for the first 45-plus minutes, Arizona was able to finally put together two straight long scoring drives for fourth-quarter touchdowns to come out on top.
"It was a dogfight — we knew it was going to be," said Cardinals quarterback Carson Palmer. "We're very fortunate to fight that hard and get what we got in the fourth quarter out of our offense and our defense."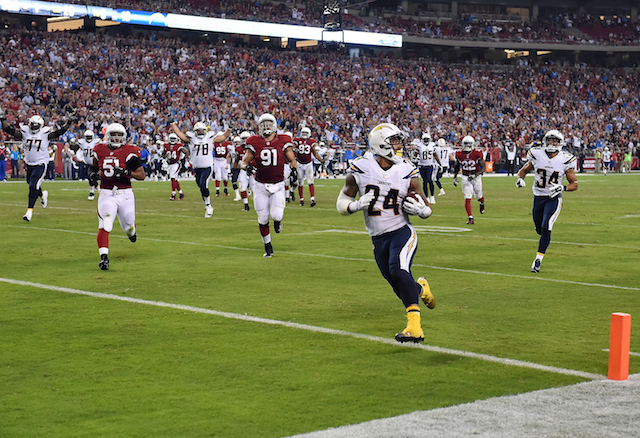 Actually, the Chargers' offense never really did (get going)
Even though San Diego was in position to escape with a key road win, leading 17-6 as Monday's game headed to the fourth quarter, the Chargers never looked in sync offensively. Quarterback Philip Rivers' numbers didn't end up all that bad (21-36 passing for 238 yards), but the Chargers will get on the airplane back to Southern California knowing they left some points on the field. And with the razor-thin margin of defeat, that will sting for at least a few days.
Most notably, San Diego had a chance to extend a 17-12 lead midway through the fourth quarter when a fumbled shotgun snap pushed the Chargers out of field goal range. Coach Mike McCoy was less than pleased: "I saw it on the big screen like everyone else saw it in the game. No excuses. It can't happen in that situation. That was a killer for us."
Arizona held the visitors to a paltry 2.2 yards per rushing attempt (52 yards on 24 carries); give credit to a unit that led the league in rush defense a year ago for picking up right where it left off. "It was a great team win," Cardinals cornerback Patrick Peterson said. "The defense played well, especially in the fourth quarter."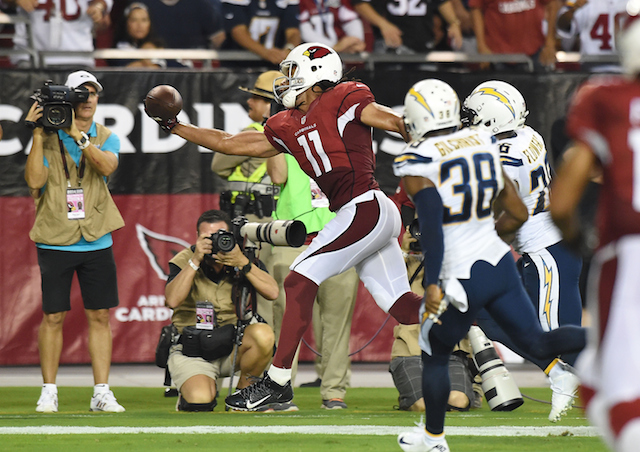 Larry Fitzgerald is (basically) missing in action
Where in the world is Larry Fitzgerald? One of the best players in franchise history was nearly invisible Monday night, as time and time again, quarterback Carson Palmer kept exploring every option on the field not wearing No. 11. Fitzgerald finished with a grand total of one catch, which didn't come until the fourth quarter. Obviously, the Chargers' defensive game plan was focused on not letting Fitz beat them, but still, is it too much to ask for catches (plural) from a team's most valuable and dangerous weapon?
Fitzgerald's relative no-show — whether you place the blame on the receiver, the quarterback, or the coach — stood out like a sore thumb in contrast to similarly talented Calvin Johnson, who put on a show in the earlier portion of Monday's nationally televised doubleheader. Johnson caught seven times as many passes as Fitzgerald, despite our assumption that the Giants were every bit as aware of Megatron's game-changing talents as the Chargers were of Fitzgerald's.
Palmer said the team was determined not to force the ball to its star if he wasn't open. "You want to get him involved, but it can bite you in the butt," he explained. "We weren't going to do that tonight."
On the bright side, Fitzgerald's one catch did extend his streak of games with a reception to 150. It remains to be seen if the combination of Fitzgerald, Palmer, and Arians can figure out how to keep that streak alive going forward. The guess here is that an involved Fitzgerald will help solve some of the offensive woes the largely punchless Cardinals displayed in Quarters 1, 2, and 3 before finally rallying to escape with the 1-point win.