NFL: Why the Cardinals Chandler Jones is a Dark Horse to Win Defensive Player of the Year
Arizona Cardinals outside linebacker Chandler Jones is one of the best pass rushers in the NFL. Yet somehow, he finds himself regularly excluded from official recognition of that simple fact.

His consistent performance through 2019, his eighth year in the NFL, must be reckoned with. Even many Cards fans are more concerned with following rookie quarterback Kyler Murray's development. But the underrated story in Arizona is Jones' ability to rack up freakish sacking totals by season's end, year after year.

Chandler Jones' epic four-sack performance against the Giants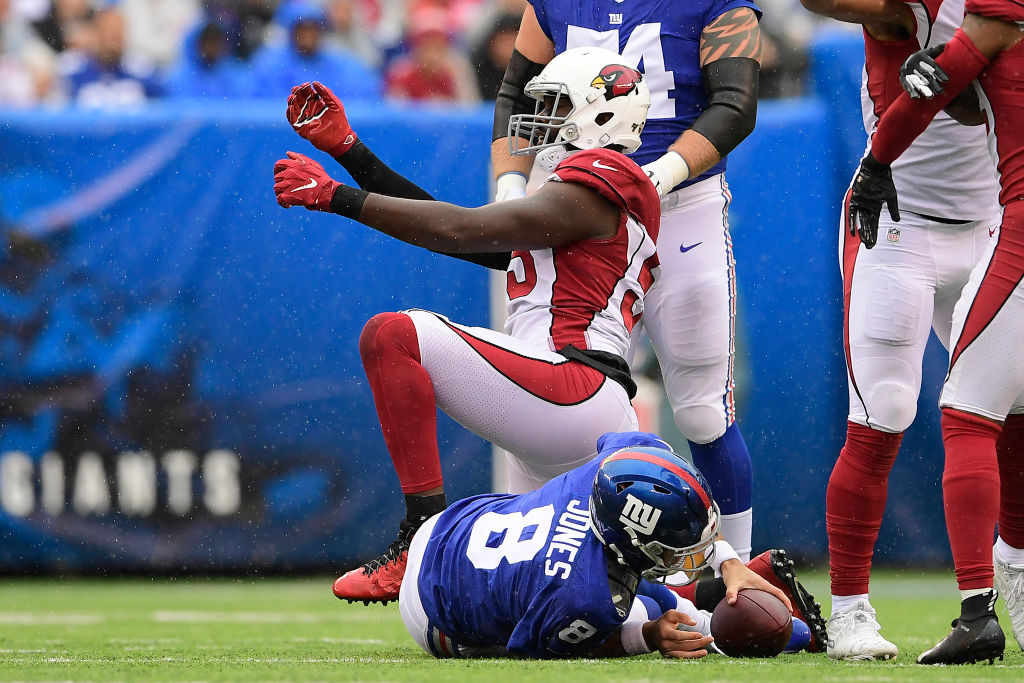 When you have a game like Chandler Jones did in a 27-21 barn burner against the New York Giants, words like "underrated" almost seem disrespectful.

The game started steadily. Arizona led 17-0 early, but the Giants roared back. At 17-14 in the third quarter, Jones leaned hard on his athleticism to keep his team's lead in place. New York tight end Evan Engram got the unfortunate task of trying to block Chandler. It didn't work.

Giants QB Daniel Jones noticed potential receiver Saquon Barkley wasn't open just yet. He hesitated for a moment. Chandler Jones rolled through Engram so hard, one might forget he is an accomplished NFL defender. Daniel Jones' minor pause turned into a nasty sack, a pivotal moment in keeping the Cardinals in the game.

That was the most important sack of eight total tallied against the Giants. And half of those sacks were the work of just one player: Chandler Jones. His performance netted him a well-deserved nod as the Defensive Player of the Week. But that wasn't a rare flash of greatness from a decent player. Jones has a long history of battering his way towards game-changing sacks and making consistent hard-nosed defensive decisions.

Chandler Jones' long history as a one-man wrecking crew
The Cardinals earned some well-deserved praise for getting their hands on then-Patriot Chandler Jones. That was a year before Jones made history with a league-leading 17 sacks in 2017. At the time, the Cards already had a strong defense. Adding Jones was intended to be the icing on the cake. He gave them that and more.

Jones only led the league in that year, but if you consider his performance across three complete seasons in Arizona, his skill is obvious. Considering how pivotal sacks are in turning the tide of a game, totaling 41 across his first three seasons is a massive achievement. That's just one player, regularly swinging the momentum week after week.

Those numbers aren't the whole story, either. The Cardinals heavily shifted their defensive programs during Jones' time there. Under two distinct approaches, Jones adjusted quickly and kept on breaking through offensive lines to rush the passer. He is a talent that the league should recognize when attempting to assign an objective value to a great defender.

How a seemingly obvious defensive MVP gets ignored
Regardless of the team, or the defensive program, Chandler Jones always delivers. So how does a player so good — who appears to be improving, even — manage to get ignored?

Mainly, he isn't always number one. Even during his NFL-leading seasons, other players often take the spotlight week to week. Chandler's consistency makes him valuable over a full season, not always in a single explosive series of plays like he had against the Giants.

Then there's the unfortunate fact that great players on middling teams never get a fair shake. Consider Mike Trout over in the MLB. If you're primarily an NFL fan, you might not know that Trout is possibly the greatest living baseball player. He should be the Michael Jordan of baseball. Unfortunately, he's on the Los Angeles Angels, a losing fourth-place team.

Those factors make Jones a dark horse candidate for Defensive Player of the Year. It's an honor he deserves nonetheless. If he can pull another eye-popping performance out of his hat as he did against the Giants, he might catch enough notice to get the nod.