The Cardinals Just Delivered a Massive Weapon to Kyler Murray Which Puts Him in the Perfect Position to Win MVP
Following an up-and-down 2020 campaign, Kyler Murray and the Arizona Cardinals have emerged as legitimate contenders in 2021.
They're 5-0 through the first five weeks of the season — the final undefeated team remaining in the NFL.
While the Cardinals' explosion of success can be attributed to a handful of different factors, Murray's ascension into an MVP-caliber player surely ranks above the rest. He's been fantastic during the team's five wins, both in the air and on the ground.
Kyler Murray is playing like a real MVP candidate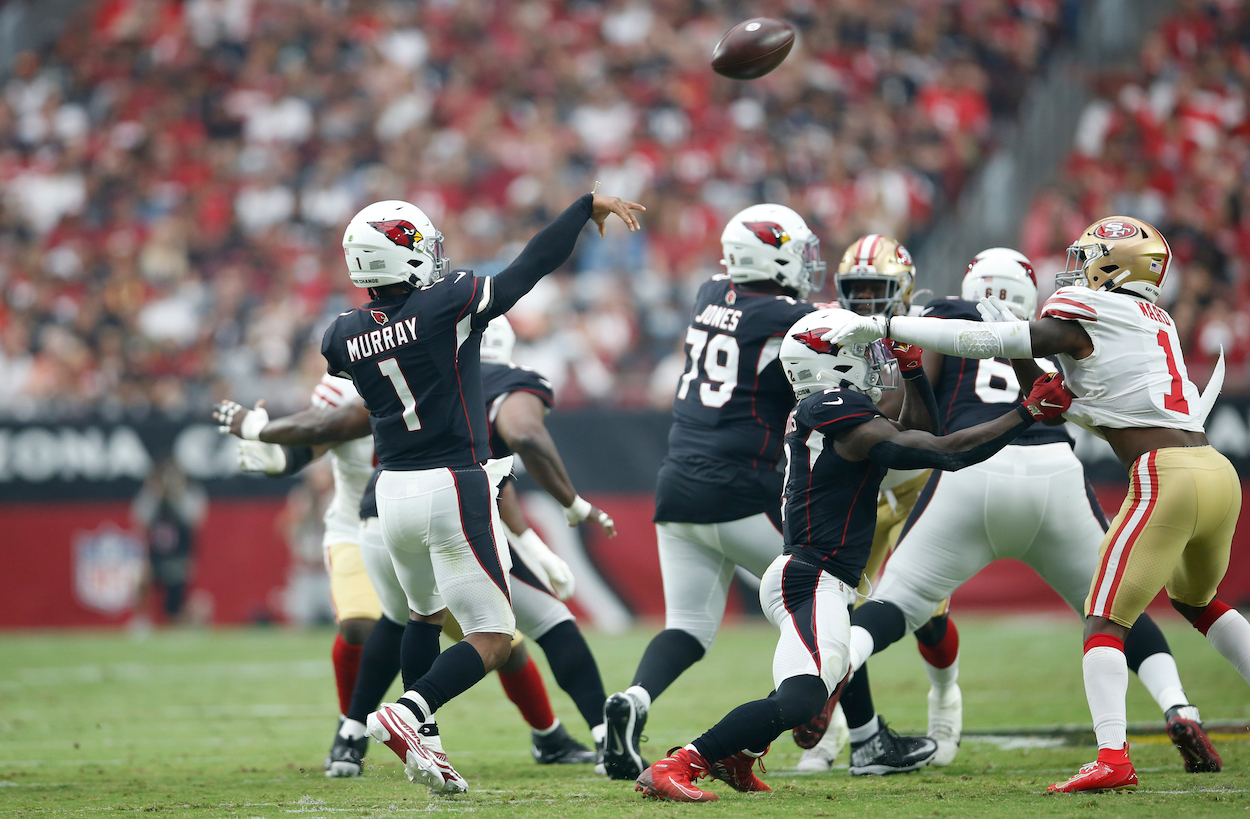 Murray did a good job stuffing the stat sheets during his first two seasons with the Cardinals. However, this year we see a much more refined version of the former No. 1 overall pick.
He leads the league in completion percentage at 75.2%, and his touchdown percentage has skyrocketed from 4.7% in 2020 to 6.1% in 2021. Murray is also averaging a career-best 302.4 passing yards per game, and his passer rating sits toward the top of the NFL at 113.0.
Needless to say, Murray has impressed at every step of the way this year. His connection with WR Deandre Hopkins is getting better by the week, and he's seemingly gotten on the same page as head coach Kliff Kingsbury. It's been nothing but smooth sailing for Arizona thus far, and things are only going to get better following a savvy move by the front office.
The Cardinals landed star tight end Zach Ertz
Following reports that tight end Maxx Williams will miss the rest of the year with a knee injury, there was an expectation that Arizona would be making a move for a new TE sooner than later.
Even sat at 5-0, the Cardinals needed to stay aggressive to keep things rolling in the right direction. The worst thing the Arizona front office could do is rest on their early success, avoiding opportunities to improve the roster.
Three-time Pro Bowler Zach Ertz has been a popular trade market name for over a year now, and the Philadelphia Eagles finally decided to part with him following a rough start to their own respective season. The Cardinals swooped in at the perfect time, providing Murray with a shiny new pass-catcher for the measly cost of a fifth-round pick and rookie CB Tay Gowan.
What does Ertz provide to Murray and the Cardinals?
Ertz hasn't looked like his usual self the past season and a half (largely due to the Eagles' general dysfunction). However, this is a major acquisition for Murray and the Cardinals.
Ertz is a three-time Pro Bowler and Super Bowl champion. He averaged just under 1,000 receiving yards per season between 2017 and 2019 and is largely considered one of the better pass-catching tight ends in NFL history. While it seems like Ertz has been in the league forever, he's also just 30 years old.
He should have plenty more gas in the tank to help lead Arizona to a deep playoff run.
For Murray, this gives him one more elite target to throw to. Between Hopkins, Ertz, and offseason addition A.J. Green, Murray is firmly positioned to continue his passing excellence, keeping him in the MVP conversation.
It's a home run acquisition for everyone involved. The Cardinals fill their need for a TE1, Ertz gets a fresh start, and Murray gets another weapon in his arsenal. Arizona gets an "A+" grade on this trade.
All stats courtesy of Pro Football Reference.
RELATED: The Eagles Need to Admit an Embarrassing Offseason Mistake and Cut Ties With a Grossly Overpaid Veteran