The Cardinals Just Extended Kliff Kingsbury and Alienated Kyler Murray
The Arizona Cardinals have been in the news quite a bit over the past few weeks. Whether it's Kyler Murray publicly demanding a contract extension or questions about the job security of head coach Kliff Kingsbury, Arizona has been engulfed in controversy since their premature exit in the 2021 NFL playoffs.
However, following the latest report out of Arizona, it appears we're getting some much-needed clarity on the direction of the Cardinals organization. Clarity that could prove troublesome for the already disgruntled Murray.
The Cardinals just extended GM Steve Keim and HC Kliff KIngsbury
All the focus has been on Murray and his ongoing contract status over the past few weeks. However, it was two separate pillars of Cardinals' leadership who got new paydays. According to NFL insider Ian Rapoport, Arizona just extended general manager Steve Keim and head coach Kliff Kingsbury.
To anyone who has been following the Cardinals over the past two years, this is a shocking development. While Keim and Kingsbury did lead Arizona to the postseason in 2021 (the first time since 2015), the team's performance down the stretch has been disappointing in back-to-back years. They choked away the No. 1 seed in 2021 after starting the year 7-0 and went on a terrible run of form in 2020, which cost them a playoff spot.
Seeing as the Cardinals were creamed by the Los Angeles Rams in the wild card round this past postseason, many felt a change was bound to occur in Arizona. Instead, two individuals responsible for the Cardinals' struggles are being rewarded with massive contract extensions.
What does this mean for quarterback Kyler Murray?
The question on everyone's tongue right now is, what does this mean for Kyler Murray? The 2019 No. 1 overall pick was demanding an extension of his own no less than 24 hours ago and is now on the outside looking in when it comes to the future of the Cardinals organization.
Granted, Murray and Kingsbury share an agent, which could bode well for his chances of receiving a lucrative extension himself. However, just last week, it seemed impossible that Arizona would commit to all three of their GM, HC, and QB for the future. Now we're supposed to believe everything is peachy. We're supposed to believe all three parties are happy to continue working together for the next half-decade.
That feels unlikely.
The Cardinals would be foolish to tie themselves to Kyler Murray, Kliff Kingsbury, and Steve Reim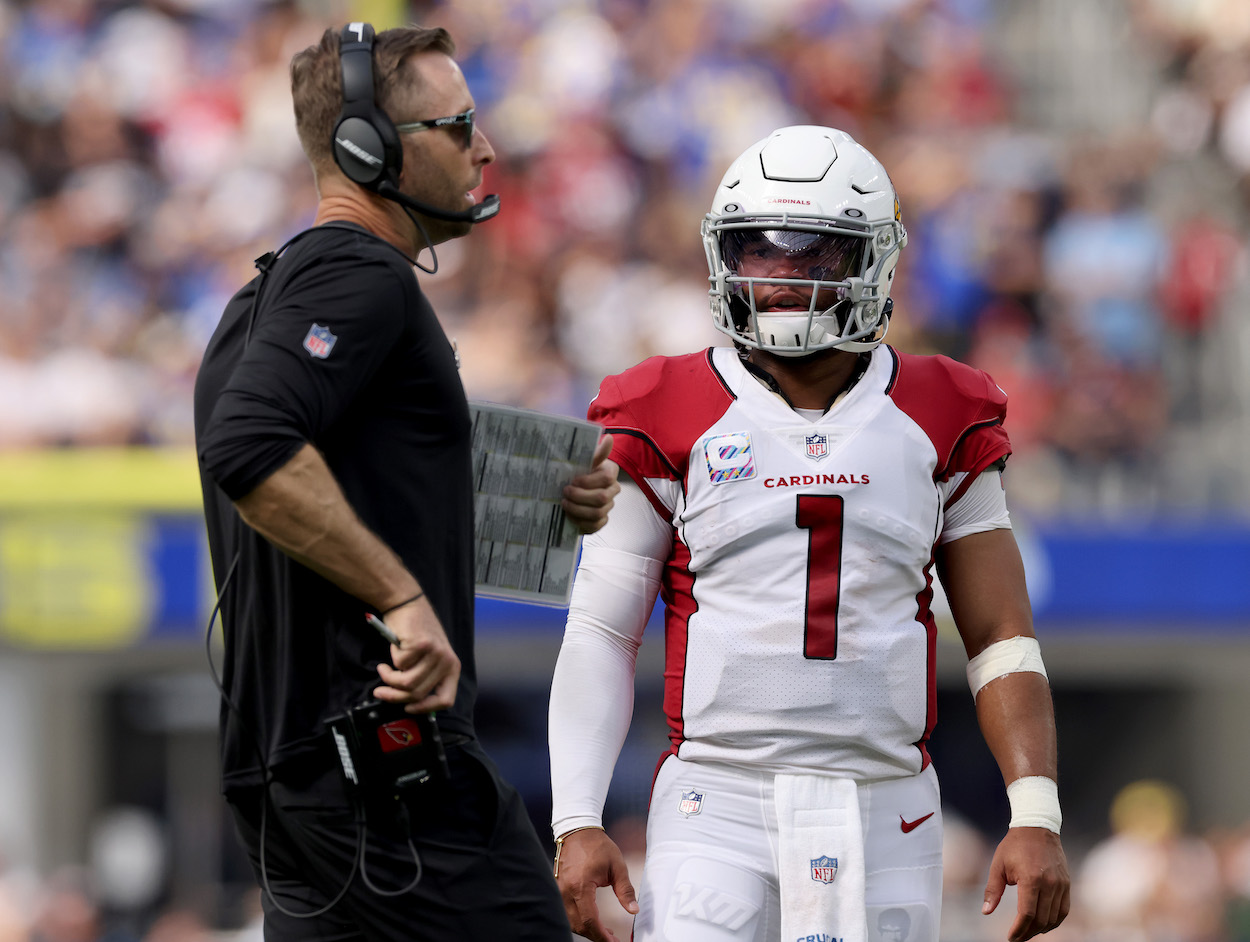 Arizona making the postseason in 2021 was a step in the right direction. However, the unfortunate reality is that this trio of Murray, Kingsbury, and Reim isn't working the way it was supposed to.
Since this trio came to fruition in 2019, two of their division rivals have been to the Super Bowl (one of them even won it). The Cardinals have been to the postseason once and were embarrassed so bad that Murray was asking to be subbed out at the end of the game.
No matter how you slice it, this is not a trio that deserves another five years to figure things out.
So, what does that mean? Does this mean Murray is the odd man out, seeing as Reim and Kingsbury have already been extended? Or are the Cardinals seriously willing to fork over $40-plus million per season to retain Murray for the future?
Additionally, Murray could be so frustrated at being paid last that he forces his way out of Arizona via a formal trade request.
Either way, it's hard to imagine these decisions paying off for Arizona in the long term. They have an average GM, an average HC, and a frustrated QB who's yet to win a playoff game. Good luck.
Like Sportscasting on Facebook. Follow us on Twitter @sportscasting19.
RELATED: NFL Free Agency: Ranking the 3 Players the Arizona Cardinals Must Target