NFL: Cardinals Coach Kliff Kingsbury is Flat-Out Lying About Kyler Murray Now
Having the No. 1 pick in the NFL draft can help a team improve quickly if it makes a good selection, especially if a quarterback is the choice. When the Cardinals used the top overall pick in this year's draft on QB Kyler Murray — and subsequently traded 2018 first-round QB Josh Rosen — it appeared that they were going all-in on the Oklahoma alum. But head coach Kliff Kingsbury seems like he's trying to paint a different picture about the team's plans.

Pre-draft drama
The Cardinals traded up for the No. 10 pick in 2018's draft and used it on Rosen, but he delivered an underwhelming performance in his rookie season as the Cardinals finished a league-worst 3-13. As the draft drew closer, grew that the Cardinals planned to open the draft by taking Murray. But with last year's 10th pick on the roster, people wondered what the Cardinals would do with Rosen if they decided to draft Murray because teams typically don't give up on a first-round quarterback after just one season in the league.

The drama ends quickly on draft day
When the draft started, the Cardinals wasted little time taking Kyler Murray with the top pick. Rosen was still on the roster at that point, but adding Murray immediately rendered him expendable. The Cardinals solved that problem the next day when they traded Rosen to the quarterback-needy Dolphins in exchange for a second-round pick in this year's draft and a fifth-rounder next year. That appeared to solve the Cardinals' dilemma about what to do at the quarterback position in 2019 and beyond.

Kingsbury: "We'll see" who the starting quarterback is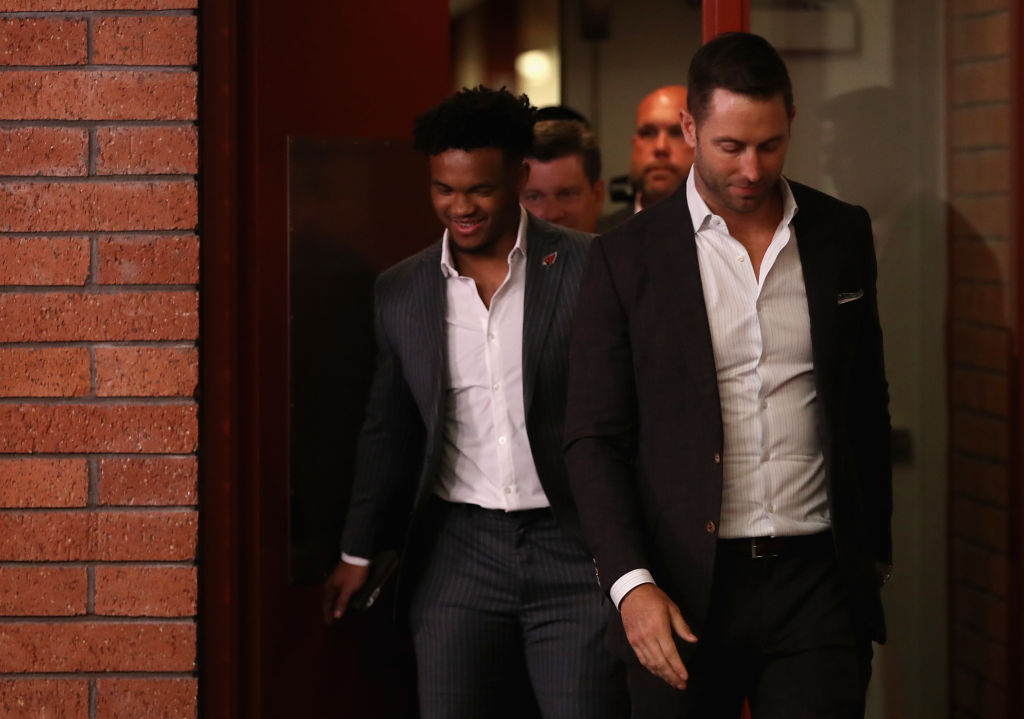 About a week after the Cardinals drafted Kyler Murray, Kingsbury went on "The Jim Rome Show" and explained that the team made that pick because Murray has "too great a skill set to pass up." With such a good skill set, you would think the first-year coach would be excited to name Murray the starter for the team's Week 1 home game against the Lions. But that may not be the case.

Later in the Rome interview, when discussing who would start at quarterback when the season begins, Kingsbury said, "we'll see. We're still working through all those things. We have Brett Hundley here who we're very excited about."

Kyler Murray vs. Brett Hundley
Kingsbury is right that the Cardinals have Brett Hundley, but that doesn't mean the Cardinals should be starting him. To date, he has spent his career as Aaron Rodgers' backup with the Packers. He has played 15 games in his career, including nine starts in 2017. Hundley completes nearly 61% of his passes, but that is pretty much where his decent stats end. He has thrown for 1,836 yards, or 204 yards per start, with nine touchdowns and 12 interceptions.

Murray obviously hasn't taken a snap in the NFL yet, but he put up bewildering numbers in his only season as a full-time starter at Oklahoma in 2018. He completed 69% of his passes, for 4,361 yards and 42 touchdowns with just seven interceptions. Those stats may be inflated because the Big 12 is known for its offense, but Murray played good enough to win the Heisman Trophy last season.

It may take a few games for Murray to adjust to playing against NFL defenses, so he may get off to a slow start, but that would happen whether he plays this season or sits a year and becomes the starter in 2020. One advantage to making him the starter this season is that he will have veteran WR Larry Fitzgerald to throw to. There's a good chance that the 35-year-old Fitzgerald will retire after this season and won't be on the field for Murray to use as a security blanket in 2020.