The Cardinals Are Likely Receiving a Massive, J.J. Watt-Sized Boost This Weekend Against the Rams
After starting the season as one of the hottest teams in the NFL, the Arizona Cardinals somewhat surprisingly limped to their place in the NFC playoff picture. They lost four of their final five games, leaving a sour taste in everyone's mouth heading into the postseason.
To make matters even more stressful for the Cardinals, they have a first-round matchup with the Los Angeles Rams, in LA. The last time these two sides met, the Rams walked away victorious 30-23.
The Cardinals are facing a ton of pressure this postseason
The Cardinals are a young and exciting team that's been trending in the right direction for several years now. Drafting Kyler Murray No. 1 overall was a big success; landing WR DeAndre Hopkins via trade was another one, and head coach Kliff Kingsbury is finally starting to find his groove as an NFL play-caller.
However, that doesn't mean they're not collectively facing a significant amount of pressure this postseason. The time to start drawing up Murray's first contract extension is right around the corner, and Kingsbury's seat was getting a tad warm before his 11-win season.
A first-round exit to the division rival LA Rams would cast extreme doubt on the Cardinals' core moving forward. If it's an especially ugly loss, ownership might start to get antsy and consider in-house change in the process.
The Cardinals are likely getting J.J. Watt back this weekend
The good news for Arizona is that it's likely getting back one of its more critical pieces this weekend. The Cardinals signed future Hall of Fame edge rusher J.J. Watt this past offseason with the hopes of adding him to a defensive line that already included Chandler Jones. Unfortunately, Watt only played in seven games before going down with a shoulder injury, effectively ending his season.
However, in typical J.J. Watt fashion, the veteran defensive end is attempting to return in record time to give the Cardinals a boost this postseason. He's been practicing all week long, with current reports signaling he is "trending toward playing" against the Rams.
Obviously, this would be a significant boost for Arizona, even if Watt can only sub in for a couple of crucial pass-rushing downs. His presence on the field is enough to cause LA to alter their plans from a play-calling perspective.
Will J.J. Watt be enough to guide Arizona to a deep playoff run?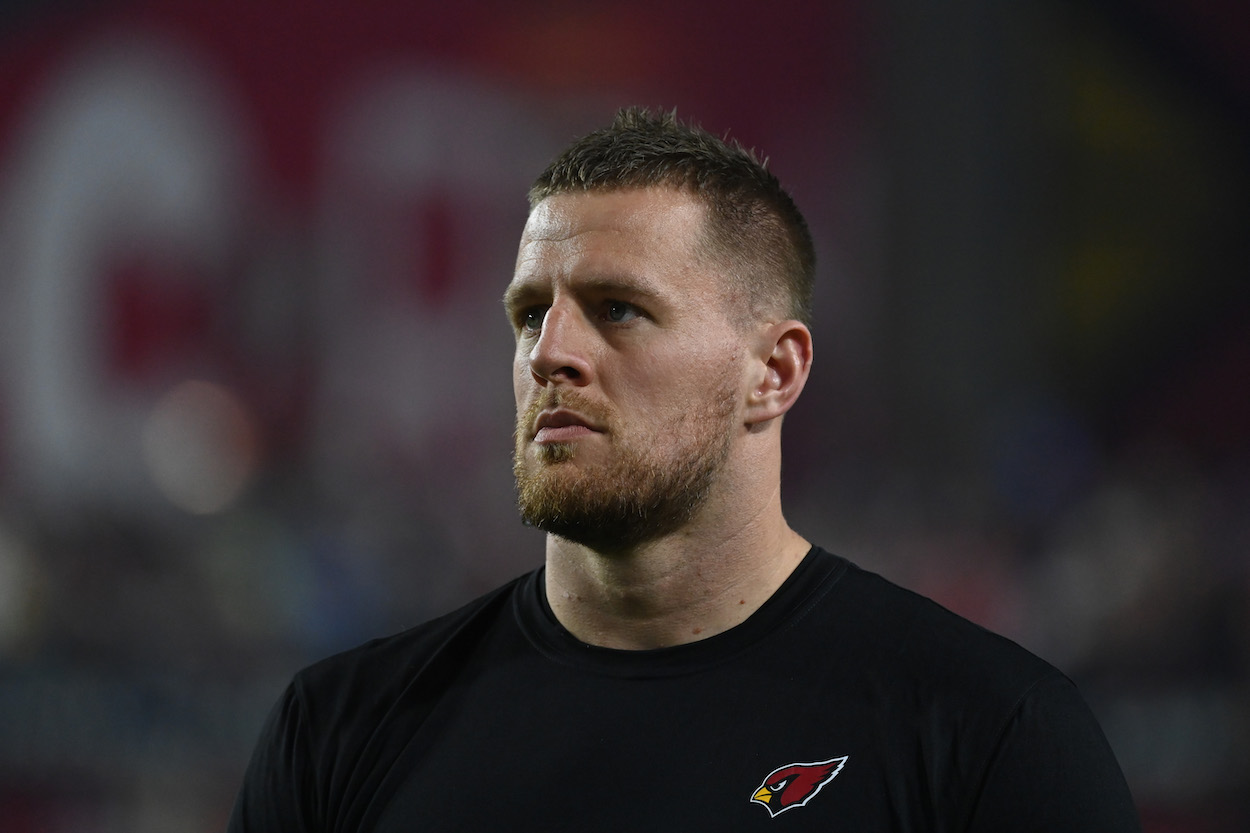 Watt wasn't putting up superstar numbers during his brief seven-game appearance with the Cardinals this past season. He only recorded one sack and five tackles for a loss. However, it's worth noting the Cardinals were undefeated in the seven games that Watt played.
Clearly, Watt's presence on the defense made life easier for the rest of the Cardinals roster.
The question is, however, will Watt returning to the lineup be enough for the Cardinals to beat the Rams? The Rams are currently 4-point favorites, according to Fox Sports, and are entering the postseason in good shape following a 5-1 finish to the regular season.
Can Watt make one or two splash plays that guide Arizona to a win? Only time will tell. Either way, his returning to the lineup is excellent news for the Cardinals' chances of an upset win this weekend.
All stats courtesy of Pro Football Reference.