Caris LeVert Contract: How Many Years Does He Have Left?
The Cleveland Cavaliers may have just completed one of the biggest deals we'll see before the 2022 NBA Trade Deadline by acquiring Caris LeVert from the Indiana Pacers. The Cavs have already had a strong season behind Darius Garland, Jarrett Allen, Evan Mobley, and others, but adding LeVert helps them improve a significant offensive weakness they had along the perimeter.
So, how long does Cleveland have LeVert? Here's a look at his contract.
Taking a look at Caris LeVert's contract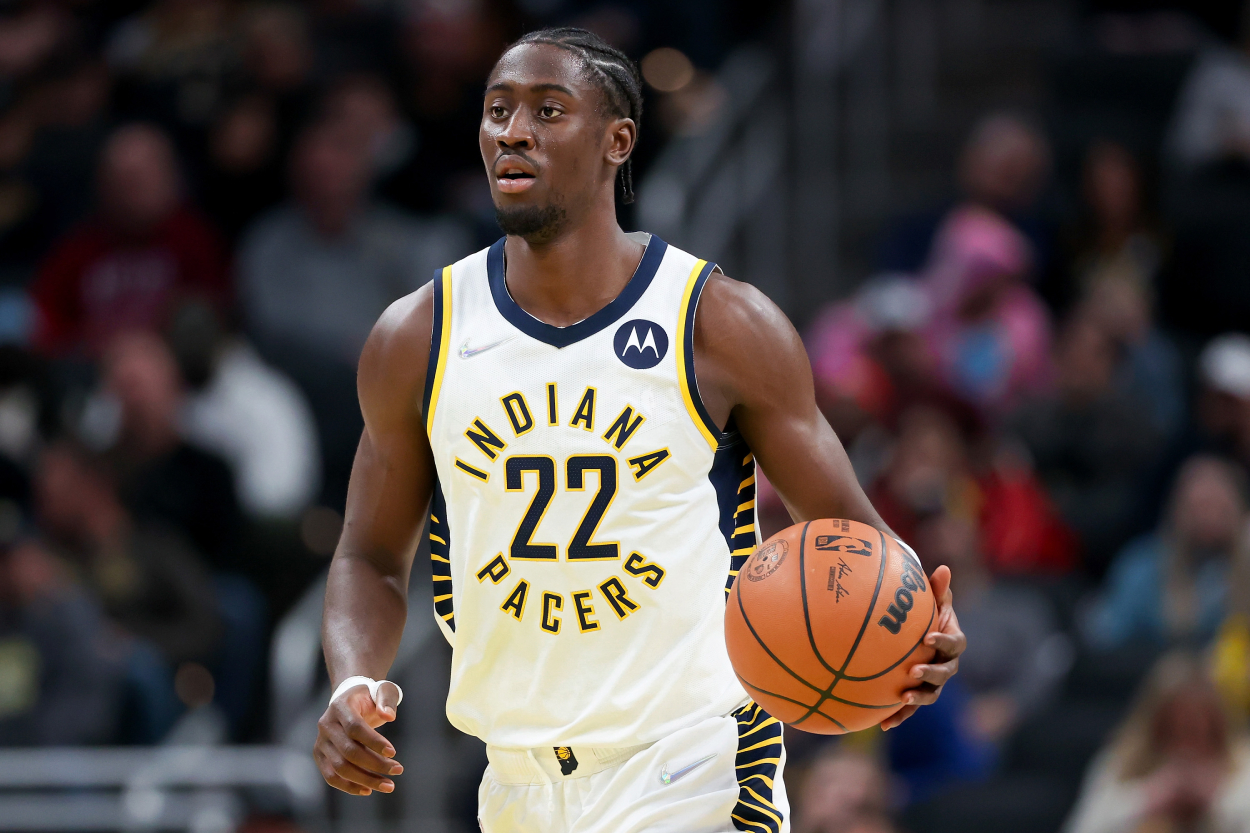 In 2019, Caris LeVert, who the Brooklyn Nets traded for in 2016 after the Indiana Pacers selected him No. 20 overall in that year's draft, signed a three-year extension worth $52.5 million with the Nets.
However, LeVert was a part of the four-team James Harden trade in January 2021, and the Nets sent him back to Indiana, where he played in 35 games for the Pacers last season before appearing in 39 for them this year.
But on Feb. 6, the Pacers dealt LeVert and a second-round draft pick to the Cavs for Ricky Rubio, a lottery-protected first-round pick in 2022, and two second-round picks (H/T ESPN). He will now look to help the Cavaliers contend for a top playoff spot.
So, how long is he tied to Cleveland?
LeVert's contract with the Cavs is for the next two years. He's making $17.5 million this season and will earn $18.79 million next year. After 2022-23, though, he will be an unrestricted free agent.
All in all, the Cavaliers have him for the rest of this season and next year. But he could still stay in Cleveland longer.
The Cavs could extend Caris LeVert's contract this offseason
Just because Caris LeVert is supposed to enter free agency in 2023 doesn't mean he will.
Adrian Wojnarowski of ESPN reported, "it's expected that Cleveland will want to engage LeVert and his agent" for a long-term extension this offseason.
That lines up with the path of the team's other young stars.
LeVert is only 27, so he has quite a few years left in his prime, and so do Cleveland's up-and-coming Big Three members in Darius Garland (22), Jarrett Allen (23), and Evan Mobley (20).
The Cavs will likely make sure they have the cap space to keep Garland and Mobley around. They are both on their rookie deals, and Garland is scheduled to become a restricted free agent in 2023, while Mobley has a team option for 2023-24 and 2024-25. Allen is tied to Cleveland through 2025-26 after signing a $100 million extension last offseason.
However, the Cavaliers don't necessarily have to sign LeVert, either.
According to John Hollinger of The Athletic, LeVert and Kevin Love will both be free agents after next season, which frees the Cavs up for a contract opening worth close to a max deal next summer even before having to give Mobley his extension. So, if Cleveland continues its ascension to the top of the East, it could add a big-time player to its already stellar team.
But which stars will likley be free agents in 2023? Well, LeBron James is, so he could always return home. And so are Bradley Beal, Kyrie Irving, Andrew Wiggins, James Harden, Nikola Vucevic, D'Angelo Russell, Fred VanVleet, and several other notable names.
For now, though, the Cavs can focus on LeVert and how he helps their current team.
The Cavs have enough talent to go on a playoff run
Despite having a 33-21 record and sitting just one game back of first place in the Eastern Conference, the Cavs have struggled offensively this year, especially following the injuries to guards Collin Sexton and Ricky Rubio.
Darius Garland has been the only threat in the backcourt with those two out, and he leads the team with 19.8 points per game. Evan Mobley, Jarrett Allen, Kevin Love, and Lauri Markkanen have all been great scoring bigs, but Cleveland's other perimeter players have been unable to consistently create shots for themselves and others.
But LeVert can.
The sixth-year vet is averaging 18.7 points this year and is recording 22.5 points per night in his last 17 contests. He has proven he can find open teammates (averaged 5.2 assists last season) and use his dribble to get himself open from mid-range and along the perimeter. LeVert just adds another element to this offense.
Right now, Cavs fans should be elated. Their team acquired a dynamite scorer for a reasonable price. And while his contract only goes through next season, there's a chance he will be with the team for years to come.
Stats courtesy of Basketball Reference; Contract numbers courtesy of Spotrac
RELATED: Jarrett Allen's Ridiculous All-Star Snub Further Proves the Cavaliers Still Aren't Getting the Respect They Deserve