Carlos Sainz Jr., Ferrari Racing in the Shadows of Formula 1
With nearly all of the Formula 1 fanfare focused on Max Verstappen's championship-clinching, last-lap pass of Lewis Hamilton, clinching the 2021 world championship, an interesting subplot developed not far behind.
Carlos Sainz Jr. drew little attention for placing third at the Abu Dhabi Grand Prix on Dec. 12, but the first-year Ferrari driver made a significant statement.
The youthful Verstappen and Hamilton, who played the disillusioned ex-champ, captured the post-race spotlight.
In the shadows, Sainz celebrated with nearly as much passion. His P3 helped solidify Ferrari's third-place standing in the 2021 constructors' standings.
That is if anyone noticed.
Carlos Sainz Jr., in his first season with Ferrari, places fifth in the F1 drivers' standings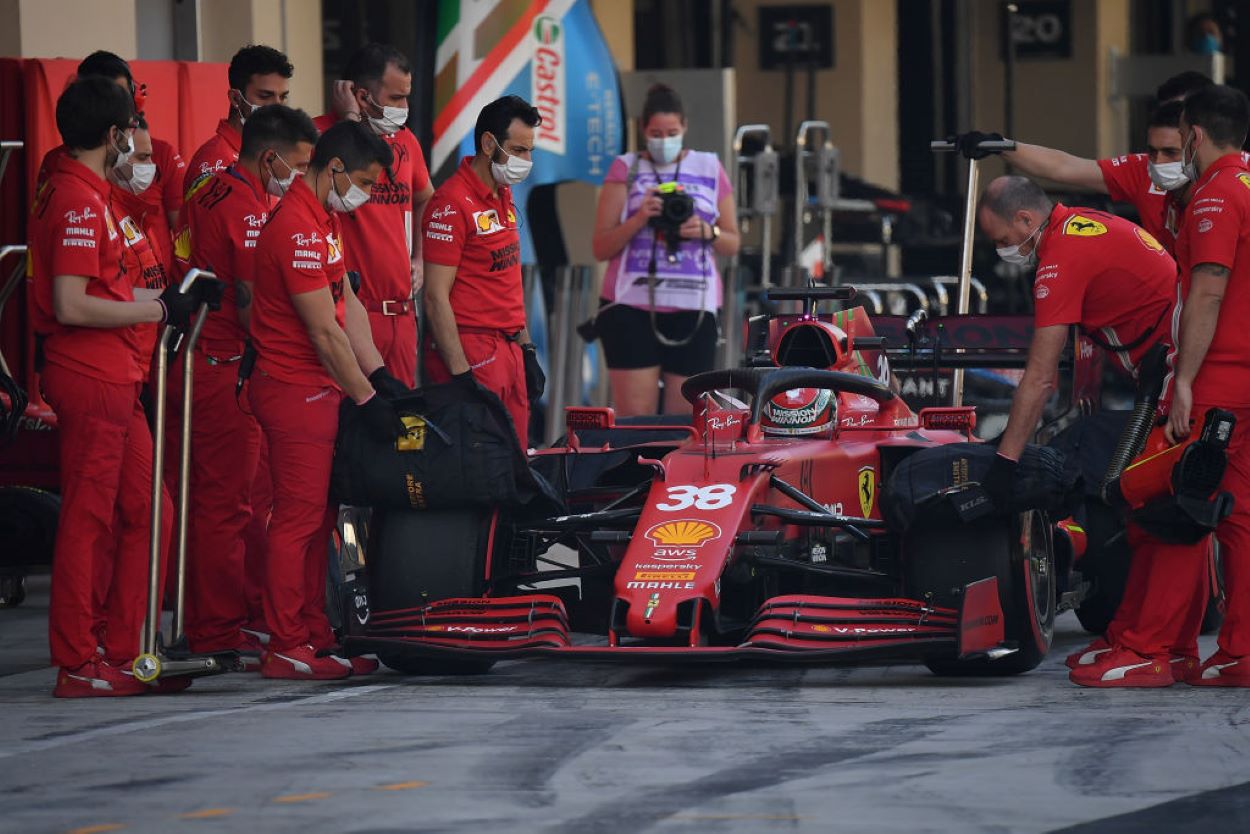 With nearly all of the F1 fanfare focused on the Verstappen-Hamilton battle for the drivers' championship at the season-ending event, Sainz capped his first "magic" year with Ferrari. 
By passing McLaren's Lando Norris early and remaining patient in fourth place for much of the Abu Dhabi GP, Sainz was in a position to hold back the field after Red Bull Racing's Sergio Perez retired on Lap 56. 
Sainz earned his sixth career podium, one "no one will remember," he joked after the race, reported by formula1.com. 
Sainz continues to race under the F1 radar. Even on his team.  
Ferrari's Charles Leclerc remains the organization's top driver, but he finished seventh overall in the drivers' standings, 5.5 points behind Sainz. 
Here is a look at the top five F1 drivers of 2021: 
Max Verstappen, Red Bull Racing, 395.5 points
Lewis Hamilton, Mercedes, 387.5 
Valtteri Bottas, Mercedes, 226 
Sergio Perez, Red Bull Racing, 190 
Carlos Sainz, Ferrari, 164.5
Sainz learns lessons from his champion father and uses them in F1 racing
Leclerc likely will maintain top-driver status for the start of 2022, but a brotherly struggle likely will ensue for team priority. For Ferrari to challenge Mercedes or Red Bull for the constructors' title in 2022, both Sainz and Leclerc must keep any internal rivalries in check.
Mercedes routed the field for its eighth consecutive constructors' championship last season, concluding with 613.5 points. Runner-up Red Bull Racing fell short by 28 points. Ferrari, if anyone noticed, placed third of 10 teams, but it was 290 points behind the top spot.
The son of Carlos Sainz Sr., a two-time World Rally titleholder, Sainz, 27, learned his family lessons well. He utilizes drift as well as any F1 driver. With new regulations coming in 2022, Saintz and Ferrari may not be celebrating in the shadows for much longer.
With Leclerc, 24, and Mick Schumacher, 22, signing on as a reserve driver, the team has youth and depth.
Sainz: 'I actually believe that the championship had a good outcome'
Despite not having much of a chance to make a last-lap move on the leaders, Sainz said he was satisfied with the way the Abu Dhabi GP ended. Controversy swelled with the decision to resume the race for the final lap, but at least
Sure, the decision to restart the race with one lap to go left him behind two lap cars, preventing him from an opportunity to chase down Hamilton or Verstappen. 
Perhaps, Sainz could have challenged the leaders and made a last-lap pass himself, but at least the race ended without mishap, planetf1.com reported. 
"I actually believe that the championship had a good outcome in sight of all the possibilities that there were coming into this race," Sainz said. "I think, personal opinion, it was a great battle up front, and they managed to keep it clean, no crashes, no contact. … A good outcome."
That is if anyone noticed.
Like Sportscasting on Facebook. Follow us on Twitter @sportscasting19.