Carlton Davis' Ill-Advised Tweet Has Rained All Over the Tampa Bay Buccaneers' Perfect Offseason
Up until Sunday, the Tampa Bay Buccaneers' offseason had proceeded almost without incident. Even a defending Super Bowl champion usually has some sort of conflict creep into their offseason a month after the confetti flies. Instead, the Buccaneers have managed to sign nearly everyone from the 2020 team, signaling their intentions for another championship run. Things were going swimmingly. Then cornerback Carlton Davis sent an ill-advised tweet.
Carlton Davis tweets without thinking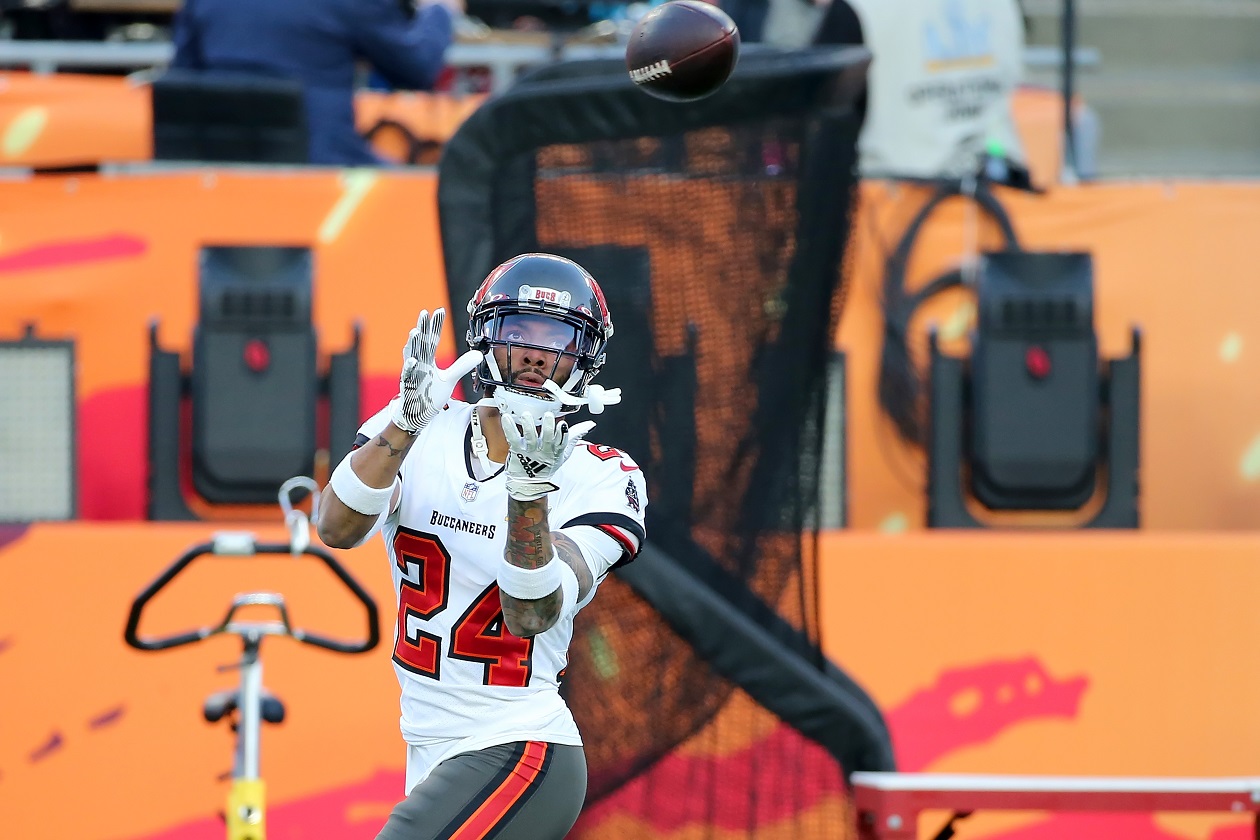 Late Monday afternoon, Tampa Bay Buccaneers cornerback Carlton Davis sent out a Tweet that he has since deleted.
"Gotta stop letting g—- in Miami," it read. The blanked-out word is a notorious anti-Asian slur. Later that day, Davis tweeted an apology, claiming that he directed his insult at a "producer" who boasted that he "ran Miami." Furthermore, he clarified that he meant to call this person "lame," backing it up with a definition from the site urbandictionary.com.
"I would never offend any group of people," wrote Davis. "I'll retire that word from my vocabulary giving the hard times our Asian family our enduring. I used a term that from where I come from has always meant 'lame' but I did not realize it has a much darker, negative connotation. I have learned a valuable lesson and want to apologize to anyone that was offended by seeing that word because we need to focus on helping each other."
Davis lives in Carol City, Fla., which is less than 20 miles from the city of Miami.
Carlton Davis' tweet could not have come at a worse time
It has been a year since the COVID-19 pandemic arrived on American shores. Since then, there has been a significant uptick in anti-Asian sentiment and outright violence in North America. There is still a common and oft-discredited conspiracy theory that the virus "escaped" from a Chinese laboratory.
This hit a boiling point last month, when eight people died in mass shootings at three spas near Atlanta. The eight victims were all of Asian descent. The circumstances of the event have brought public attention to the wave of anti-Asian sentiment in the United States, which has led to protests nationwide.
Prominent figures across the sports world have also done what they can to help the Asian-American community heal. Golden State Warriors star Stephen Curry wore custom shoes at a recent game and auctioned them off, with the proceeds going toward the families affected by the tragedy.
Needless to say, Carlton Davis' tweet could not have come at a worse time.
Davis' slip-up is extremely ironic
The fact that Carlton Davis was the one to send a tweet containing an anti-Asian slur is bitterly ironic. According to ESPN, Davis is on the Tampa Bay Buccaneers' social justice board, which met with community leaders in the Tampa area to find ways for police to build a better relationship with the Black community.
Last June, Davis went public about his own negative history with law enforcement.
While he was in high school, he and several others had their car pulled over by police. According to Davis, "we were bum-rushed with guns in our faces. It was just like guns in our faces and we had done nothing wrong. It was the fact that they had seen kids in the car and said that the car looked like a car that was involved in a crime."