Carmelo Anthony and Vince Carter: A Tale of Two NBA Careers
In a 2019 NBA offseason that has been filled with superstar athletes switching teams and recruiting other elite players, two aging former stars are making headlines for entirely different reasons. On one end, Carmelo Anthony is struggling to find a landing spot despite many believing he has the skill to keep on playing. On the other end, Vince Carter resigned with the Atlanta Hawks for what will be his 22nd season in the NBA.

What makes these two so similar and different? It's a polarizing portrait of the way that two big names can age as their skills diminish from what they may have been years earlier.

Similar rises
Both Carmelo Anthony and Vince Carter electrified the league almost immediately after they entered. For Vince Carter, it was with his high-flying feats of athleticism, and for Carmelo, it was with his relentless ability to score with ease. Both rose to stardom incredibly quickly, and both similarly failed to reach the ultimate goal of winning a championship in the process.

In a league where winning rings elevates or inhibits a player's legacy, both will likely end their careers without one, yet the latter part of each of their careers could not be perceived more differently.

Carmelo Anthony's turbulent fall from grace
Carmelo's transition from star player to struggling free agent was relatively short, although some may argue that his fall began when he shunned a winning situation in Denver for a turbulent franchise with the Knicks. Although there were some good years in New York, Carmelo began to develop a reputation as a player who valued personal accomplishments to team success. That came to center stage after he landed in Oklahoma City.

As the third option behind Russell Westbrook and Paul George, Carmelo still put up 16 points per game and six rebounds, but many believed his natural role was better-suited as a sixth man, where he could dominate the ball more easily without Westbrook and George on the court. Anthony scoffed at the notion of coming off the bench, however, and the team cut him.

His career with Houston, where he started in only two of the 10 games he played, showed that Anthony continued to struggle with the fact that he was now a mid-thirties role player, and his play became a hindrance. At 35 years old, he's found himself without many, if any, suitors. Although age is working against him, many believe if Anthony had accepted his downswing sooner, he might still be a valuable NBA player.

Vince Carter's graceful transition into a role player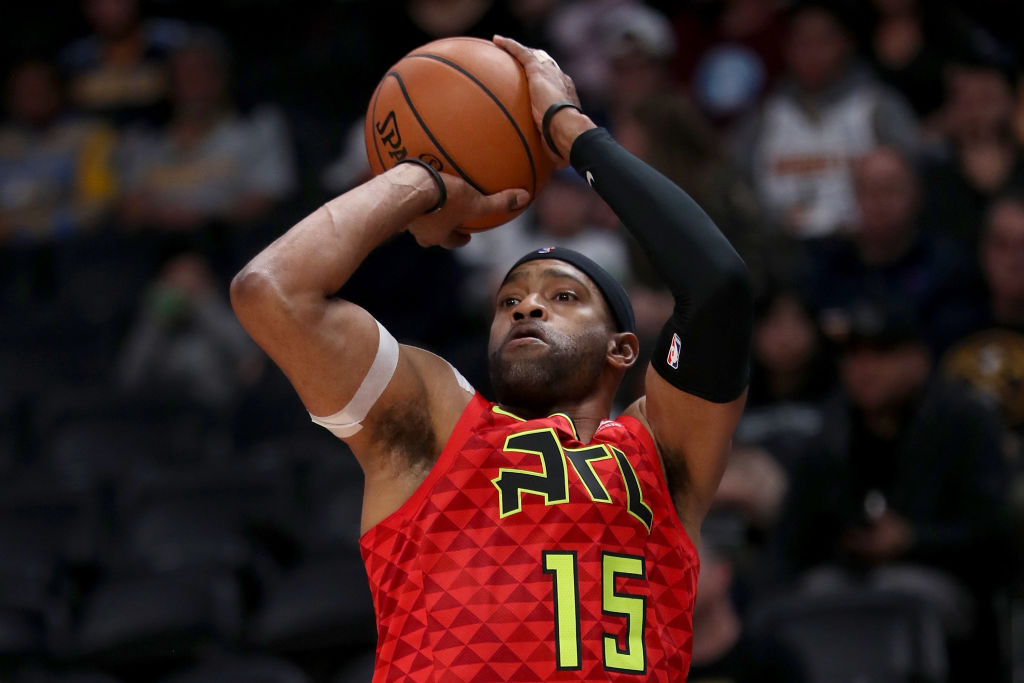 Perhaps, Carmelo Anthony could talk to Vince Carter about a more graceful way of accepting the finite lifespan of a superstar. Like Anthony, Carter struggled to accept a diminishing skillset when he got into his 30s. Although not quite the dramatic downfall that Anthony had in Oklahoma City and Houston, Carter's stints in Orlando and Phoenix led many to wonder if his days were numbered. Then, something changed.

After 35 years old, Vince Carter found himself in Dallas. Although he started in 40 of his 61 games, he began to get more comfortable coming off the bench, and while he sporadically started after that, a new stage in his career began. Over the next few years, Carter developed a new reputation. He had some tumultuous years in the past, but he was quickly becoming the consummate veteran role player.

Vince Carter's three years in Dallas showed that former stars could have a second wind. He even found playoff success, hitting a memorable game-winner against the San Antonio Spurs in the Playoffs. For three years in Memphis, he embraced that role, even as his minutes per game began to dip. A short stint in Sacramento, and his current stint in Atlanta have shown that teammates, especially young ones, love having Vince around and embrace his veteran experience. 

What can Carmelo Anthony learn from Vince Carter?
Carmelo Anthony is the age Vince Carter was when he was coming off a disappointing stint in Phoenix. If he could look internally, he may be able to salvage his career, but it will take a willingness to do so. Forcing his way into a role that values per-game stats over the impact that he has on the team may look better on a score sheet, but there's a reason Vince Carter is about to enter his fourth decade in the NBA while Carmelo Anthony may be watching from home.