Carmelo Anthony Became Hardened by Growing up in Inner-City Baltimore: 'I Really Survived This'
Even in his old age (well, for a basketball player, at least), 37-year-old Carmelo Anthony is still amazed he made it this far.
Many years before he became a lock for the Naismith Memorial Basketball Hall of Fame and one of the most effective shooters of his time, Anthony spent his childhood in Baltimore. Although it has been nearly two decades after he left Maryland to officially pursue an NBA career, the basketball legend has no desire to bury his experiences in a dark corner of his mind.
Carmelo Anthony reflected on his 'challenging' childhood in Baltimore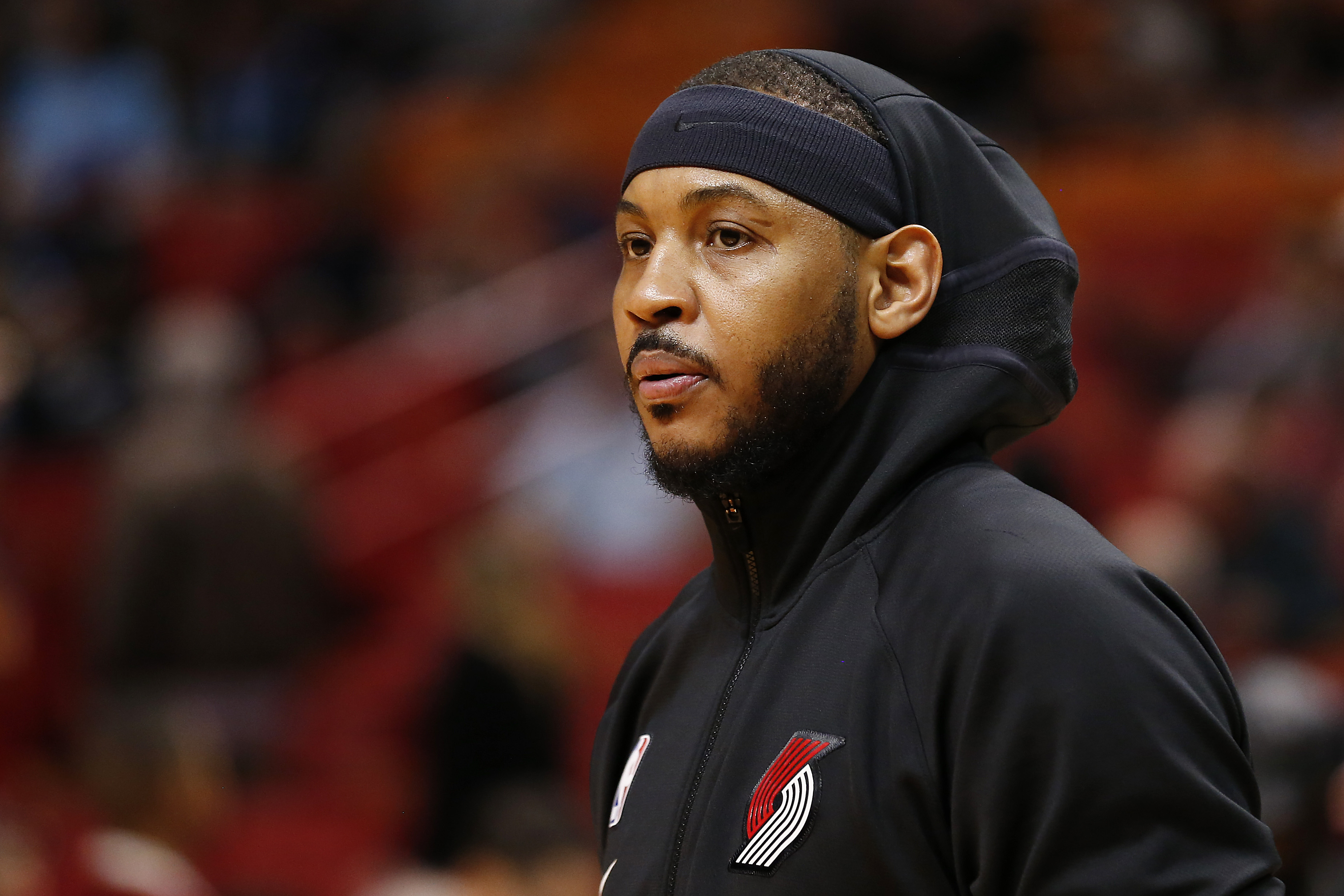 As New York Knicks fans know, Anthony grew up in Brooklyn and lived there until he was 8 years old. His family eventually moved to Baltimore, where he stayed until he left for Syracuse University in 2002.
During a recent interview with Success.com, Anthony reflected on his "challenging" upbringing in the inner city. He described the physical and mental survival and trying to find a new way to "attack that day."
But as Anthony explained, that mindset becomes difficult when the violence and poverty ran rampant in his area.
"It was like, 'I know her. I know him. He's getting high over there. Oh, so-and-so just got shot yesterday. Oh, cool.' You become immune to that environment, and you almost start to become a product of your environment. It feels like another lifetime, but I am so connected to that world that I feel like it was just yesterday."

Carmelo Anthony
Anthony used his basketball ability and size to earn a scholarship to Syracuse. From there, the talented forward found a way to escape a dangerous environment and use his skills for good.
Anthony has done his best to give back to his childhood community
Anthony may have made it out of Baltimore, but he never turned his back on Charm City. It's been the exact opposite, whether it was in his early years with the Denver Nuggets or later in his career.
The NBA legend has spent years giving back to Baltimore. He returned to the city in August 2017 and hosted a "Day of Giving" at the Robert C. Marshall Recreation Center, a facility where he played sports in his childhood.
The 10-time All-Star also hosted a basketball tournament and received a medal of honor from Baltimore Mayor Catherine Pugh. When he spoke to an assembled crowd, the then-New York Knicks forward thanked the city that welcomed him as a child.
"I didn't have a dream then … but this community made me what I am," Anthony said.
Anthony is about to release a book about his journey from Baltimore to the NBA
Anthony has embraced Baltimore, the good and the bad, for years. Now, he's taking his thoughts about Charm City to paper.
The legendary sharpshooter will release a book, Where Tomorrows Aren't Promised: A Memoir of Survival and Hope, on Sept. 14, 2021. He told Success that the book involves him looking back on his journey, including his childhood in Baltimore, and reflecting on it as an adult.
"All of these years having the opportunity to now look back into those worlds and being able to analyze that, and be like, Damn. I really survived this. I really made this. Made it out of this."

Carmelo Anthony
Anthony and Dwight "D." Watkins, a professor at the University of Baltimore, co-authored the book.
Like Sportscasting on Facebook. Follow us on Twitter @sportscasting19.