Carmelo Anthony's Recent Eyebrow-Raising Comments Prove the Lakers' Issues Are Worse Than We Thought: 'We Needed That to Spark Something in Us'
On a day where the majority of sports fans likely had all their attention on the NFL, LeBron James and the Los Angeles Lakers snuck into headlines and caused quite a stir on social media.
James got into an altercation with Isaiah Stewart of the Detroit Pistons, and it resulted in Stewart having blood all over his face and both players getting ejected. The Lakers, though, ended up rallying behind The King and winning 121-116.
Of course, James' run-in with Stewart was the most notable takeaway from the game, but Carmelo Anthony's comments after the contest proved to be almost just as eyebrow-raising.
Carmelo Anthony discussed the LeBron James-Isaiah Stewart altercation
In a game against the Pistons on Nov. 21, James struck Stewart in the face while fighting for rebounding position with 9:18 left in the third quarter. Detroit led the Lakers 79-67 at the time.
The play resulted in Stewart confronting James and then eventually attempting to run up to him multiple times while being held back by teammates. He also had blood pouring down his face.
Refs then gave James a flagrant 2 and ejected him while also giving Stewart two technical fouls and an ejection.
The Lakers, though, came back and won 121-116.
After the game, Carmelo Anthony made some interesting comments.
"We could have easily let the game slip away, or continue to let the game slip away, but as a team, we needed to come together at that moment," he said to Spectrum SportsNet. "It's unfortunate about what happened, the incident, the situation, but we needed something like that to spark our fire. We haven't had anything like that this year to test us from a physical standpoint. And I think tonight, although, like I said, it was unfortunate what happened, we needed that to spark something in us. And it did."
Carmelo Anthony's comments prove the Lakers' issues are worse than we thought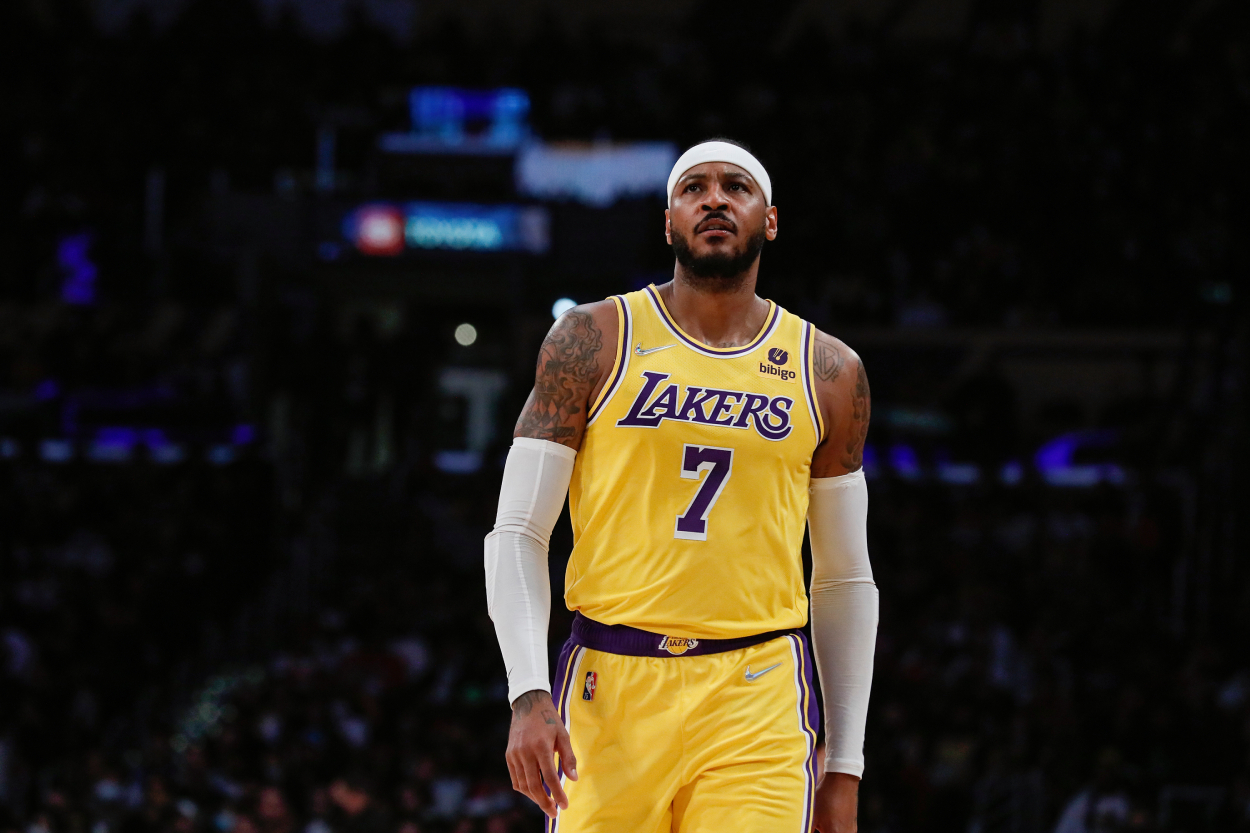 The most concerning part of Anthony's comments was when he said the Lakers "needed" something like the altercation between LeBron James and Isaiah Stewart to happen. There's this perception in basketball, and sports in general, that a player or coach can light a fire under their team by getting ejected. Why do you think so many managers get thrown out of MLB games?
And while that notion is all fine and dandy, the biggest question when it comes to the Lakers is this: Why do they need something like that to fire them up? Shouldn't their current position have them pretty motivated as it is?
LA was 8-9 heading into the game and just barely within the Western Conference playoff picture. They have had countless fans and talking heads doubt them, too.
"I think LeBron has won his last title. I think it's over," ESPN's Stephen A. Smith recently said on First Take, alluding to his belief that the Golden State Warriors are a better team. "It's not LeBron's fault. LeBron is gonna be LeBron. He gonna come back. He gonna do what he gonna do. … They ain't winning no chip."
Considering that the Lakers entered the NBA with championship expectations and one of the best rosters in the league, shouldn't all that doubt be enough to motivate them?
Apparently, it isn't, which means they will have to completely rely on one man who is, in fact, motivated to get another ring: LeBron James.
The Lakers are relying too heavily on LeBron James
Through the first 18 games of the season, the Lakers have made it clear that they are a hot mess without LeBron James.
The Lakers are 5-3 in games where The King has played, and they are 4-6 in games he has missed. So, not only do they have to wait for him to get into an altercation to finally start playing halfway decent basketball, but they have to rely on him to actually win as well.
However, luckily for them, that major weakness could become their biggest strength.
James almost always figures things out. His 2010-11 Miami Heat squad started 9-8 in its first 17 games with its Big Three before finishing 58-24 and reaching the NBA Finals. James' 2014-15 Cleveland Cavaliers started 19-20 before finishing 53-29 and also reaching the NBA Finals.
The four-time NBA champ knows what it takes to win, especially when he has the talent around him. The Lakers have that talent; they just don't have the chemistry or, apparently, the motivation.
With a healthy and fired-up James, though, they still have just as great a chance as any team in the league to win the NBA championship. They just need the greatest player in the world (arguably) to be the greatest player in the world.
Stats courtesy of Basketball Reference