Carmelo Anthony Could Save the Portland Trail Blazers' Season
Carmelo Anthony was once one of the NBA's most prolific scorers. But after a failed stint with the Houston Rockets last season, Anthony has been out of the league. While he is still respected by his fellow players, front offices around the NBA have not shown any interest in the 35-year-old since he was waived by the Houston Rockets.
At least, they hadn't until Thursday night on November 14, 2019, when the Portland Trail Blazers reportedly offered Anthony a non-guaranteed deal. This is an exciting development for Carmelo Anthony fans that were hoping that the veteran would get one more shot to make an impact in the NBA. But does the deal actually make sense for Portland?
Portland is desperate for a spark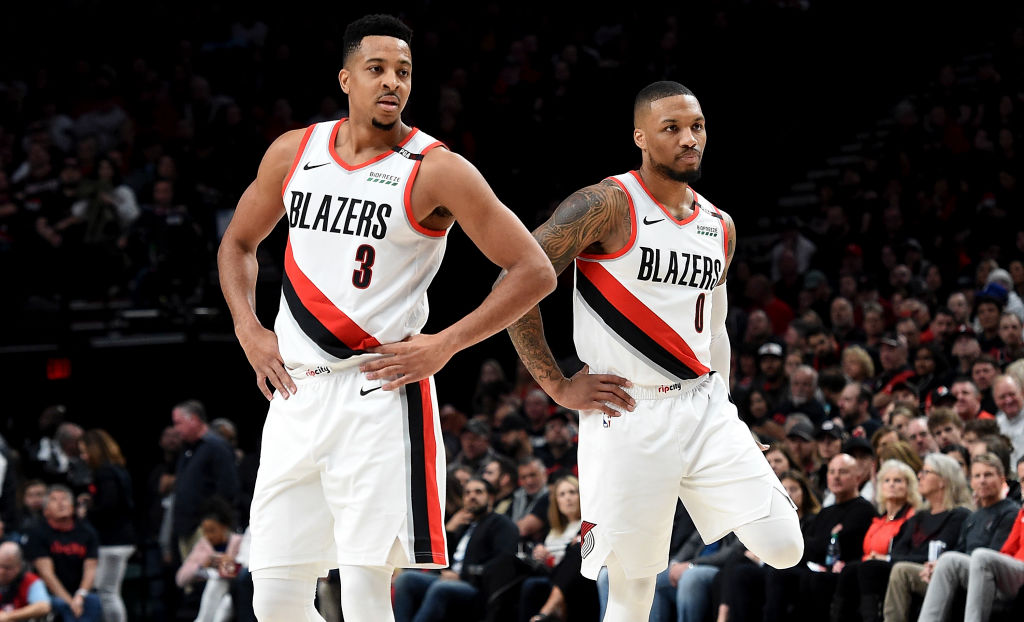 The Portland Trail Blazers came into the 2019-20 season with plenty of optimism. After getting swept out of the postseason in the first round in both 2016-17 and 2017-18, the Trail Blazers finally enjoyed some postseason success last year. After putting together a strong regular season of 53-29, Portland defeated the Oklahoma City Thunder four games to one and then the Denver Nuggets four games to three, advancing into the Western Conference Finals before losing to the Golden State Warriors.
The Warriors are now tanking with injuries to Stephen Curry and Klay Thompson. The Los Angeles Lakers and Los Angeles Clippers improved this offseason, but the Trail Blazers had every right to come into the season with confidence. C.J. McCollum wrote about it in the Player's Tribune;
"The way we see it, [the Western Conference is] wide open. It's ours for the taking. I mean, if we start this season off the way we know we can, and then we get [Jusuf Nurkic] back? There's no telling where this team can go."
The Trail Blazers did not start the season the way they knew they could. Instead, they've gone just 2-6 over their last eight games since opening 2019 with a 3-2 record.
Carmelo Anthony has been yearning to return
When Carmelo Anthony sat down with Stephen A. Smith for an interview on ESPN's First Take back in August, he talked about how he had been humbled by his experience in Houston, and that it had even left him doubting whether or not he still wanted to play.
"It felt like [expletive], somebody in power telling you they no longer need your services, it felt like I got fired," Anthony told Smith. "I felt like I don't want to do this no more. I felt like I loved the game, but the game didn't love me."
But after the initial shock wore off, Anthony's love for the game of basketball did not. He continued to train, staying in game-shape in hopes of receiving another opportunity in the NBA. And he also claims to have come to terms with the idea of playing off of the bench, something that had previously been a "major ego hit."
"You're telling me there's 30 teams in the NBA, and I can't make a 15-man roster? … 1,000 percent [I can accept a lesser role]. I can do that." Anthony understood that he wasn't out of the league due to his talent, but due to the perceived notion that he wouldn't be willing to play a more limited role. He is hoping to change that notion, and will finally get the chance to in Portland.
The Trail Blazers need help at power forward
As ESPN's Adrian Wojnarowski said, the Trail Blazers and Carmelo Anthony need each other. Carmelo Anthony has desperately been seeking one last chance in the NBA.
Portland has desperately been seeking more production at the power forward position. The Trail Blazers rank 27th in points per game (36.3), 28th in assists per game (5.5), and 30th in field goal percentage (39%) from the power forward position. Their starting power forward, Zach Collins, is out for at least four months after dislocating his left shoulder in Portland's third game of the season.
It's difficult to imagine that Carmelo Anthony won't improve on the team's hideous production from the power forward position, even if he isn't the player that he once was. And if he can re-find his old form, this could end up being exactly the move Portland needed to save their season.
Anthony is expected to make his Trail Blazers debut on Tuesday against the New Orleans Pelicans.