Carmelo Anthony's Divorce From La La Anthony Could Cost Him a Chunk of His $160 Million Net Worth
Carmelo and La La Anthony were the "it" couple back in 2003 when they first met. He was a rising NBA star, and she was a popular MTV VJ. Their union caused a stir that continued through the birth of their first child, wedding day, and rumors of marital strife. After seemingly separating in 2017, the couple rekindled their romance the following year, but it wasn't enough. La La filed for divorce in June 2021, and now Carmelo could lose a chunk of his estimated net worth.
Carmelo and La La Anthony's marriage endured many ups and downs
Although it seemed picture-perfect from the outside, Carmelo and La La Anthony's marriage encountered many struggles. Before his engagement to La La, Carmelo faced charges for marijuana possession, was involved in a nightclub scuffle, and a potential victim of an extortion deal — all of that taking place in just one year.
Although he would later find himself involved in an NBA brawl and get arrested for driving while ability-impaired, his issues with his wife would come down to the question of fidelity. Rumors of his wandering eye swirled throughout the course of their relationship, but it all came to a head in 2017. A dancer claimed that Carmelo fathered her child. Although it caused a brief separation in their marriage, the couple seemed to reconcile in 2018.
The brief time back together didn't help, and according to Essence, even though the couple quarantined together during the height of the coronavirus pandemic, La La filed for divorce.
How will a divorce affect Carmelo's net worth?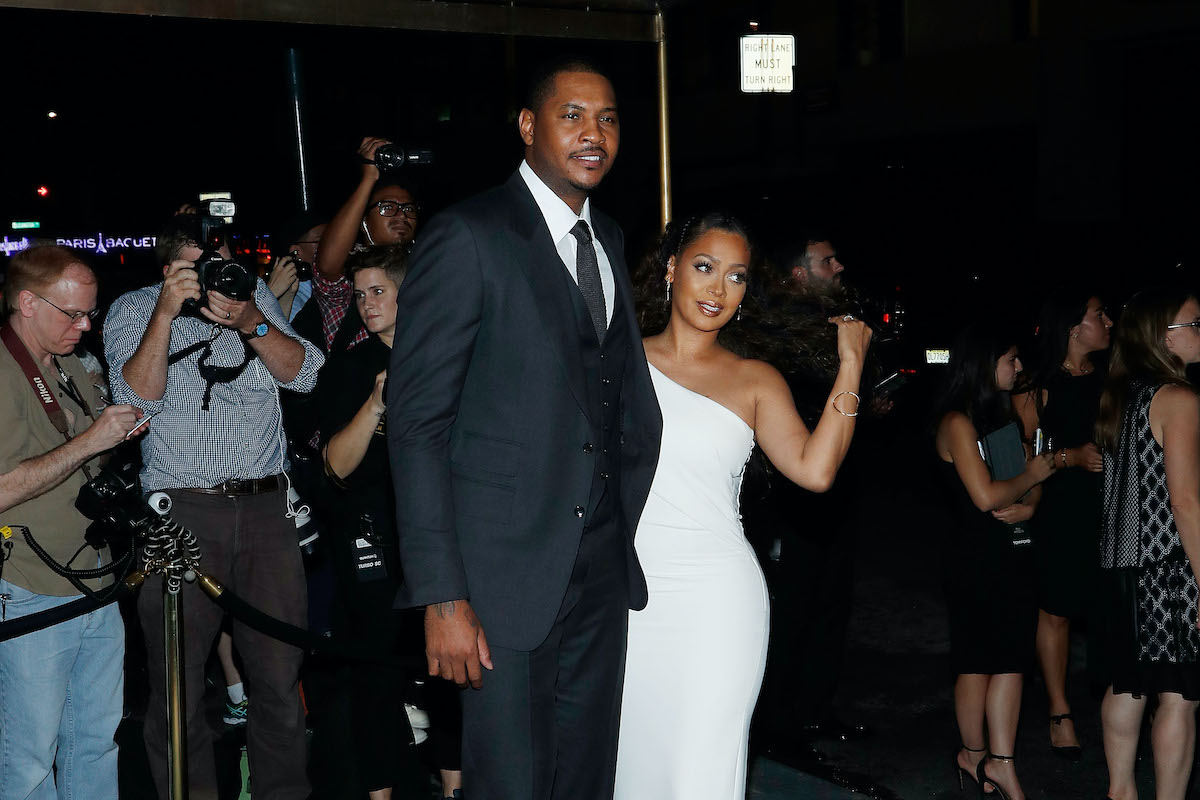 Even though Carmelo makes a bundle playing in the NBA, a good portion of his money came from off-the-court deals. He's had endorsements with Nike, Jordan Brand, Foot Locker, and Nickelodeon. With such a high net worth, estimated around $160 million — what does he stand to lose in a divorce? According to the NY Daily News, it all comes down to what their prenuptial agreement says. If it's determined that Carmelo cheated, that's cause for La La to seek out more money. The marriage dissolution isn't a shock to those close to them. "They have been fighting for about a year. The marriage has always been a rocky one, so this is no surprise."
The two are most concerned about their 14-year-old son, Kiyan. He's transitioning into high school, and many believe the couple's separation before their divorce announcement was meant to make it easier on him. No matter how it plays out regarding Carmelo's fortune, Kiyan is the couple's main priority.
Carmelo Anthony's basketball future
His personal life isn't the only thing changing. Carmelo ended the 2021 season with the Portland Trail Blazers, losing in the playoffs. With 17 seasons under his belt, he's now coming off the bench to help out his team. It seems like the end of his career is in sight but with free agency looming, does he have a few more seasons left? That's what some fans are wondering.
With his solid play in Portland, he should find it easy to pick a new team. However, which team he picks matters. If Carmelo is looking to finish out his career as one of the best, winning an NBA Championship will help seal the deal. That means looking at teams that are up and coming and ready to go the distance.
Experts are keen on the Dallas Mavericks, New York Knicks, and Utah Jazz to come calling. However, many fans think Carmelo plans to join his good friend LeBron James and finally get a taste of the NBA Championship that has eluded him all these years.
RELATED: Carmelo Anthony Was This Close to Retirement Before Signing With the Portland Trail Blazers