Carmelo Anthony's Former Coach-Turned-Foe Takes Shot at His New Lakers Team
They say to keep your friends close and your enemies closer, so that must have been what George Karl was doing during the entire time he coached Carmelo Anthony on the Denver Nuggets.
Karl and Anthony had a ton of success together in Denver but couldn't quite get over the hump and reach the NBA Finals. Since those glory years, though, Karl has continuously taken shots at his former player.
In fact, he even added a new chapter to their one-sided beef recently, as the former Nuggets coach took to Twitter to make fun of Anthony's new Los Angeles Lakers team.
Carmelo Anthony has a complicated history with his former Nuggets coach George Karl
After the Nuggets selected Carmelo Anthony with the No. 3 overall pick in the 2003 NBA Draft, George Karl became his head coach in his second season. He then coached Anthony until the Nuggets traded the former Syracuse star to the New York Knicks during the 2010-11 campaign.
Together, Karl and Anthony went to the playoffs every year they spent together and even reached the 2009 Western Conference Finals.
However, since Anthony's departure from Denver, Karl, who last coached the Nuggets in 2012-13 before leading the Sacramento Kings in 2014-15 and 2015-16, has taken several shots at his former star.
In 2017, Karl came out with his book, Furious George, and wrote that Anthony was "a user of people, addicted to the spotlight and very unhappy when he had to share it," per the New York Post.
He has also taken several shots at the future Hall of Famer's defense over the years — even recently. Following his signing with the Lakers, Anthony said that not winning a championship has kept him up at night, so Karl then tweeted, "And it kept our coaching staff up at night a decade ago when we were stressing the importance of team play and defense."
By all accounts, it seems that Anthony has taken the high road, even saying, "I just hope that he finds happiness in what he's doing," per ESPN.
But Karl won't let the rivalry go.
George Karl took a shot at Melo's Lakers team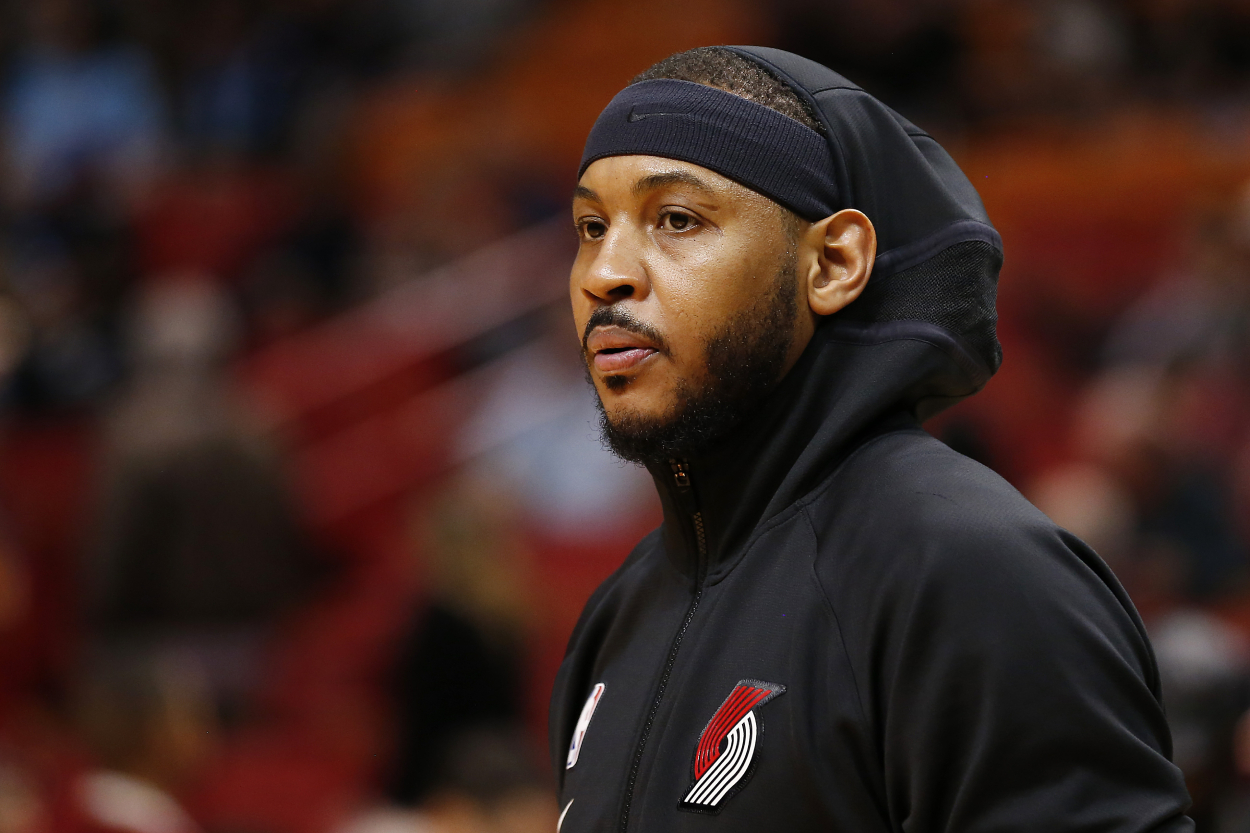 As mentioned earlier, Carmelo Anthony recently signed with the Lakers. He's teaming up with his friend LeBron James — as well as Russell Westbrook and Anthony Davis — to try and chase a championship.
The biggest concern about LA, though, is the team's collective age, as it has nine players who are 32 or older.
So, the 70-year-old Karl decided to take a shot at the team for being the oldest squad in the NBA.
The former coach quote-tweeted a post with the Lakers' 2021-22 roster and said, "This team is headed straight to the 2012-2013 NBA championship."
Karl put a smiling emoji that hinted at him joking around, but given his history with Anthony, it's certainly more than just a little joke.
Melo will likely just take the high road again, but he has the chance to get the last laugh by winning a title with the Lakers.
Carmelo Anthony has a great chance to win a title with the Lakers
The Lakers might be old, but they have experienced players who are talented enough to win a title.
LeBron James is still one of the best players in the league, while Russell Westbrook just averaged a triple-double last season, and Anthony Davis is one of the NBA's best post players. In addition to the Big Three, LA has some talented shooters like Anthony, Malik Monk, Wayne Ellington, Trevor Ariza, Kendrick Nunn, and Kent Bazemore. It also has some solid role players, including Dwight Howard, Rajon Rondo, and Talen Horton-Tucker.
They may be old, but the Lakers have the superstars and supporting cast needed to easily compete for a championship. Everyone just needs to stay healthy.
And if they do, in fact, win it a title, we will all be waiting on the edge of our seats for what Karl has to say next.
Like Sportscasting on Facebook. Follow us on Twitter @sportscasting19.