Carmelo Anthony Says His Friendship With LeBron James All Started on Some Hotel Steps in High School: 'We Came in Each Other's Lives at the Right Time'
Since high school, LeBron James has been known for his legendary talents on the basketball court, but his relationships with his three iconic best friends, Dwyane Wade, Chris Paul, and Carmelo Anthony, have almost been just as popular.
The latter is now teaming up with James on the Los Angeles Lakers in what has been nearly two decades in the making. James and Anthony don't just go back to their NBA days when they both entered the league in 2003, but their friendship goes all the way back to high school when their bond started on some hotel steps.
LeBron James and Carmelo Anthony were top high school players
LeBron James and Carmelo Anthony will always be connected for being a part of the 2003 NBA Draft class, as James entered the league straight out of high school and Anthony out of Syracuse.
However, their friendship started about a year before that when they were two of the top prospects in the country.
In February 2002, James, the country's top junior, and Anthony, the top senior, faced off in a high school battle between LeBron's St. Vincent-St. Mary team out of Ohio and Melo's Oak Hill Academy out of Virginia.
According to Bleacher Report, the game took place in New Jersey, and James ultimately scored 36 points and shot 12-of-27 from the field. He also had eight rebounds and five assists. Anthony, on the other hand, scored 34 on 14-of-25 shooting to go with 11 rebounds. Oak Hill won the contest 72-66.
That game was the world's introduction to James and Anthony, and it was a prelude to two Hall of Fame NBA careers.
It also kicked off their tight friendship.
Carmelo Anthony said their friendship started on hotel steps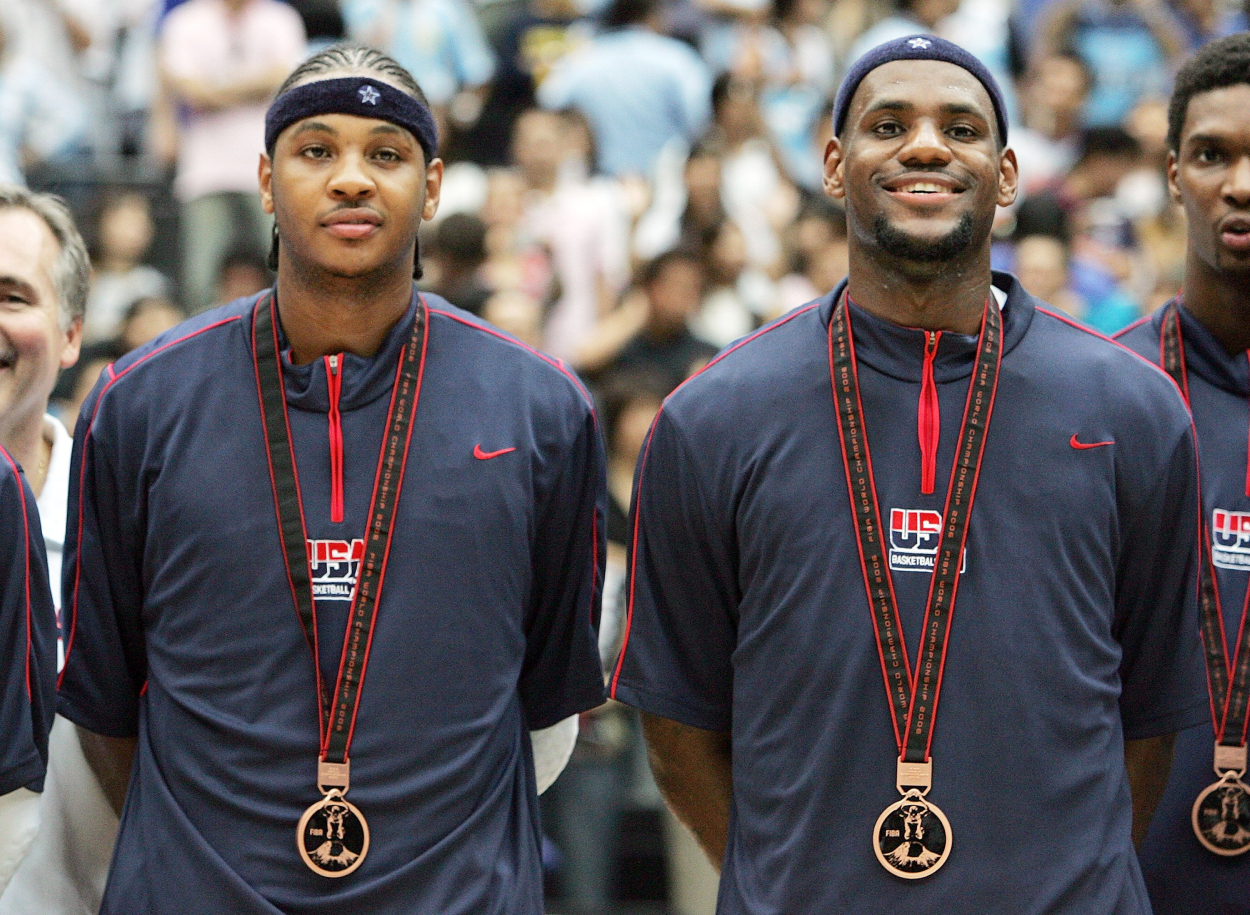 Carmelo Anthony recently spoke to Matt Barnes and Stephen Jackson on their show, All the Smoke, and he discussed the night in high school when he and LeBron James first bonded.
"We get to Jersey, and we're playing in the PrimeTime Shootout," Anthony, who transferred to Oak Hill as a senior, said on an episode that will premiere in its entirety on Aug. 19. "[He's] coming into the hotel, and we coming into the hotel, and he like, 'Yo, you Melo?' And I'm like, 'Yeah.' … We sat on the steps for hours the night before the game."
He continued: "Like, 'I don't know nothing about you, dog; you don't know nothing about me.' And we sat there for hours, just kickin' it, just talking, man. And we clicked from that moment. We just felt like we had similar backgrounds, single-parent home, broken family, growing up in the hood. That was a similar story, so we connected off of that before basketball."
Anthony then revealed that, at that point in their lives, the two future stars essentially needed the type of relationship they were both about to have with each other.
"I was looking for some type of relationship like that with somebody, and he was looking for that as well. So, we came in each other's lives at the right time because we was both looking for that brotherhood," Anthony said.
When it comes to James and Anthony, their relationship goes well beyond basketball. Their friendship is special.
But they have both become pretty good at basketball, too.
LeBron James and Carmelo Anthony went from high school stars to NBA legends
Once James and Anthony entered the NBA, they both immediately became stars, averaging over 20.0 points from the get-go.
James has since become a 17-time All-Star, four-time NBA MVP, four-time NBA champion, and a four-time Finals MVP. He is also third in league history in points with 35,367 and eighth in assists with 9,696.
Anthony, on the other hand, is a 10-time All-Star and, during his prime, was one of the best scorers the league had ever seen, averaging 25.5 points from 2005-06 to 2016-17. Anthony is also 10th in NBA and 12th in NBA/ABA history in total points with 27,370.
James and Anthony are no longer high schoolers; they are both near the end of their careers. But it will still be fun to watch them finally play on the same team when Anthony balls with James on the Lakers this upcoming season.
The partnership has been nearly 20 years in the making.
NBA stats courtesy of Basketball Reference