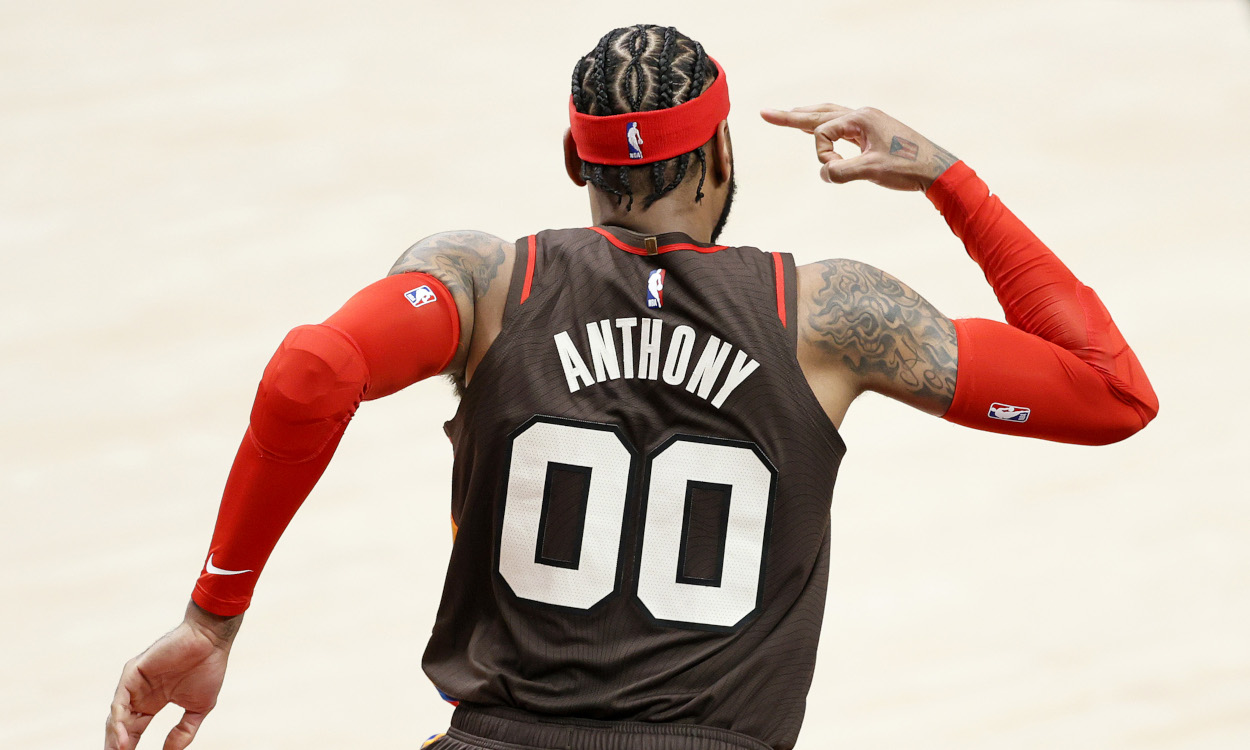 Carmelo Anthony Hilariously Wanted to Change His Name
Carmelo Anthony has been a household name in the NBA for nearly two decades. But there was a time when he wanted to be called something different.
Though his days as an NBA superstar are in the rearview mirror, Carmelo Anthony of the Los Angeles Lakers is still one of the most recognized names in the game. So, it might surprise some that there was a time he wanted to change it. Those with unusual monikers will certainly understand Anthony's dilemma, though.
Anthony enters the 2021–22 season with 27,370 points, 10th-best in NBA history. He is 1,227 away from passing Shaquille O'Neal for eighth.
Carmelo Anthony can still get buckets
In 18 seasons, Carmelo Anthony drops in an average of 23.0 points per game, though it's dipped to 14.9 over his last four seasons. He topped the 20-point mark 14 times in 69 games last season, with a high of 29 in a win over the Charlotte Hornets on March 1.
The third pick of the star-studded 2003 NBA Draft is a first-ballot Hall of Famer already. A six-time All-NBA selection and 10-time All-Star, Anthony led the league in scoring in 2012–13.
Passing O'Neal is a tough ask in one season, given he would need to average 15 points per game while playing in all 82 contests. Now 37, his role diminished last season with the Portland Trail Blazers, where he put up 13.4 points a night in 24.5 minutes of work.
Given the sheer volume of shots the Lakers must allocate for Russell Westbrook, Russell Westbrook, and Russell Westbrook (along with LeBron James and Anthony Davis), touches could be at a premium.
Anthony is still a household name, even if he's not going to threaten for any individual honors at this point in his career. Had he gotten his way as a child, that name would be much different from what we know.
A childhood move led to many mangled pronunciations of 'Carmelo'
During a recent appearance with Dax Shepard on the Armchair Expert podcast, Carmelo Anthony recalled wanting a more straightforward name. Having just moved to a new city, his classmates consistently mangled how they pronounced his first name. The spellings also got creative.
"I'm in third grade," Anthony said. "I'm coming from New York. Nobody knows who the hell I am. I come the summer of '92; school starts in September. So I have two months to meet some people, hang out. Mind you; I'm 8 or 9 years old at this point. When I get to third grade, first day of school, you gotta write your name on a white index card."
It turned out to be a moment of truth for the future NBA star.
"That whole summer, people was butchering my name. It was just like 'Caramelo' and 'Camelo.' There wasn't no nothing bad to it. I just didn't like people f***ing up name up. So I write the name 'Tyrone,' and I'm looking around and I'm like, 'What last name am I gonna go with?' So I see a textbook, and it's like 'Johnson' and something textbook. So I'm like, 'Tyrone Johnson.'"
The only Carmelo Anthony in NBA history wanted to be the only Tyrone Johnson in the league record books. However, there was a Tyrone Johnson with the Rio Grande Vipers of the NBA G League in 2015–16. He most often went by "Ty," meaning 'Melo/Tyrone's uniqueness holds.
Carmelo Anthony is a big name off the court, too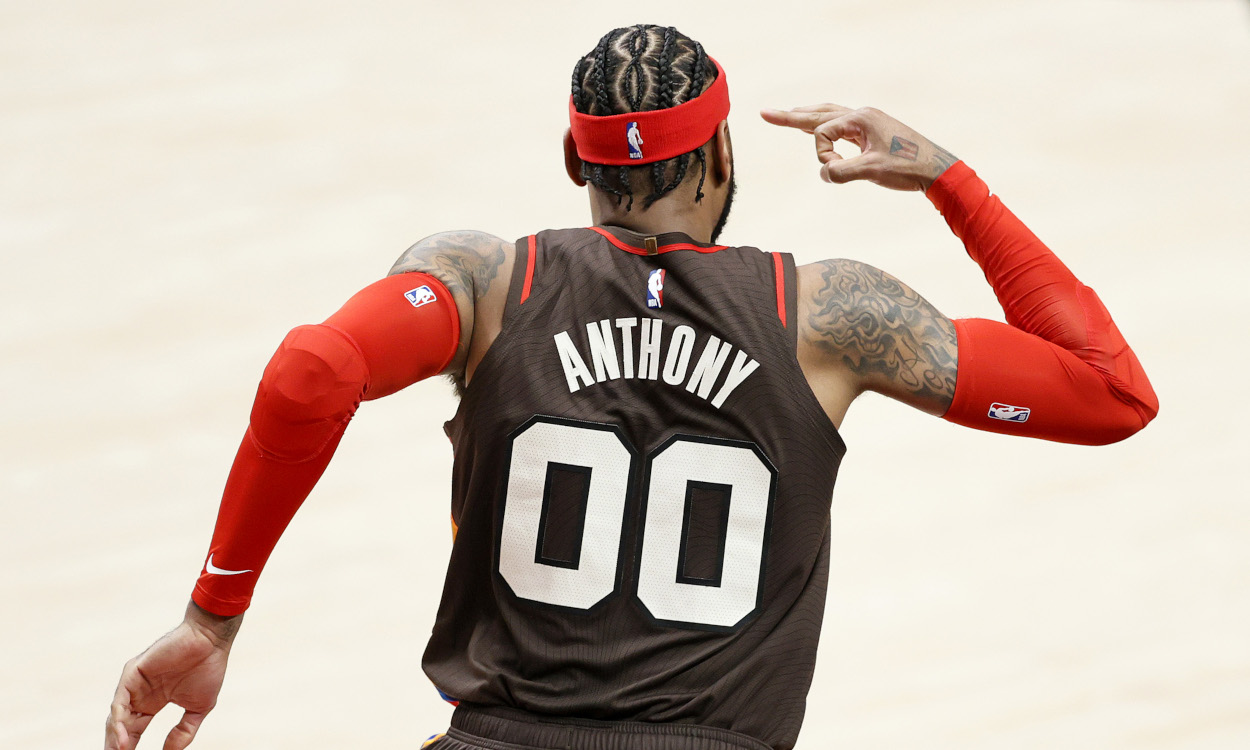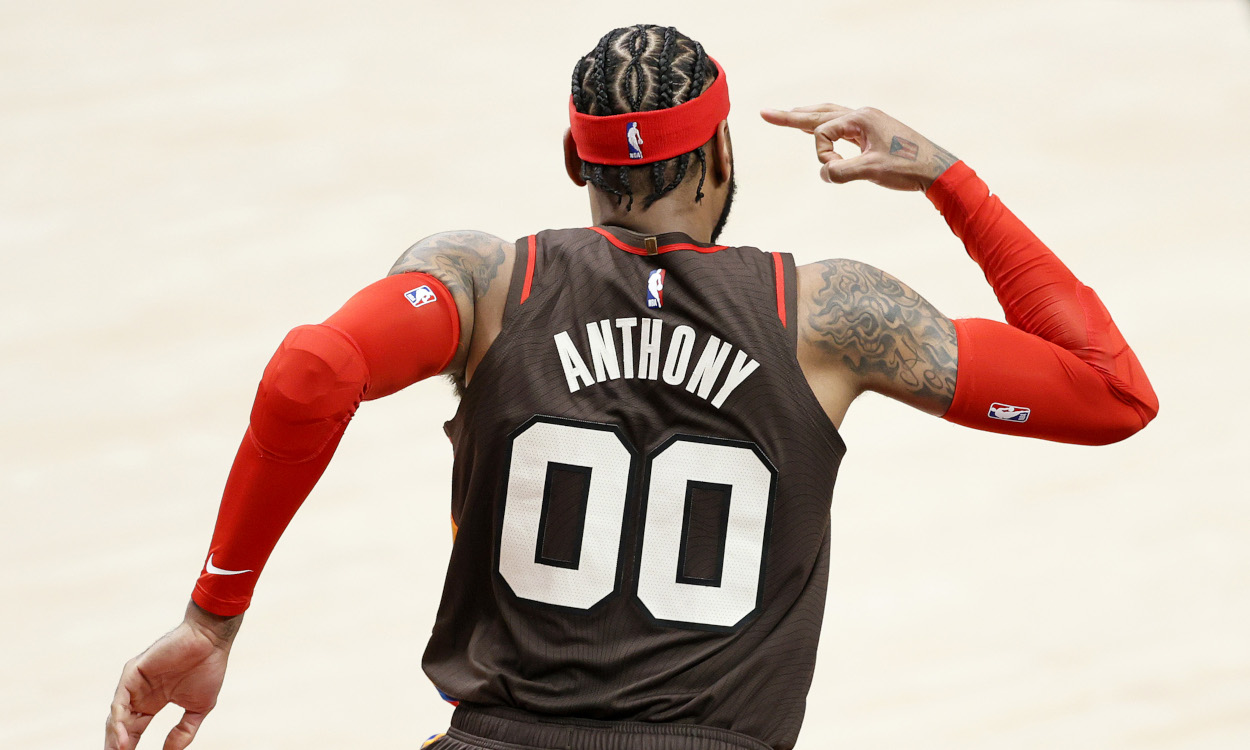 Last season, the NBA presented the inaugural Kareem Abdul-Jabbar Social Justice Champion Award. Carmelo Anthony was its first winner to honor his work to help people historically marginalized or systemically disadvantaged. Per NBA.com, it's his most significant honor.
"For me to be receiving this award means so much more than a lot of other awards that I've ever received," Anthony said. "Kareem laid the foundation for us to be able to go out there and continue to fight the fight and continue to use our voice. We know he was a legend on the court. And what he dedicated his life to, but at the end of the day, what he fought for when it comes to equality and he made it his mission and his duty to drive positive change in our community and in our society."
He launched the Carmelo Anthony Foundation early in his NBA career. The goal of the organization is to achieve change and social reform through outreach initiatives.
Carmelo Anthony's accomplishments are profound, both as a player and humanitarian. It would be the same even if it were Tyrone Johnson.
Statistics courtesy of Basketball Reference.