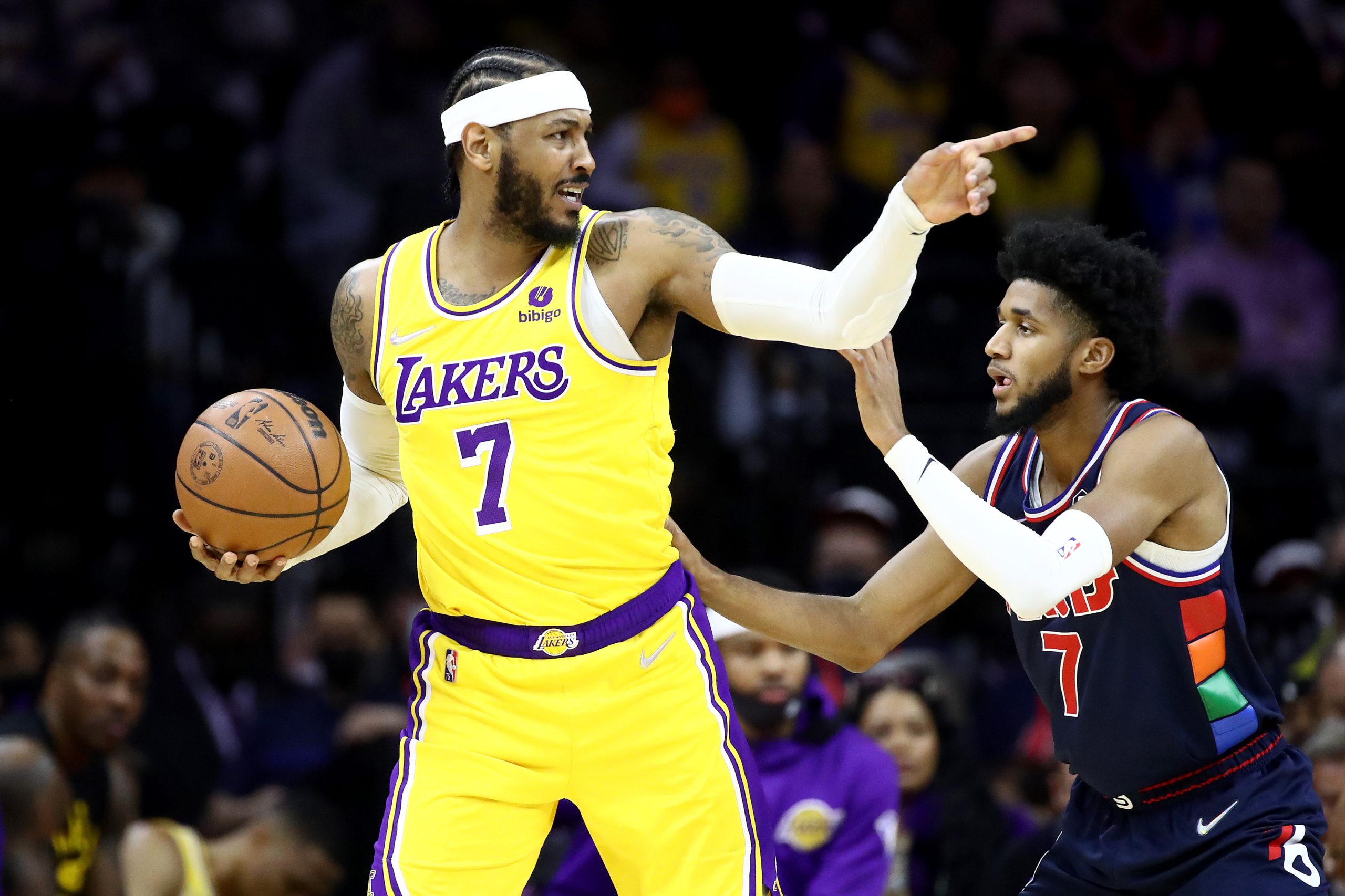 Carmelo Anthony Is in a Reserve Role He Once Mocked, but He's Happy and Helping the Los Angeles Lakers
Los Angeles Lakers forward Carmelo Anthony is in a role he once never could have imagined for himself, but he's playing well off the bench and averaging 13.4 points per game.
ORLANDO, Fla. — Everything vintage is loved by the cool kids these days, so it's only natural that Los Angeles Lakers forward Carmelo Anthony is back in style again. Only this' Melo is far different from the one that flashes seemingly a generation ago.
Oh, this 'Melo still has that irrational confidence, still thinks every one-on-one matchup is a playground battle and still plays mostly with blinders when the basketball finds him. 
But in other ways, he is a kinder and gentler, more mellow 'Melo. The game of basketball humbled him a bit, and he's better off for it. Now, he talks of playing a role instead of dominating a game. He mentions bringing energy and effort instead of highlights and hoops these days. Instead of simply piling up points and stats, he discusses the need for this Lakers team to play smarter and more together.    
Former All-Star Carmelo Anthony is in a reserve role that he never imagined for himself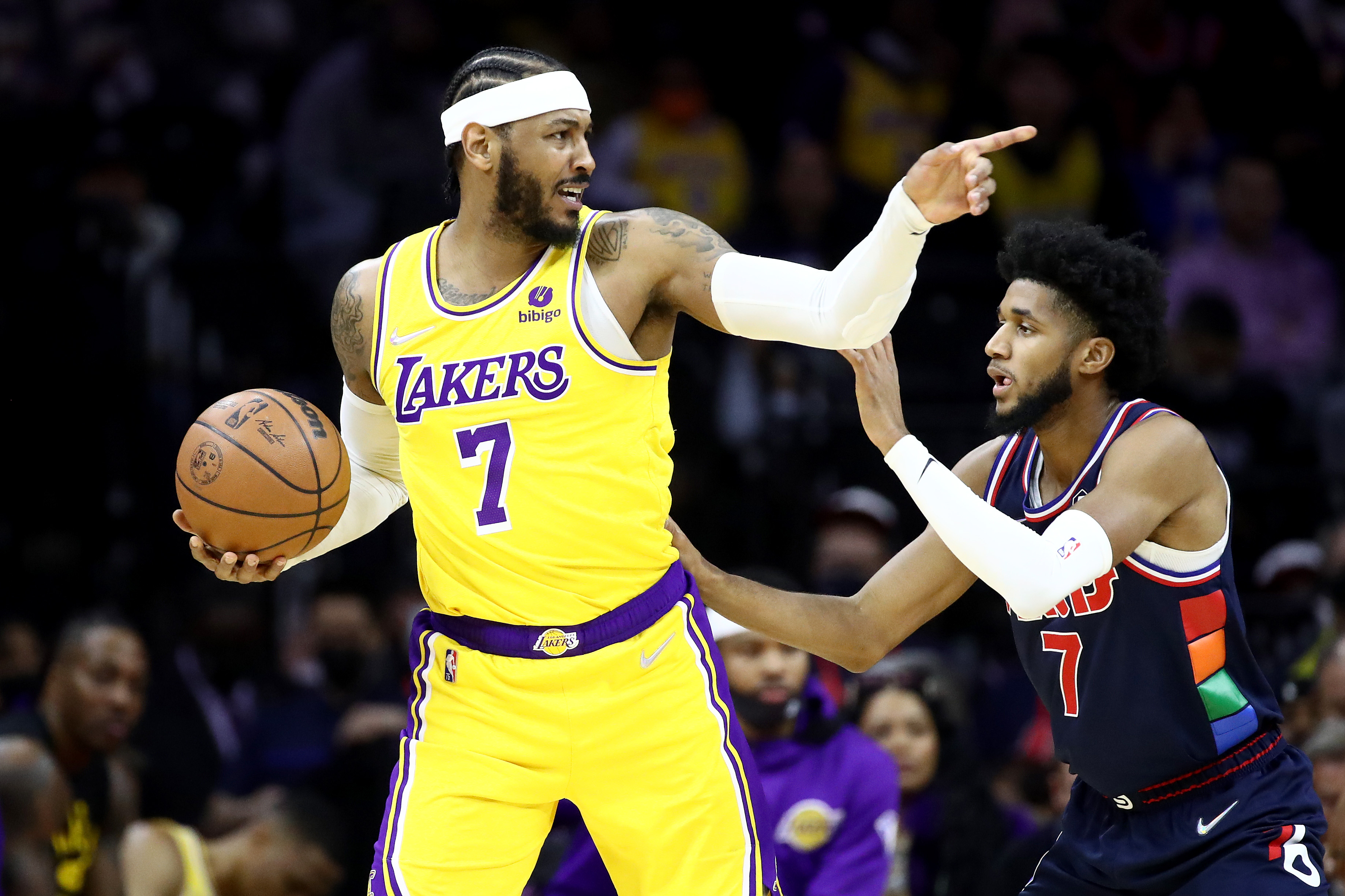 Carmelo Anthony averaged 20 or more points in the first 14 years of his NBA career and was a 10-time NBA All-Star, so he likely never envisioned a role like the one he has now. 
Not long after leaving the New York Knicks and ending up with the Oklahoma City Thunder for the 2017-18 season, Anthony famously mocked a reporter who suggested he might be better suited playing off the Thunder's bench. At the time, Anthony could never comprehend the perceived indignity of being a reserve. That attitude played a significant role in him bouncing between the Oklahoma City Thunder, Houston Rockets, Atlanta Hawks, and out of basketball for a brief stretch.
At some point along the way, Anthony realized he was no longer the player who led the NBA in scoring in 2012-13 (28.7 PPG). That awakening allowed him to breathe life back into his flailing career, and he embraced a reserve role during the second of two seasons with the Portland Trail Blazers in 2020-21.
Anthony isn't the player he used to be, but he can still get buckets for the Lakers
Anthony's willingness to be a role player led him to joining 2003 NBA Draft classmate LeBron James with the Los Angeles Lakers. In some ways, the two seemed destined to play together because of their friendship and similar career arcs.
Whereas Lakers GM Rob Pelinka has taken lots of very warranted criticism for trading for Russell Westbrook and adding an aging supporting cast around the 37-year-old James, the addition of Anthony has been a positive one. 
Anthony has brought some much-needed firepower off the LA bench to a team with nowhere near enough shooting. He has scored at least 20 points eight times, and he sparked a second-half rally in Orlando on Jan. 21 with 23 bench points. In 45 games, Anthony has averaged 13.4 points and 4.1 rebounds while shooting 43.2% from the floor and 39% from 3-point range.  
Most importantly, Anthony embraces a role he never thought he'd have in his star-studded career.
"For me, it's all about coming in and changing the momentum of the game," Anthony said last week in a postgame news conference in Orlando. "Not just with scoring the basketball, but with different energy and effort. That's contagious out there on the court, and that's how I want to play."
Anthony's fiery disposition still surfaces from time to time, as is did on Thursday night in Philadelphia. During a break in the action, Anthony walked toward a couple of hecklers and confronted them for trash talk that he felt crossed the line. It was a moment that showed once again that the fire and competitiveness inside of Anthony still burns as hot as ever and that he won't back down from a challenge.
Anthony has the support of LeBron James, and he's a difference-maker for the Lakers 
Of course, LeBron James is supportive of a player he has known since they were up-and-coming teenagers. James admitted recently that seeing Anthony happy again makes him nostalgic of the days when the forward would electrify fans in Madison Square Garden. James considers it his purpose to get the ball to Anthony to help the Lakers with his firepower off the bench.
"Any time he gets a hot hand like (on Jan. 21 in Orlando), it's good to see," James said of his friend. "He's one of our snipers, one of our quick bucket-getters, and it'll come quick and in a flurry. It's my job when I'm on the floor to find him as much as I can." 
Admittedly, it's odd to hear Anthony talking about being a role player, providing energy and enthusiasm off the bench, and willingly taking a back seat to others. There are still some subtle signs that his reduced role is a ding to his ego, such as when he occasionally retreats to the locker room during pregame introductions.
For now, though, Anthony is saying all the right things and embracing his reduced role. It's a far cry from where he used to be as a high-scoring All-Star player, but he's eager to help the Lakers and his good buddy, LeBron James.  
"I just play my role and do what I'm called on to do," he said. "Teams defend me differently, so it's just about me playing smarter and reading the defenses. I give my team an opportunity to space me out and give them a weapon on the wing, or I can take advantage of the mismatches in the post. I'm just trying to make the game easier for myself and others on the team."
Sportscasting.com Senior NBA Writer John Denton obtained all quotes in this article firsthand. 
All statistics are courtesy of ESPN.com.