Carmelo Anthony Just Revealed What He Wants To Do Next in His NBA Career
Carmelo Anthony proved that he is still an excellent NBA player this season for the Portland Trail Blazers. After not having things go as planned while playing for the Oklahoma City Thunder and Houston Rockets, Anthony became a valuable player yet again for the Blazers. Now that the Trail Blazers' season is officially, though, Anthony's NBA future is up in the air. However, he just revealed what he wants to do next.
Carmelo Anthony was extremely valuable for the Portland Trail Blazers
After spending six-and-a-half seasons with the New York Knicks, Anthony went to the Oklahoma City Thunder via trade and played there during the 2017-18 season. Anthony ultimately averaged 16.2 points per game and shot a career-low 40.4% from the field that year. He was then very disappointing in the playoffs too, as he averaged 11.8 points per game on 37.5% shooting in six games.
The Thunder then traded Anthony to the Atlanta Hawks during that offseason. After the Hawks waived him, though, Anthony signed with the Houston Rockets. However, Anthony only played in 10 games with the Rockets in 2018-19. He was then dismissed from the team in November 2018 and traded to the Chicago Bulls in January 2019, according to Sports Illustrated. The Bulls then waived Anthony.
Anthony ultimately went an entire year without playing as he didn't play for pretty much all of the 2018-19 season. In November 2019, though, he signed with the Trail Blazers on a non-guaranteed deal. He then played well enough in his first eight games that the Blazers amended it to become fully guaranteed for the remainder of the season, according to ESPN's Adrian Wojnarowski.
In 58 games this season, Anthony averaged 15.4 points per game and pulled down 6.3 rebounds for the Trail Blazers. Anthony also shot 43% from the field.
He was huge down the stretch and in the playoffs for the Trail Blazers
The Trail Blazers had to play well during the seeding games in the NBA bubble in order to make the playoffs. They ultimately did just that, and Anthony played great. 
He scored 20 or more points in four of the eight seeding games. This included a 26-point, eight-rebound performance in a win over the Dallas Mavericks. Anthony also scored 21 points in the play-in game against the Memphis Grizzlies.
Anthony also played great in the playoffs against the LA Lakers. After only scoring 11 points in Game 1 and two points in Game 2, Anthony scored 20 points in Game 3, 16 in Game 4, and 27 points in Game 5.
Additionally, during Game 5 of the series, Anthony and LeBron James ultimately became the third pair of opposing players 35 years old or older to score 25 points or more in the same playoff game, according to ESPN Stats & Info.
The Trail Blazers lost to the Lakers in five games, though, as their season has officially come to an end.
Carmelo Anthony revealed that he wants to stay in Portland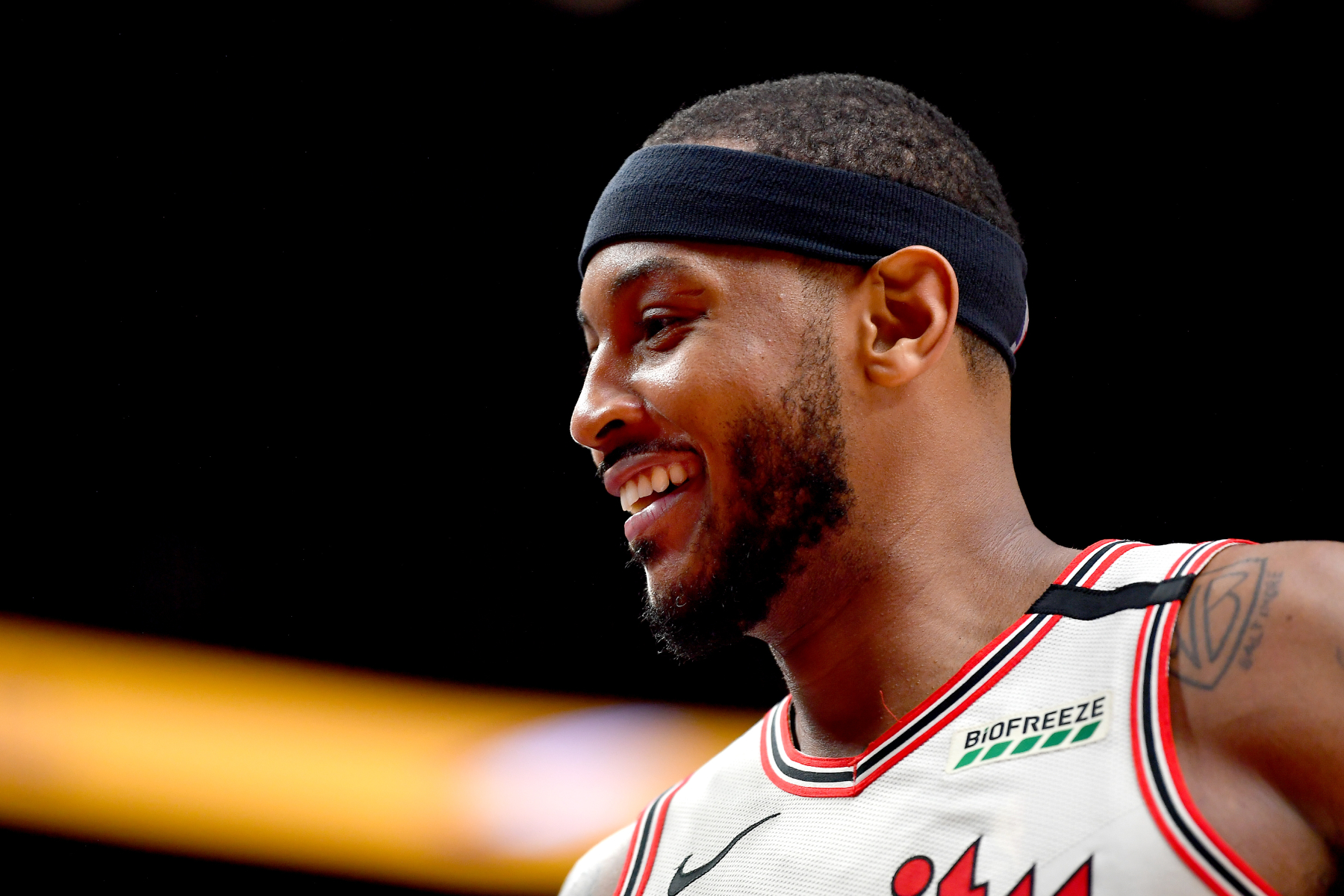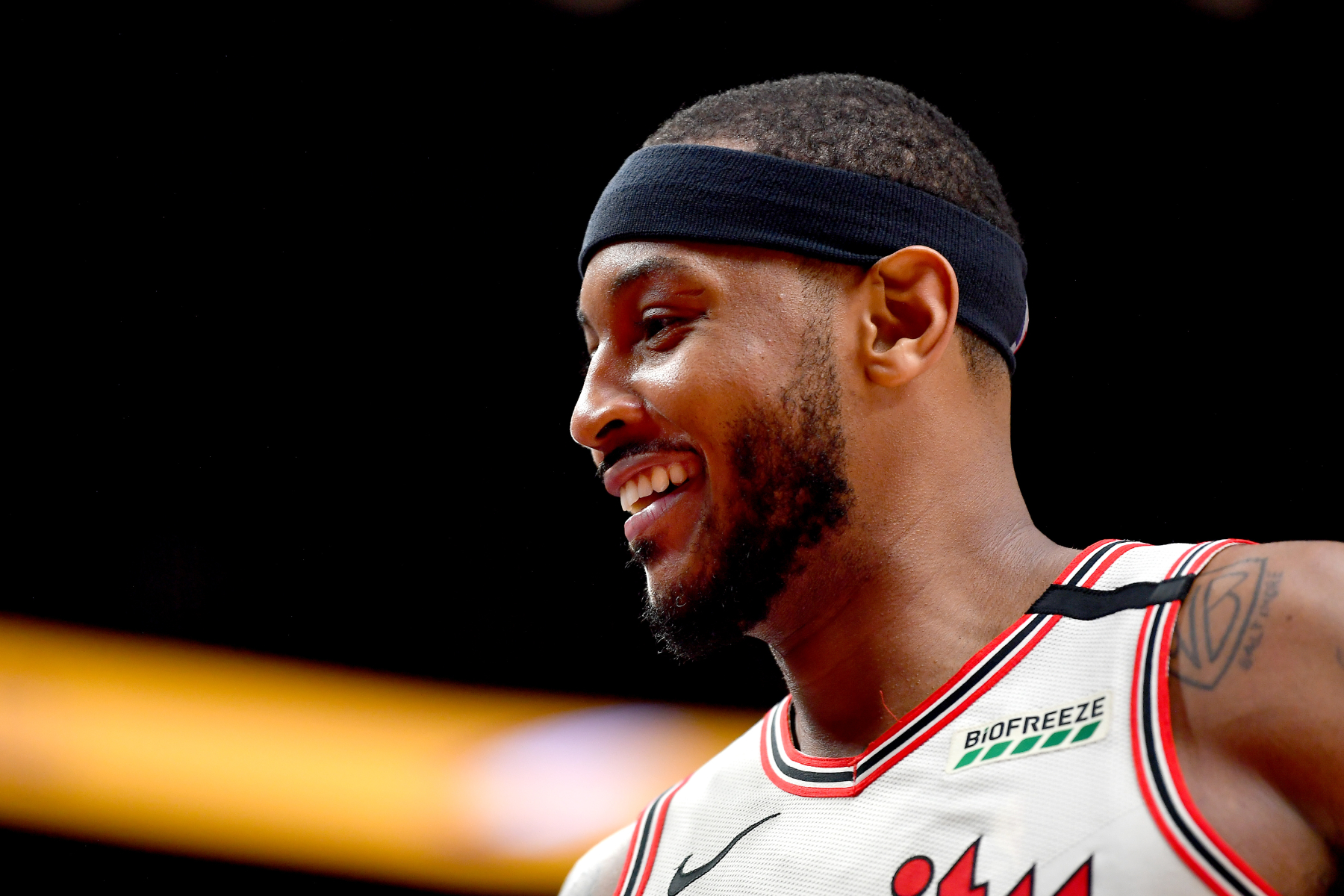 The Trail Blazers seemed to really embrace Anthony this season. This has led to him wanting to stay in Portland despite his contract being up.
"I pray that it can be Portland; I think I found a home in Portland," Anthony said, according to Bleacher Report. "I think you saw it, why this is a good fit for me. Whenever you find a situation that's comfortable and allows you to be who you are, you want to stay in that situation. There's no need to try different things when something is working."
If Anthony wants to stay in Portland, he will probably have to sign a veteran's minimum contract. According to Bleacher Report, the Blazers would have been capped out next season prior to COVID-19 happening, but the cap could be even lower now due to the pandemic. Because of that, they will only have the minimum contracts and the mid-level exception to use.
It seems that he definitely wants to stay with the team, though, so it will be interesting to see if Portland feels the same way.
Stats courtesy of Basketball Reference