Carmelo Anthony Just Set the Record Straight About What Happened Between Him and the Oklahoma City Thunder
Carmelo Anthony was on an absolutely stacked team during 2017-18, as he teamed up with Russell Westbrook and Paul George on the Oklahoma City Thunder. Anthony was only there for a year, though, while George still played on the Thunder with Westbrook the next season. There has been a ton of speculation about what really happened during Anthony's time in OKC, but he recently set the record straight.
Carmelo Anthony and the Thunder didn't meet expectations
The Thunder had a really talented squad in 2017-18, as they traded for Carmelo Anthony and Paul George to team them up with Russell Westbrook.
They ultimately played well in the regular season, as they went 48-34 and finished with the No. 4 seed in the Western Conference. Westbrook averaged 25.4 points per game, 10.1 rebounds, and 10.3 assists that year while George averaged 21.9 points per game, and Anthony averaged 16.2 points per game.
However, they had an extremely disappointing finish in the playoffs, as the Thunder lost to the Utah Jazz in the First Round in six games. Anthony struggled in that series too, as he averaged 11.8 points per game and only shot 37.5% from the field, compared to his 40.4% average in the regular season.
Following that season, Anthony got traded to the Hawks and was then ultimately waived by Atlanta before signing with the Houston Rockets. He then played for the Portland Trail Blazers this past season. Westbrook, on the other hand, played for the Thunder with George the next season, but then played on the Rockets this past season while George played for the LA Clippers.
He revealed that he enjoyed his time in Oklahoma City
Anthony recently appeared on JJ Redick's Oct. 1 episode of The Old Man and The Three podcast, and he discussed his time on the Oklahoma City Thunder.
"People look at the OKC situation and be like, 'Oh, it didn't work. Oh, it was the worst [situation].' For me personally, I actually really enjoyed my time in OKC," Anthony said. "That team, I enjoyed it. Being around those guys, I enjoyed it."
However, Anthony did admit that the team underachieved. 
"In our minds, we were just like, 'Yo, listen man, we're coming back. Next year, we're going to be good. We got a year under our belt, this is new to everybody," Anthony said.
Anthony, who had just come off an All-Star season with the New York Knicks the year prior, then said that his departure came down to money.
"They was already going to be in the luxury tax, but they took a chance and said, 'Nah, we got a chance to win this, and if we win it we'll figure this s*** it out," Anthony said. "I already knew what I was up against from a luxury tax standpoint. I think I was owed $27 [million] or $28 [million] that year. So, I knew I was going to have to revamp my contract or get a new deal. However way we was going to do it, I was willing to figure it out in OKC." 
It seems that Anthony was willing to make sacrifices to make it work in OKC. However, he then started feeling like an outcast.
Things got awkward between Anthony and the Thunder at the end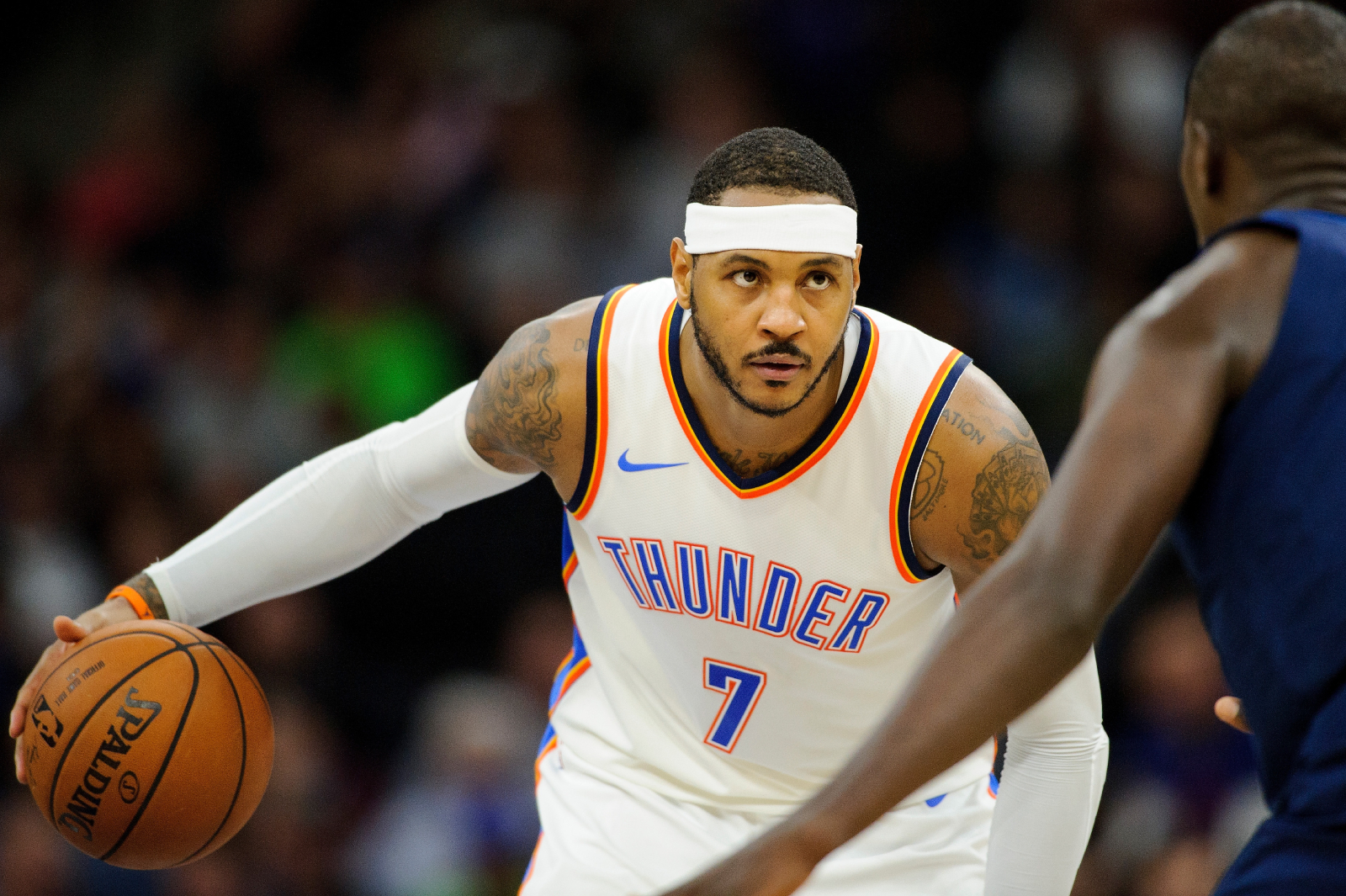 On the podcast, Anthony continued to reveal how he wanted to make things work in OKC.
"After the season, I'm in Paris, Fashion Week, and I'm talking to like [former Thunder head coach] Billy Donovan or something like that, and he's just like, 'Yeah, I don't think it's going to work,'" Anthony said." I'm like, 'Woah woah, woah, what do you mean it's not going to work? Where's this coming from?'… I said, 'Listen, I want to be here. I want to make this work.'"
He then said he got asked about coming off the bench, which he didn't expect, and he then felt like they weren't being honest with him.
"I would rather you tell me 'This is not going to work, and we don't see this working out and happening,'" Anthony said. 
Anthony then said that the team ultimately told him that it was probably time for him to start looking elsewhere.
What ended up making things awkward, though, and what potentially proved to Anthony that his time in OKC was up, was when a team event took place that he didn't know about beforehand.
"[Russell and Paul] were like 'Yeah, we're out here. Where you at? You're supposed to be here,'" Anthony said. "I'm like, 'I ain't ever get the call about no get-together.""
Despite it not working out, though, Anthony said that he wished it would have worked on the Thunder. He also said that he actually had a great time in Oklahoma City.
Once Anthony left, the Thunder also ended up losing in the First Round in 2018-19. Maybe things would have been different, though, had Anthony been there that year too instead of just being there for the one season.
Stats courtesy of Basketball Reference