Carmelo Anthony Loves LeBron James, but Not Enough to Bench Himself
New Los Angeles Lakers veteran Carmelo Anthony has never lacked confidence in his career. He's looking forward to teaming up with a longtime friend and NBA draft classmate, LeBron James, for the first time outside an Olympics setting. The goal is completing the long chase for the championship ring. But he's been making noise while on a media tour promoting his new memoir, Where Tomorrows Aren't Promised.
One of his many comments of late might leave Anthony some explaining to do at Lakers training camp. When pressed during a recent interview to put together his dream 12-man roster and pick a starting five, at least one of his choices was a surprising one.
Carmelo Anthony entered the NBA a champion
Before the 2003 NBA Draft, Carmelo Anthony was one of the premier prospects in a top-heavy class. But unlike prep phenom LeBron James or college stars Dwyane Wade and Chris Bosh, Anthony had proven his championship mettle at a national level.
As a freshman at Syracuse University, 'Melo averaged 20.2 points, 9.8 rebounds, and 1.8 steals per game in the NCAA Tournament to lead Syracuse to its first national championship in program history. He was a threat everywhere, hitting 47.5% of his shots, including 10-of-21 (47.6%) from the 3-point range. In the national championship against Kansas, he went for 20 points, 10 boards, and seven assists and was named the tournament's Most Outstanding Player.
Taken third overall by the Denver Nuggets, the postseason magic didn't follow Anthony to the professional ranks. Every year Anthony was in Denver, the Nuggets made the playoffs. All they had to show for it was two series wins from 2004–10. Both came in a run to the Western Conference Finals in 2009. Over 13 trips to the playoffs, Anthony's teams have won just three series. The last time he was smiling and shaking hands after a clinching game was in the first round in 2013.
Compare that to James' postseason resume, with one first-round loss in 15 seasons, 11 trips to the conference finals, 10 NBA Finals appearances, and four rings, and it puts Anthony's imaginary roster judgment under increased scrutiny.
LeBron James has a place on Anthony's dream team roster, but that's all
On a recent appearance on the Million Dollaz Worth of Game podcast, Carmelo Anthony put together an all-time 12-man roster, complete with a starting lineup and a second unit. One of the caveats was that Michael Jordan was somehow off-limits. With that, Anthony began roster building.
Small forward was next after naming Magic Johnson as his point guard and Kobe Bryant to take the shooting guard slot. Anthony didn't hesitate.
"Me," Anthony said.
He went with Kevin Garnett and Hakeem Olajuwon for the other two starting spots. The second unit is an offensively punchy one with Chris Paul and Wade at the guards and Kevin Durant, Shaquille O'Neal, and some guy named LeBron James in the frontcourt. Allen Iverson and Julius Erving fill out the roster.
Is it the team you would have picked? Maybe, maybe not. Being under the gun behind a hot mic likely upped the degree of difficulty, as well. LeBron as the sixth man is a fascinating concept. Maybe Frank Vogel will toy with the idea.
Carmelo Anthony won't bump LeBron James from the starting group in LA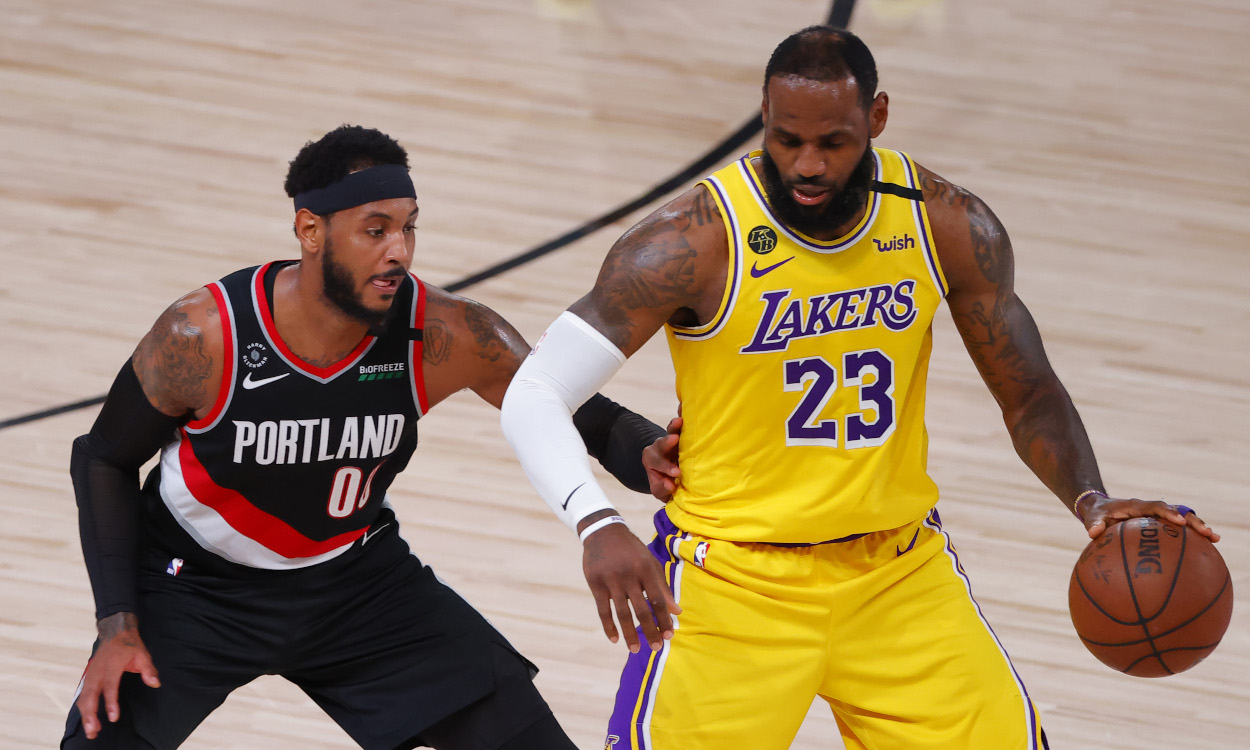 Over the last three seasons, Carmelo has played in 137 games, with 74 of those appearances coming as a reserve. Anthony was a starter only over his first 15 seasons, 1,054 games in all, before chafing at a backup role with the Houston Rockets. He started all 58 games he spent with the Portland Trail Blazers in 2019–20 before taking on a sixth-man role last season.
As for LeBron James? It's been almost 14 years since The King waited until after the opening tip to peel off the warmups. On Dec. 11, 2007, against the Indiana Pacers, James returned from a five-game absence due to a sprained left index finger.
In 23 minutes, LeBron dropped in 17 points on 5-of-9 shooting, and his Cleveland Cavaliers snapped a six-game skid with a 118-105 win. Per The Associated Press, it was not something he wanted to repeat. Asked the last time he came off the bench, the answer came quickly:
"Uh, never. That was one and done for me. I will not be coming off the bench anymore."
He's not wrong. That December 2007 appearance is James' lone non-start in 1,310 career games.
Maybe it makes sense then for Carmelo Anthony to insert himself into his dream team starting five. It might be the only chance he has at this point in his career to get the start ahead of LeBron James.
Statistics courtesy of Basketball Reference and SRCBB.
RELATED: LeBron James Personally Called Carmelo Anthony and Sold Him on Joining the Los Angeles Lakers With 3 Simple Words