Carmelo Anthony Says Players Weren't 'Business Savvy' in Dealing With the League's Owners: 'We Weren't Educating Ourselves'
The NBA has certainly changed since Carmelo Anthony entered the league in 2003, Not even his attempt at through time by bringing his iconic braids back last season can stop the flow of time.
To be fair, Anthony isn't exactly yearning for the days of basketball past. Why would he argue against bigger contracts and players shooting far more 3-pointers now than they did nearly 20 years ago? According to Anthony, one of the most significant changes in that span has nothing to do with what happens for 48 minutes of in-game action.
Carmelo Anthony says players weren't 'business savvy' in the past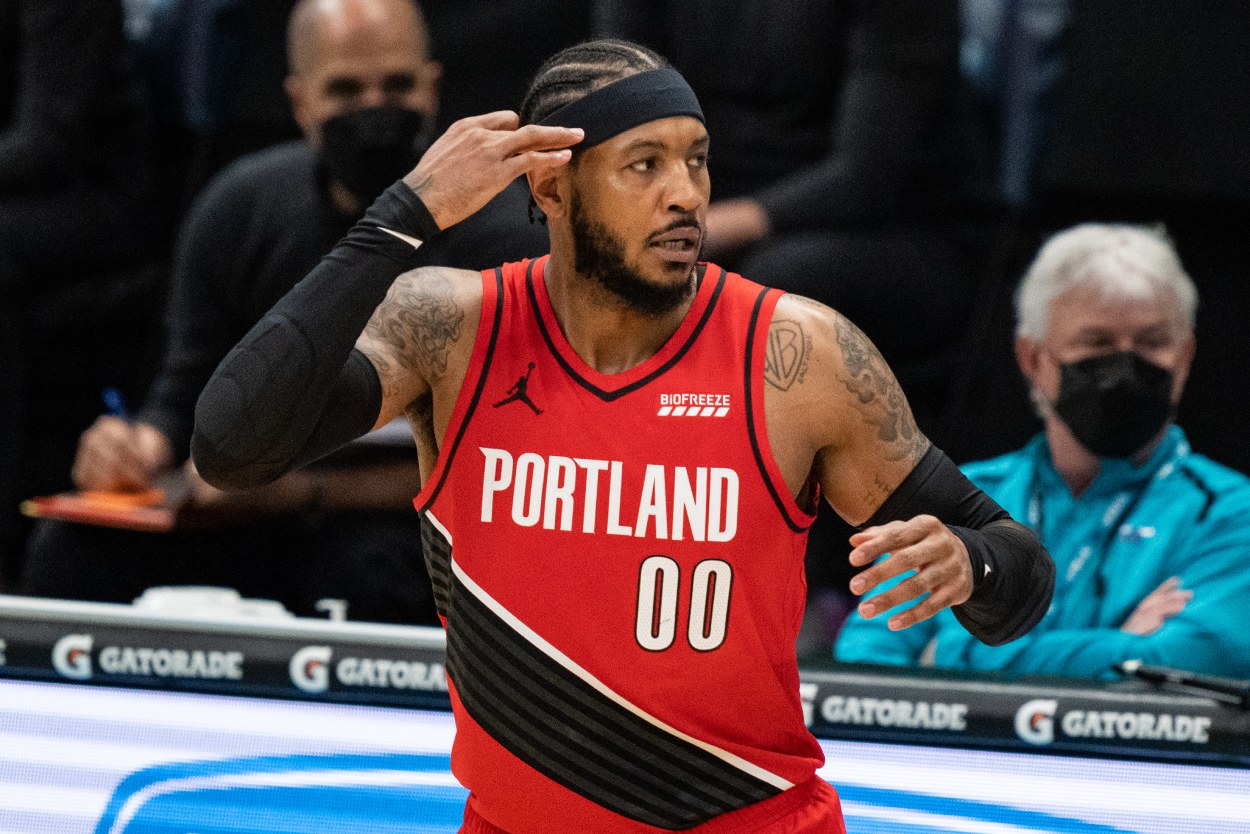 In the last two years alone, the NBA has dealt with a global pandemic, ratings issues, an international controversy with China, and the fallout from players using their platforms to become social justice advocates.
Yet throughout all of that, all sides of the NBA, from the league's owners to the approximately 450 players, have worked together and fought through the adversity. In a recent interview with Success.com, Anthony reflected on how players have more opportunities to speak their piece and provide input to governors and league officials.
"You know, the decisions that are being made about the NBA, when it comes to the players, we have a say now, whereas before we didn't really have a say, or we were afraid to talk about it. Or we were just — I don't want to say afraid — we weren't business savvy enough. We weren't aware of the things going on. We weren't educating ourselves. We didn't have that camaraderie that you see that we have now between the 450 players."

Carmelo Anthony
Anthony added that he feels there's a sense of people wanting to work together instead of feeling like the players are against the governors.
The NBA and its players have certainly shown an incredible willingness to work together
If you still have any doubt that the NBA and its players genuinely want to work together, you need to look no further than the bubble.
The league had too many financial reasons not to shelve the 2019-20 season even amid the coronavirus pandemic. However, the NBA knew it could not safely travel across the country and finish the season, especially with the first approved vaccines still months away.
Enter the bubble. The NBA and its players worked together to create a safe and efficient system that sent 22 of the league's 30 teams — all of whom were still in playoff contention — to Bay Lake, Fla. Anthony, then playing for the Portland Trail Blazers, was among those who traveled to Florida and played in front of empty crowds.
The league resumed their season and played from July through October until LeBron James and the Los Angeles Lakers won the NBA Finals in six games. According to ESPN, the bubble recouped an estimated $1.5 billion in revenue. Those three-plus months also proved that the NBA has possibly the strongest partnership between players, governors, and owners.
Major League Baseball needs to learn from Anthony and the NBA
The NBA's various parties do whatever they can to work together and avoid any lockouts and significant issues. Perhaps Anthony can share his experience with Major League Baseball's power players.
The 2022 MLB season is currently in jeopardy because the CBA expires on Dec. 1, 2021. The sport has enjoyed 26 years of labor peace and hasn't endured a work stoppage since the infamous 1994-95 MLB lockout.
If baseball wants to avoid a lockout, the players and owners need to work together. It sounds simple, but there are clear communication issues — some players, including New York Mets first baseman Pete Alonso, have accused the league of everything from tampering to collusion — which has persisted over the last decade.
Anthony and the NBA have set a clear standard for professional sports to follow, and it's time for baseball to follow through. Just listen to how happy he sounds about the two sides working together.
Like Sportscasting on Facebook. Follow us on Twitter @sportscasting19.