Carmelo Anthony Sends Direct Shot at Haters After Torching the Team That Hastily Gave up on Him: 'I Think People Don't Really Understand Me'
Carmelo Anthony is one of the greatest basketball players of all time. He proved in his prime that he was one of the most talented scorers to ever play the game, and he is now continuing to find success late in his career with the Los Angeles Lakers.
However, it seemed that no one believed in him just a couple of years ago. And Melo has since sent a direct shot at the haters who doubted his abilities.
Carmelo Anthony went a year without playing in the NBA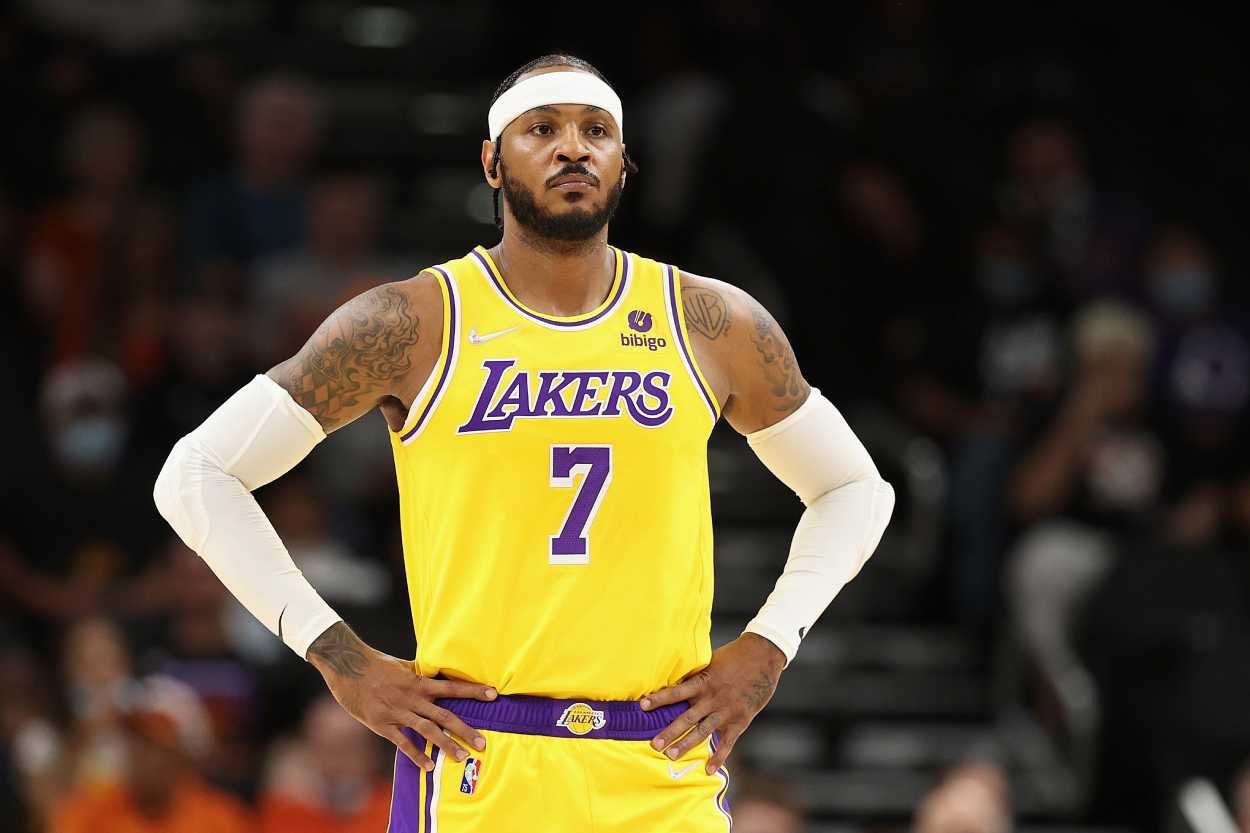 Anthony was tremendous for the Denver Nuggets and New York Knicks from 2003-04 through 2016-17. He earned 10 All-Star and six All-NBA selections, led the league in scoring in 2012-13, and he dropped as many as 28.9 points per game in 2006-07.
However, his career took a dramatic turn in 2017 when the Knicks traded him to the Oklahoma City Thunder.
Before the season even began, he caught flak for laughing at the idea of coming off the bench.
"Who me? I don't know where that started where that came from," he said, per CBS Sports. "Hey P (Paul George) they said I gotta come off the bench."
Melo then only averaged 16.2 points and shot a career-low 40.4% from the field that year, which led to him and OKC parting ways after the season. Anthony later joined his friend Chris Paul on the Houston Rockets the following campaign, but after only playing in 10 games, Houston also cut him loose.
"I know how to play this game of basketball," he said of coming off the bench before the 2018-19 season with Houston, per The Undefeated. "I've been playing it for a long time. When I feel like I'm ready to take that role, then I'll take that role. Only I know when it's best for me to take that role. I'm not going to do that in a situation where I still know my capabilities and what I can do. And at the end of the day, the people who really matter know my capabilities and what I can still do."
But Anthony then went over a year without a team. His (what seemed like) refusal to come off the bench appeared to scare some people away, and no one wanted to take a chance on him.
In late 2019, though, a team finally gave him a lifeline, and he has since proven all his haters wrong.
Carmelo Anthony sent a direct shot at his haters after torching the Rockets in a Lakers win
Anthony eventually signed with the Portland Trail Blazers in 2019 and had two successful seasons there. He even came off the bench for the majority of his second campaign in Portland and shot a career-high 40.9% from 3-point range.
Melo then signed with the Lakers to team up with LeBron James this past offseason, and he has so far been huge for a championship-aspiring team.
Anthony is averaging 16.7 points through the first seven games — the most since his final season with the Knicks — and he is shooting a new career-high 52.2% from 3-point range to go with a career-best 50% from the field.
On Oct. 31, the Lakers beat that team he only played with for 10 games (the Rockets) 95-85, and the Syracuse product led all players in scoring with 23.
He then (maybe on purpose, maybe not) sent a direct shot to his haters.
"I think people don't really understand me," Anthony said, per ESPN. "I think there's a misconception out there about me and not being able to adapt to situations. But I'm easily adaptable, man, to any situation."
Whether you agree with how he handled his potential move to the bench in the past, Anthony has become one of the best second-string players in the league and has proven that he can find success in whatever role he is in.
His team knows how valuable he is, too.
The Lakers know what Melo means to their success
Carmelo Anthony is doing much more than just providing the Lakers with a scoring punch off the bench. He's also playing well defensively, as he recorded four blocks and two steals in a contest for the first time since his rookie season in the win over the Rockets.
"It was great," Lakers head coach Frank Vogel said, per ESPN. "I mean, forget about the steals and blocks and strips. He's always good with his hands. But he's in the right position. When you watch him on tape coming into this year, Iike, the effort's there. He plays hard on that side of the ball."
But Anthony's offensive prowess will be the area where he can really help the Lakers in their title pursuit, and LeBron James knows just how much he has meant to the team on that end of the court so far.
"When it comes to efficiency and as far as what he's doing right now, we're just trying to break down the defense and he's finding himself, either his man is guarding him and leaving him or he's in a great rhythm," James said, per ESPN. "He's just taking his shots and knocking them down."
Stats courtesy of Basketball Reference
RELATED: Carmelo Anthony is Outproducing His $2.6 Million Price Tag, Proving He's Exactly What LeBron James and the Lakers Need in Their NBA Title Hunt