Carmelo Anthony Takes Great Pride in His Puerto Rican Heritage
Carmelo Anthony has made a lot of headlines for his NBA career, but he's done plenty of good work for people with much less fame. He uses his stardom to highlight a lesser-known part of his heritage. Anthony is half Puerto Rican, and he strives to stay connected to the territory.
The forward has organized fundraisers to support the local community. He also uses his money to better the lives of people living on the island. 
What is Carmelo Anthony's familial background?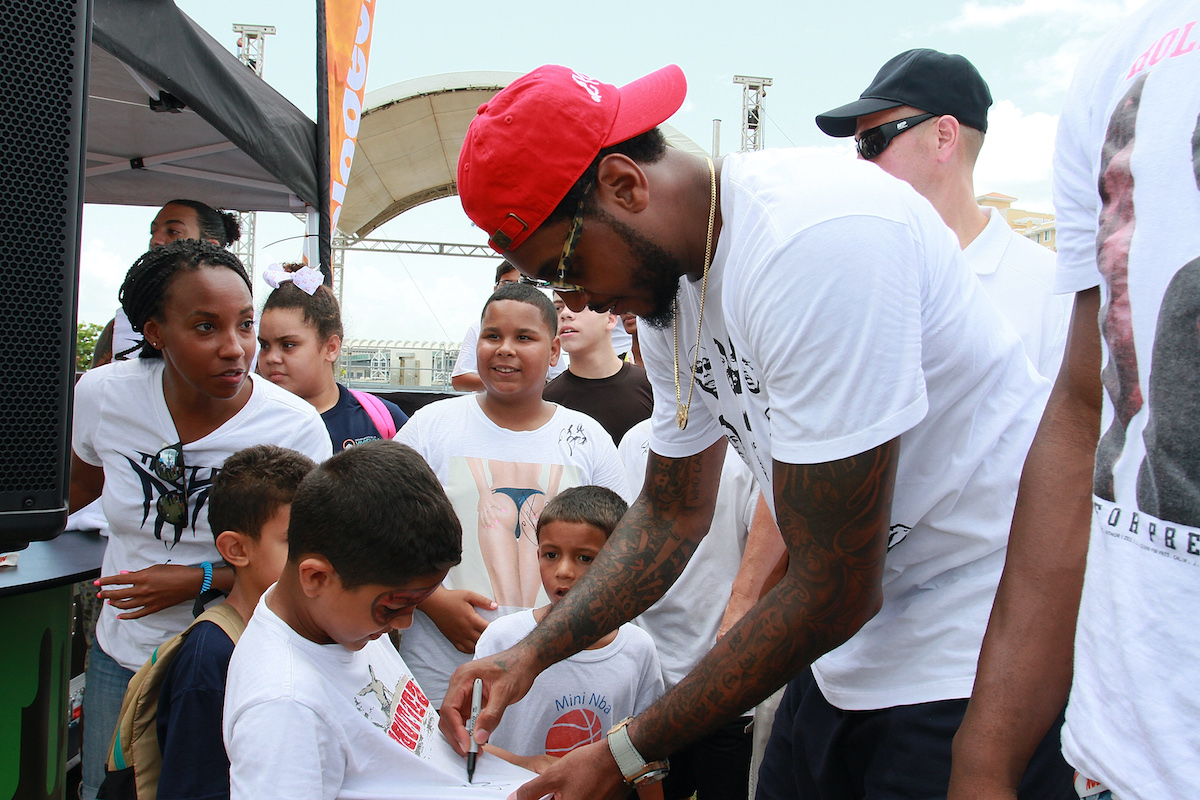 Anthony has a lot of tattoos. The one on his right hand depicting the Puerto Rican flag holds particular significance to him. Anthony's father, Carmelo Iriarte, was Puerto Rican. But he never learned much about this piece of his family history until much later.
Iriarte passed away from cancer when Anthony was just two years old. And his mother, Mary Anthony, rarely spoke about his dad after he died. The Anthonys used to visit Puerto Rico when Carmelo was a child. But the first trip he remembers was in 2002, when he was 18. 
Anthony has few memories of Iriarte, but his dad left mementos for him learn about him. "[My dad] wrote poetry. I have a book full of poems that he wrote. The book is too heavy to carry around, so I leave it in my office, but I always try to go back and read them." Anthony told ESPN. 
Melo began getting more information about his father about 10 years ago. He learned that he was born in Manhattan in the late '40s. Iriarte was involved with the New York chapter of the Young Lords. The civil rights organization was inspired by the Black Panthers. It fought for social programs, like school breakfast and better healthcare, to improve the lives of the working class Latinos. 
Anthony appeared on an episode of PBS' Finding Your Roots, a TV show where historian and filmmaker Henry Louis Gates Jr. and his team research the backstory of the various celebrities families. The NBA star discovered that his grandfather, Luciano Iriarte, was a supervisor on a sugar plantation with two families that only lived two miles apart and knew about each other. 
Luciano spent the final two years of his life quarantined in a leprosy hospital in Trujillo Alto. The city is particularly important to Melo, who built one example of his charitable work there 80 years later. 
Melo does a lot to display his love for Puerto Rico
As Anthony developed his roots in the island, he felt a greater urge to help its less fortunate citizens. He started a foundation to build at least one basketball court in Puerto Rico each year.
"I want people to know that dreams can come true, that whatever people want to do when it comes to sports and things like that is doable," he told ESPN. "I want to lead the charge and let them have hope, let them know that it is possible to make it to the NBA coming from [Puerto Rico]."
Anthony's connection deepened in times of crisis. He opened a relief fundraiser in the aftermath of Hurricane Maria, raising over $110,000 in donations. But money is not the only way to provide charitable aid. When Anthony noticed that people needed more supplies, he didn't hesitate to get more involved, reports SportsNet.
"We sent planes down there — we teamed up with UNICEF and Feed the Children — and we [donated everything], basketball courts, hygiene kits, my [foundation] team was on the ground and in the trenches doing the whole after the hurricane and post-hurricane. We just wanted to give back, I just felt like something in my heart, in my soul, that I had to do something.
The world could use more people with that mentality. Anthony later attempted to contribute more to Puerto Rico by buying Puerto Rico FC. But circumstances got in the way of his plans with the team.
This hasn't stopped Anthony from destroying their team in basketball
Anthony's background also added layers to an early lowlight of his career, albeit in a tangential way. He was part of the infamous US Olympic team that finished with a lowly bronze medal. The most humiliating of their three losses was a 19-point loss to… you guessed it, Puerto Rico.
Anthony only played a bit part in the game (he scored no points and played four minutes). But the shame extended to every player and coach involved in the disappointment. One of the few players involved with the '04 team, he got the chance to make up for the horrible showing.
Anthony played in the Olympics four times, winning gold medals in 2008, 2012, and 2016. He's currently the country's all-time leader in points, rebounds, and games played.