Carmelo Anthony Uses Cursing to Hype Himself up For Rebounds
Carmelo Anthony has been in the spotlight since facing off with LeBron James in high school. Nearly two decades later, the pair met once again in the 2020 NBA playoffs. Anthony's roller-coaster career began with several highs but slowed in recent years. However, his current season with the Trail Blazers showed that Anthony still has a lot to give. Playing in the bubble, his loud cursing may reveal the secret to his success. 
Carmelo Anthony's NBA career
Had LeBron James not been in the 2003 NBA Draft, Anthony might have been the biggest name in a loaded class. While James went to the historically mediocre Cleveland Cavaliers, Anthony went to a Denver Nuggets team that was on the verge of something special. During those early seasons, it was Anthony who experienced playoff glory while James sat home and watched. 
Anthony was a superstar who could shoot from almost anywhere and take over a game. The Nuggets built a team around him, including a mercurial but still talented Allen Iverson. Still, the team never saw greater success than occasional playoff wins. His last few years in Denver were plagued with rumors that he was a shoo-in to sign with the Knicks. After months of speculation, the Nuggets traded him there. 
Anthony initially gave New York a reason to be excited. He was in the prime of his career, and the team had some early success. The 2012-13 season surrounded Anthony with aging stars like Jason Kidd, Rasheed Wallace, and other players who had previously been superstars. While the team showed promise, the age caught up, and they fell into the abyss.
The Knicks occasionally saw success, such as the rise of Linsanity. Still, Anthony never brought the wins that fans expected with the team. In 2017, Anthony left the Knicks to join the Thunder. After disappointing seasons in both Oklahoma City and Houston, many thought that he was done. Then, a new team called. 
Anthony reborn with the Blazers
RELATED: LeBron James Once Saved Carmelo Anthony's Life
Anthony was believed to be finished after playing just 10 games in Houston. His unwillingness to adjust to a bench role meant teams were iffy on taking a chance, according to SB Nation. After spending nearly a year outside of the NBA looking in, Anthony joined an injured Trail Blazers team who offered both a starting role and a large role in the offense. 
Anthony, now the third option on a team, did quite well with the Blazers. His lockerroom leadership was praised by Damian Lillard, Terry Stotts, and the rest of the Blazers' players and coaches. His 38-percent three-point shooting was the best in half-a-decades, and his overall shooting went back up to where it was when he was with the Knicks. 
During the NBA's bubble games in Orlando, Anthony's presence helped lift a struggling Blazers team into the play-in game and eventual series against the Blazers. The man who was feared dead now had new life in the NBA. However, one humorous aspect of his games in Orlando was that without a crowd, Anthony's colorful language could be heard on television if it wasn't caught by censors. However, there may be a reason behind it.
Anthony's colorful tongue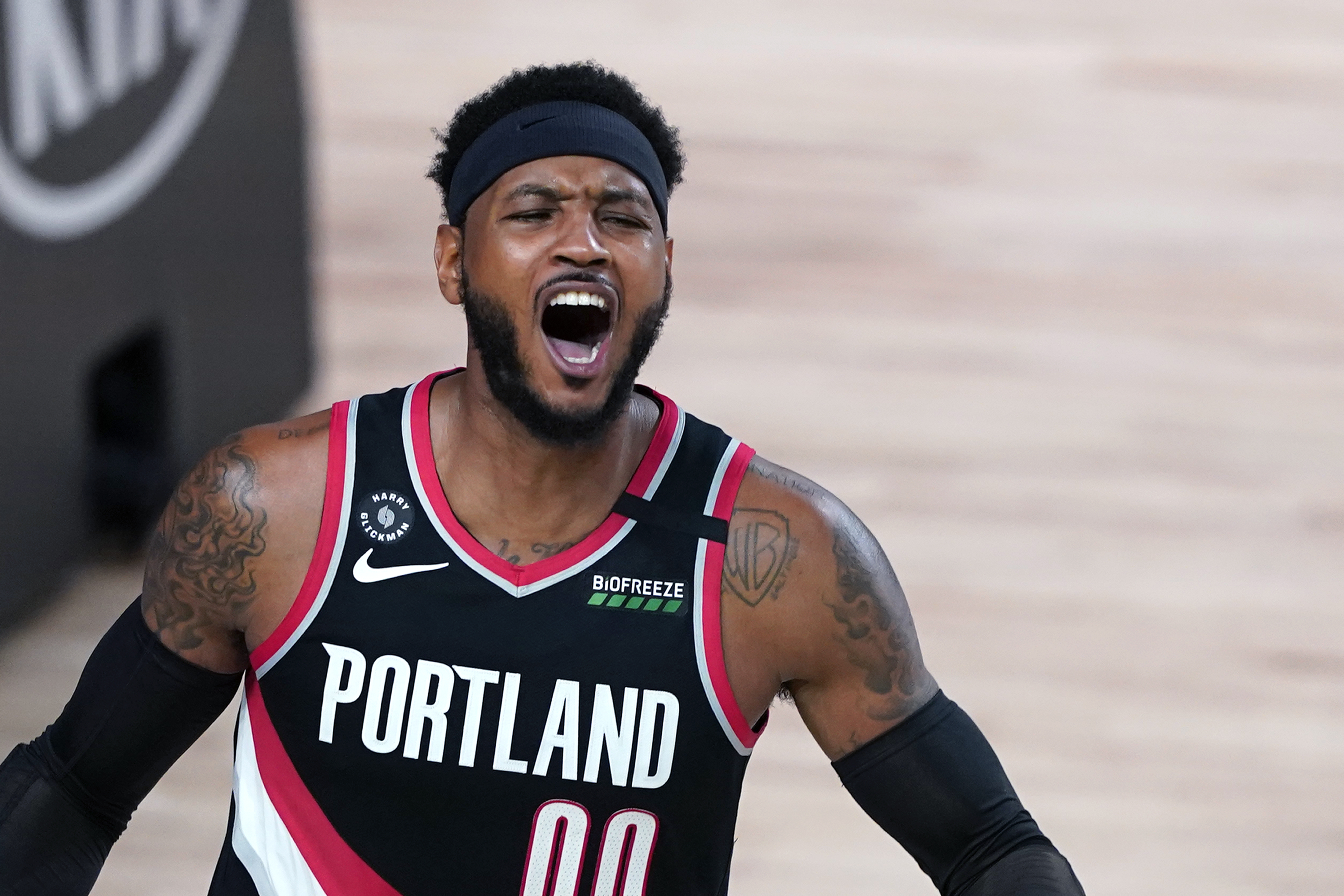 RELATED: Carmelo Anthony Made so Much Money in the NBA He Bought a Soccer Team
Fans of Anthony might know that he has a habit of foul language when he grabs rebounds, as FiveThirtyEight reports. Telling his opponents to get out of his way, albeit in more colorful terms, Anthony often springs down the court with new momentum. While this is either offensive or humorous, depending on who is asked, Anthony spoke on why he does this. 
"For a long time, those guys who rebounded at a high level did it with a style, or some type of fashion, where they were loud with it, and they were commanding with it," Anthony said (per FiveThirtyEight). "So that's what I'm doing, just trying to bring some fun to it, and just letting people know that I have it."
Although the analytics are questionable, the Blazers had their audio dropped more than every other NBA team in the bubble. One might find a correlation between Anthony's yells and this, too. The Blazers were, after all, the hottest team in the bubble when playoffs started. However, it's little more than a quirk. Whatever helps Anthony stay motivated, however, the audience is sure to hear the blank space where his proclamation echoes as long as he's on the court.