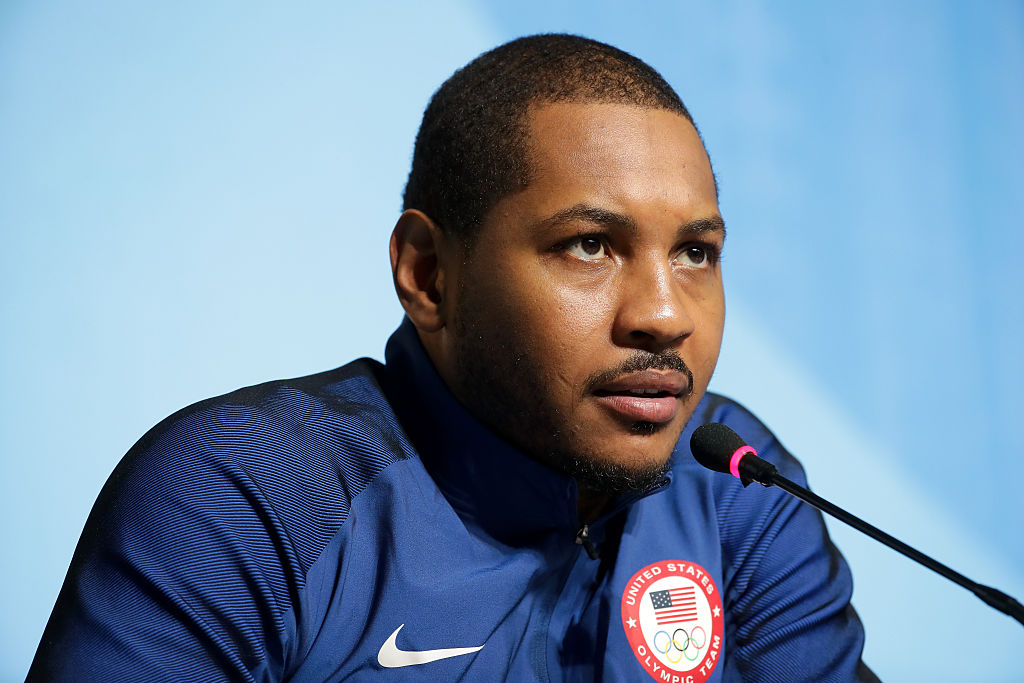 Carmelo Anthony Was Reportedly Reject From Team USA
Carmelo Anthony is generating a lot of press during this NBA off-season. Especially after it was reported that Melo was rejected from Team USA.
Carmelo Anthony is generating a lot of press during this NBA off-season. After only playing in eight games with the Houston Rockets last season, Melo hasn't gotten any attention from teams during this free agency period.
A few weeks ago when the potential roster for Team USA was announced for the upcoming FIBA Basketball World Cup, it was a big surprise that Melo was not on the roster. With a decorated international career, we asked the question: Why isn't Carmelo Anthony getting any love from Team USA?
Is Carmelo Anthony being blackballed?
Recent comments made by former NBA player Royce White speak volumes. White spoke to reporters before a recent Big3 game and said: "How is [LeBron] letting his banana boat buddy wait out there in the wings?.."
Normally we wouldn't take things like that serious when it comes to a player not getting any offers, but Melo is one of the most talented scorers in the NBA, and with the Oklahoma City Thunder two seasons ago averaged over 16 points per game.
There are plenty of teams in need of scoring at the small forward and power forward positions. We think Melo could be an easy fit for a few franchises.
Why wasn't he invited to Team USA's training camp?
When Gregg Popovich took over for Coach K in leading the USA Men's basketball team, we figured he would look for players that can make an impact on the international game. So why isn't Melo on the team?
He is arguably the most decorated international player in the NBA with three gold medals and a bronze medal to his name. His game has always fit well against international zone defenses, and when he is on the floor he quickly makes an impact for team USA.
Team USA director Jerry Colangelo didn't want Melo on the team to give some newer players a chance to get international experience. Colangelo feared the Anthony might have been a distraction for the team.
What about the players leaving the team?
There have been several players that have dropped out of Team USA's training camp before the FIBA Basketball World Cup. The most recent was Sacramento Kings De'Aaron Fox. Fox is arguably the fastest player in the NBA and his speed at the point guard position would have been a nightmare matchup for defenses to face.
There's speculation that he left before the team's trip to Australia, after only seeing six minutes of play in the last exhibition matchup against Spain. Without the opportunity to get much playing time because of other players at the guard positions, this would've been an excellent time for team USA to slot in Anthony.
Is this the end of Carmelo Anthony's career?
Playing for Team USA would've been a great way for Anthony to show NBA scouts that he still has some scoring left to do. Don't expect teams to call him until the first or second month of the season has been underway, but we do think he will be on an NBA floor sometime in the 2019-20 NBA season.