Carmelo Anthony Wasn't as Finished as Critics Believed, Now Among NBA's Top-10 Scorers All-Time
Rewind to Nov. 15, 2018, and there probably were not a lot of folks who believed Carmelo Anthony would crack the NBA's list of top-10 all-time scorers. That was the date the Houston Rockets and the six-time All-NBA selection chose to part ways. That's an excellent way of saying the Rockets were happier to pay Anthony not to play for them than they were to have him around the team.
Like many superstars, Anthony had difficulty making the transition to a lesser role. He chafed at being the third option in his lone season with the Oklahoma City Thunder, behind Russell Westbrook and Paul George. In Houston, James Harden and Chris Paul swallowed most of the touches. Anthony didn't play a game the rest of the 2018–19 season and was a man without a team when the 2019–20 campaign began. Given a new lease on life by the Portland Trail Blazers, Anthony has maximized the opportunity.
Carmelo Anthony's decline was rapid
RELATED: LeBron James Had a Heartfelt Message for His Good Friend Carmelo Anthony
Anthony signed with the Rockets in August 2018. That signing came after the final year of his max deal was bought out by the Atlanta Hawks. He was dealt by the Thunder because Atlanta had the necessary cap space to eat the remaining $27.9 million left on Anthony's contract. But things didn't work in Houston, even as Rockets management said great things about his effort to make himself a fit, per NBA.com.
The Chicago Bulls cut him on Feb. 1, 2019, 10 days after the Rockets traded his contract in another purely administrative deal. The draft rights to 2011 second-round pick Jon Diebler and 2008 second-round pick Tadija Dragićević moved in the trade, along with a little more than $1.5 million in cash to cover part of Anthony's veteran's minimum salary.
Melo went more than a year between NBA games. His last appearance for the Rockets was at Oklahoma City on Nov. 8, 2018. As of the end of the 2018–19 season, Anthony ranked 19th on the NBA scoring list, per Stathead, with 25,551 career points, nearly 1,800 behind 10th place Elvin Hayes.
Carmelo Anthony reborn in Portland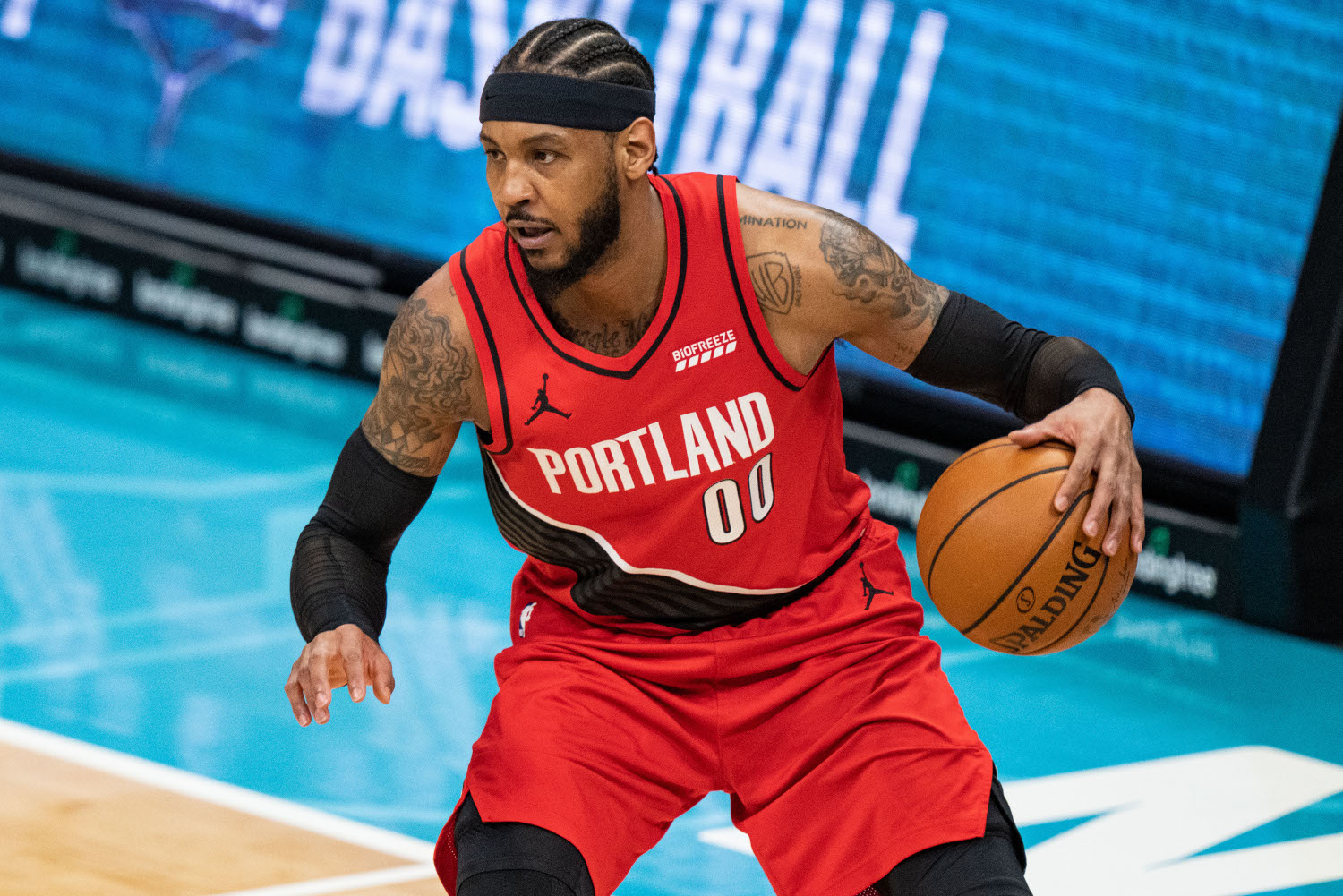 RELATED: How Carmelo Anthony Earned a Guaranteed Contract in just 8 Games
The Trail Blazers brought in Anthony on a non-guaranteed deal on Nov. 19, 2019, and guaranteed the vet's minimum contract less than a month later. He started all 58 games he played for the Blazers as well as their five playoff games. Anthony shocked observers when the NBA returned last summer to the bubble in Orlando, looking like he did as a young player with the Denver Nuggets, per the New York Post.
This season, Anthony has been primarily with Portland's second unit. But he's been productive, averaging 13.6 points in 24.7 minutes per game. Anthony passed Hayes on the all-time scoring list with an and-1 3-pointer over Atlanta's Danilo Gallinari on Monday night. Next up on the list is No. 9 Moses Malone's 27,409 points. Anthony can get there before this season is over, needing 92 points to pass Malone with seven games remaining.
Eighth-place Shaquille O'Neal is 1,278 points away, a number that might be out of reach for the 18-year veteran. Anthony turns 37 in late May and will be a free agent at the end of this season.
The Hall of Fame is Carmelo Anthony's ultimate destination
RELATED: Carmelo Anthony Used to Fall Asleep During Phil Jackson's Meditation Sessions on the Knicks
Carmelo Anthony is one of two players remaining in the NBA from the star-studded 2003 NBA draft. LeBron James (No. 1 overall), Anthony (third), Chris Bosh (No. 4), and Dwyane Wade (fifth) made 2003 one of the most significant drafts in history. James is still going strong, of course, while Wade retired after the 2018–19 season. Bosh had to leave the game in 2016 because of recurring problems with blood clots, per The Ringer.
His resume for Springfield is solid. Anthony has a scoring title, nine straight seasons in the top 10 among NBA scorers, 10 All-Star selections, six All-NBA teams, and now being among the top 10 scorers in league history. Every player in that top 10 is either in the Hall of Fame or will be (the late Kobe Bryant enters later this year, while Dirk Nowitzki won't be eligible for selection until 2023).
He was valuable enough at his peak to be the centerpiece of a massive three-team trade in February 2011 between the New York Knicks and Denver Nuggets (with the Minnesota Timberwolves lending a hand). The transaction involved 14 players and six future draft picks. The main prize for Denver was a 22-year-old forward named Danilo Gallinari. Yes, the same player Anthony victimized while passing Hayes. That proves once again that coincidence can be pretty ironic.
Statistics and transaction data courtesy Basketball Reference.