Why Does Carolina Panthers Legend Cam Newton Do the 'Superman' Celebration When He Scores a Touchdown?
Carolina Panthers legend Cam Newton is back in the NFL, and it sounds like he's bringing his 'Superman' celebration with him.
After learning the team needed to place struggling offseason acquisition Sam Darnold on injured reserve with a shoulder ailment, the Panthers brought back Newton, the 2015 NFL MVP and three-time Pro Bowl selection. Not only will Panthers fans get to see their beloved quarterback back in blue and white, but they'll ideally witness him break out his iconic touchdown move.
Why does Carolina Panthers quarterbck Cam Newton perform the 'Superman' celebration?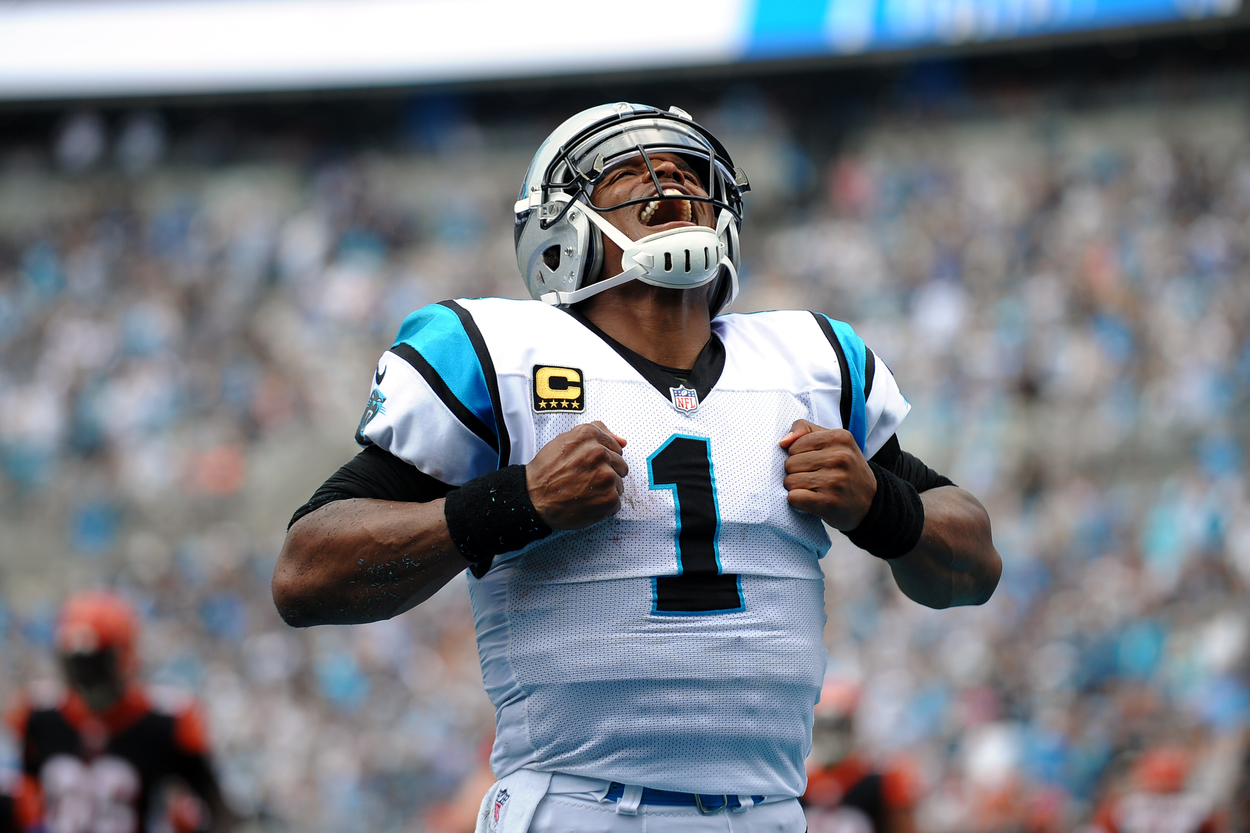 Opposing NFC defenses are more than familiar with the sight of Newton, after rushing for a touchdown, raising both fists up to his chest and mimicking opening his shirt, just as Superman has done across various mediums for decades.
However, it wasn't a mild-mannered newspaper reporter who encouraged Newton to perform the celebration. According to SB Nation, the 2010 Heisman Trophy winner revealed he's still confused about a significant part of the move and its backstory.
In September 2015, Nickelodeon — still a few years away from naming Mitchell Trubisky the inaugural NVP — announced the then-Panthers quarterback would host a show called I Wanna Be. While discussing the new opportunity at a press conference, Newton reflected on his love of superheroes and how he's "still a kid at heart."
"It's coming off the notion [that] everybody sees the superhero in how I play. I've gotten the nickname Superman, SuperCam ever since I can remember."

Cam Newton
Here's the interesting part. Newton has said he's not sure which came first: him doing the 'Superman' or others calling him "Superman" or "SuperCam." For what it's worth, the 2011 Offensive Rookie of the Year was born in 1989, seven years before Superman: The Animated Series debuted.
The celebration is a defining piece of Newton's NFL image
Say whatever you want about Newton's on-field legacy or his personality quirks, but we can all agree he's unique. A simple glance at any of his fashion choices proves that fact in an instant.
Whether he was scoring touchdowns in junior college or running through defenses on the NFL's biggest stages, Newton has pretended to rip his jersey open. It's a defining part of who he is and who he'll continue to be until he hangs up his cleats for good.
Newton carried the celebration across states when he played a season for the New England Patriots in 2020. After years of watching Tom Brady celebrate with fist pumps and jubilant yelling, Patriots fans got a taste of something far more creative.
Although Newton isn't playing in Gillette Stadium anymore, he certainly left an impression on rookie quarterback Mac Jones. The Alabama product did a "Superman" audible and mimicked his former teammate in a Week 4 loss to Brady and the Tampa Bay Buccaneers.
Newton enters his second stint with the Panthers having totaled 70 rushing touchdowns in the regular season; he's added another two in seven career playoff games. We'll see how many more regular-season scores he'll add to his resume in the coming months.
As for the postseason? Seeing as he's not Sam Darnold, maybe we should expect the Panthers to play deep into January 2022.
The 'Superman' is among the NFL's more notable signature touchdown celebrations
In the decade-plus of Newton channeling Superman, other players have showcased their own signature touchdown celebrations. Some players, like Rob Gronkowski and the Gronk Spike, opted for more traditional moves.
Green Bay Packers quarterback Aaron Rodgers celebrated rushing touchdowns in the mid-2010s with a championship-belt celebration, one nicknamed the "discount double-check" for his State Farm commercials. The three-time NFL MVP has opted for other moves in recent years.
Former New York Giants receiver Victor Cruz salsa danced after scoring touchdowns. Another ex-Giant, Pro Bowl running back Alfred Morris, pretended to hit home runs. Quarterback-turned-social activist Colin Kaepernick used to kiss his biceps.
As fun as those touchdown celebrations are, though, they're not Superman. Let's hope, for our sakes, that we get to see the famous move once or twice over the next few weeks.
Like Sportscasting on Facebook. Follow us on Twitter @sportscasting19.