Carolina Panthers to Sign XFL Standout Quarterback P.J. Walker
Arguably the XFL's best quarterback is making his way back to the NFL. Houston Roughnecks quarterback P.J. Walker, who led the first-year league in passing yards and touchdowns, is expected to sign with the Carolina Panthers. Walker previously spent time with the Indianapolis Colts and joins a new-look quarterback room that also includes former first-round pick Teddy Bridgewater.
Not only does P.J. Walker's signing show the Carolina Panthers are willing to try different methods under head coach Matt Rhule and offensive coordinator, but it proves the XFL deserves to be taken seriously.
P.J. Walker thrived in the XFL under June Jones
P.J. Walker was on pace to win the XFL's MVP before the season ended because of the coronavirus pandemic. The 5-foot-11 Walker's 1,338 passing yards and 15 passing touchdowns were each the highest by any quarterback in the league. Walker also only threw four interceptions in 184 pass attempts.
Houston Roughnecks head coach June Jones wasn't caught off guard by Walker's success. An offensive guru, Jones told the Philadelphia Inquirer he had followed Walker's career for years before the two partnered in Houston.
"What P.J. has done for us has not surprised me. It has surprised a lot of people, but I remember watching him closely when as an 18-year-old freshman, he played as well as you are going to see any first-year quarterback. I followed his career after that."
P.J. Walker is no stranger to Matt Rhule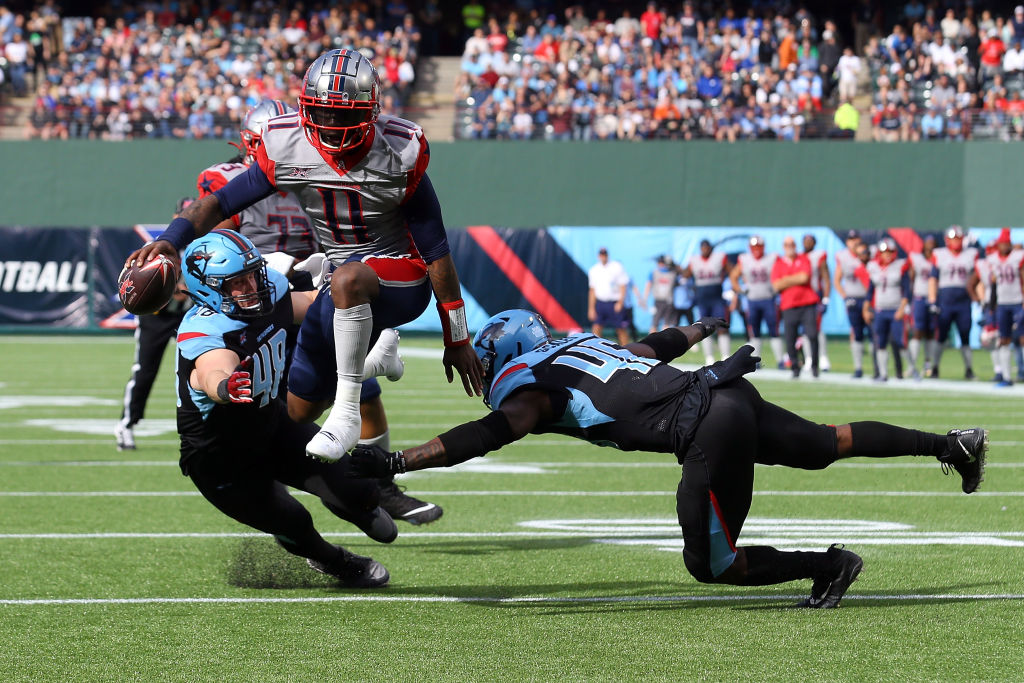 Raised in Elizabeth, N.J., P.J. Walker opted to stay close to home and play collegiately at Temple. Walker's head coach at the time, and for all of his four years at Temple, was new Panthers head coach Matt Rhule. The duo combined for one of the best stretches in program history. Temple's consecutive bowl appearances in 2015 and 2016 were the first time the school accomplished such a feat.
Temple routed Navy, 34-10, in the 2016 American Athletic Conference Football Championship Game. When Walker departed after the 2016 season, he was Temple's all-time leader in most quarterback categories including wins, passing yards, passing touchdowns, and total touchdowns. Walker signed with the Indianapolis Colts as an undrafted free agent and spent his first two years in the league on the Colts' practice squad.
Walker adds to an already-interesting Carolina quarterback room
With former NFL MVP Cam Newton likely on the outs in Carolina, Matt Rhule struck in free agency to sign P.J. Walker and Teddy Bridgewater. Last year's third-round pick, Will Grier, is still around, as is Kyle Allen, who went 5-7 as Carolina's starting quarterback last year. Carolina traded Kyle Allen, who went 5-7 as a starter last year, to the Washington Redskins on Monday. Former Panthers head coach Ron Rivera holds the same title in Washington.
Barring an injury, Bridgwater is almost certainly entrenched as the Panthers' starting quarterback in 2020. Who will back him up, though, is a different story. Walker has familiarity with Rhule and showed he was capable of making plays in the XFL. Grier disappointed in two starts last year but the previous regime used a third-round pick on him.