Derek Carr Breaks Silence on New Raiders Head Coach, GM: 'Super Awesome'
Derek Carr tends to be a man of few words. Unlike so many of his peers in the NFL, he does not spend a lot of time chattering about this development or that on social media. He keeps his thoughts largely to himself.
It can be sometimes hard to tell what the Las Vegas Raiders quarterback is thinking about personnel changes that have an impact on his own status. For instance, he generally does not greet free-agent acquisitions and draft choices on his accounts.
So, it made it all the more intriguing to some when Carr took to Twitter immediately after the Raiders hired former New England Patriots offensive coordinator as their head coach in late January. Carr did not use his 240 characters to welcome McDaniels. Instead, he issued a heartfelt farewell to interim head coach Rich Bisaccia, who took over after Jon Gruden's controversial departure and guided the Raiders to an AFC Playoff berth.
"He means so much to us as a team. I love this man so much and he lead us to 10 wins and a playoff birth. Phenomenal coach and even better leader! Will always be a special relationship for me! Thank you Coach!"
Some took the tweet as an indication that Carr was unhappy that Bisaccia didn't get the permanent head coaching job, which could effect his status with the team entering the final year of his contract.
But on Friday night, Carr finally put such speculation to rest, not with a tweet, but with a real-life quote.
Carr throws full weight behind McDaniels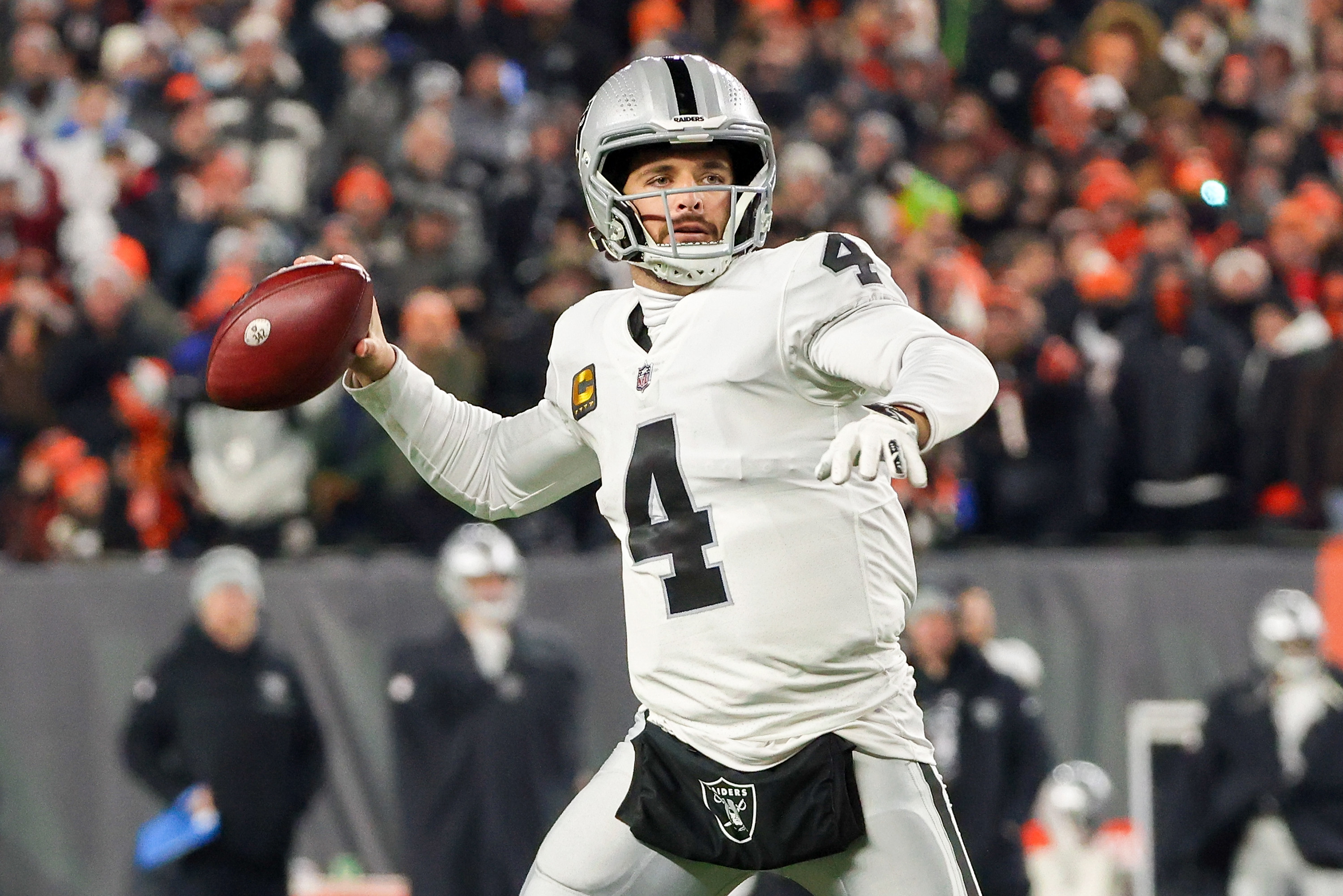 It has been nearly a month since the Raiders hired McDaniels, and still the franchise quarterback had not uttered a word either way about the hire. Carr's brother, David, had chimed in two weeks ago as a proxy to say that Derek was happy with the hire, but still, nothing from the man himself.
That all finally came to an end Friday night. Carr spoke with Las Vegas media on Friday to promote next month's Altar Men's Conference at the Thomas & Mack Center, and revealed that he and his new head coach, along with newly-installed general manager Dave Ziegler, have been communicating and Carr couldn't be happier with the new arrangement.
"They've been super awesome. They've been great," Carr said. "I'm just looking forward to getting to know them. We're doing the whole business relationship thing, but hopefully, we can get our families together and start getting to know each other and start building that unity that we had last year."
Carr, Raiders eye working toward contract extension
Entering the final year of a five-year, $125 million extension Carr signed in 2017, the quarterback is set to make $20 million this season.
There were initial questions when McDaniels was hired if the Raiders were going to pursue keeping Carr long-term or move on with a quarterback of McDaniels' choosing. But two weeks ago, NFL Network's Ian Rappaport reported that the Raiders were "moving forward" with Carr at quarterback and were preparing to open discussions on a new contract extension.
McDaniels foreshadowed a likely collaboration with Carr when he was introduced as head coach on Jan. 31.
"Derek has won a lot of games in this league and we've competed against each other a number of times, and I have a lot of respect for him," McDaniels said at his introductory press conference. "He certainly did a good job this year leading their offense. I spoke with him yesterday. We had a great conversation. Looking forward to actually getting to meet him and get to know him as a person, as a human being, and then getting to work in terms of developing our offense this year into what it's going to be.
"But there's no question that we have the capacity and capability of winning with Derek here. We all know that. I look forward to the challenge of trying to grow not only Derek but everybody on the roster to try to reach our potential."
As contract nears end, Carr's faith proves more valuable than his fortune
Carr did not address his contract situation in any detail Friday, but he did say however things resolve themselves, whether with an extension from the Raiders or through a trade or free agency in 2023, he will remain true to his values.
"I'll do what I can to continue to bless my family and bless people all around the world," Carr said. "I truly believe that God has allowed me to be in such a position with that stuff. I'm thankful that He can trust me to do the right thing with that money."
Stats courtesy of Pro Football Reference
RELATED: Derek Carr Is Closely Monitoring the Raiders' Free Agency Plans