Carson Palmer Reveals Why Urban Meyer's Tenure With the Jaguars Was a Complete Disaster: 'You're Not as Mature as Some of Your Players'
Shad Khan and the Jacksonville Jaguars finally pulled the plug on one of the most controversial coaching experiments in NFL history. Urban Meyer is no longer the head coach, and the franchise can hopefully move on to better days. Former NFL quarterback Carson Palmer recently weighed in on what went wrong in Jacksonville.
The Urban Meyer experiment was short-lived
The Jacksonville Jaguars hired Urban Meyer before the 2021 season. He replaced Doug Marrone, who posted three straight losing seasons.
Meyer took his first NFL coaching job after spending 17 years as a college football head coach. Owner Shad Khan and general manager Trent Baalke signed the 57-year-old coach to a five-year contract.
Historically, college coaches don't have an excellent track record transitioning to the pro game. Meyer was the latest to flop at the next level.
The Jaguars showed no improvement year over year in the first season with Meyer at the helm. Jacksonville posted a 2-11 record in the first 13 games of the 2021 season.
Look at the Detroit Lions, who hold the league's worst record (1-11-1). Detroit has lost more than any other team, but Dan Campbell's squad is willing to run through brick walls for its head coach. Urban Meyer didn't earn that same respect from his guys.
A mediocre football product and drama were the only things the former coach brought to Jacksonville. The front office finally saw enough and cut ties with its failed leader.
Carson Palmer blames the former Jaguars coach for poor leadership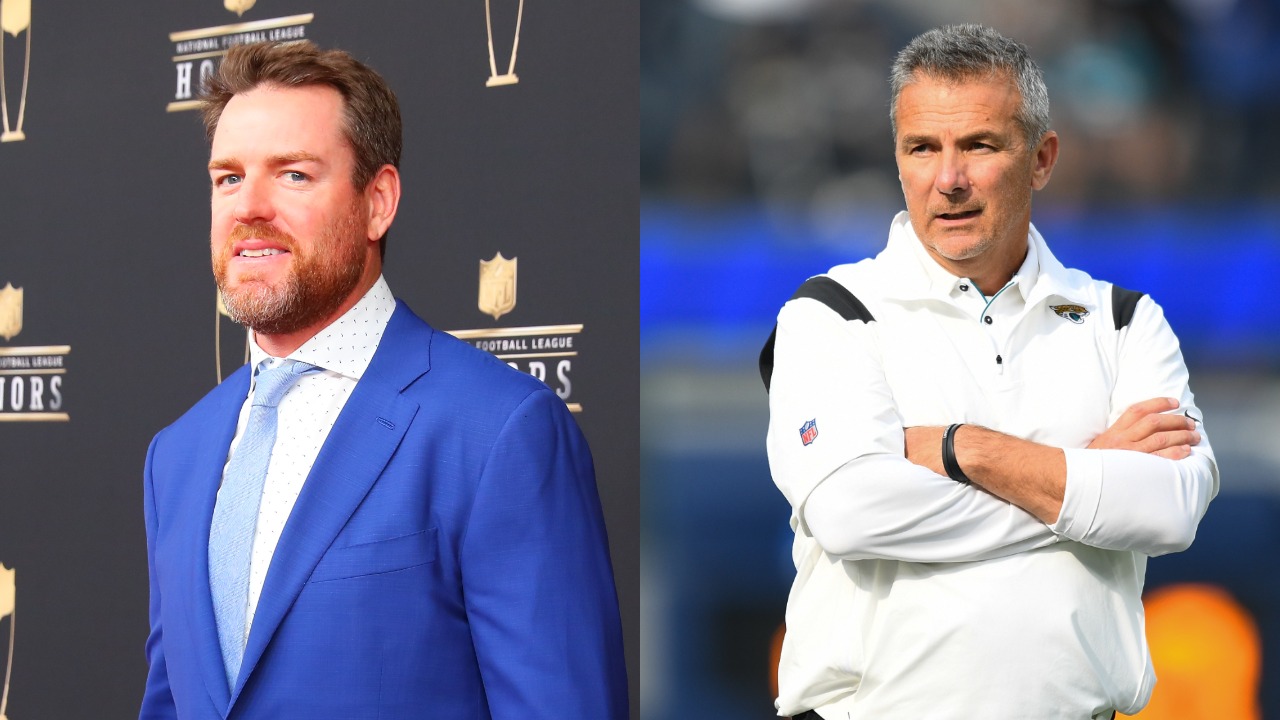 The public perception of Urban Meyer was already a bit shaky before he even took the Jaguars' job. He made himself look so much worse in less than one NFL season.
What stood out most of all was the first-year head coach's lack of professionalism and maturity in a position of leadership.
Carson Palmer blames Jacksonville's 2021 woes squarely on Meyer's shoulders. The 3-time Pro Bowler was a guest on The Dan Patrick Show and spoke on the drama in Duval County.
"The immaturity of some of the things that have happened in Jacksonville," said Palmer. "When it seems like you're not as mature as some of your players, you got a problem. It's just one thing after another after another. Things have gone south really quickly."
Palmer also pointed out how Meyer's baggage has taken a toll on rookie quarterback Trevor Lawrence.
"Trevor goes into his presser on Wednesday morning, and he's asked seven questions about Urban Meyer, and the distractions, and the handshake," he said. "Lawrence needs to be focused on the next opponent. He does not need to be answering questions about his coach telling his staff they're losers and not shaking a guy's hand after a game."
The former Ohio State coach is supposed to be a leader of men, but he failed to conduct himself respectably.
Meyer's immaturity doesn't belong in football at all
Shad Khan could refer to countless instances when explaining why he fired Urban Meyer.
After a Thursday Night Football loss to the Cincinnati Bengals in Week 4, the former Jaguars' head man abandoned his team. A night on the town ended in a controversial video surfacing, which brought an unnecessary distraction to the team.
Meyer reportedly called his assistant coaches "losers." That speaks volumes about the head coach, considering he hand-picked his own staff.
Most recently, former Jaguars kicker Josh Lambo revealed a damning story about his old coach. According to the Tampa Bay Times, Meyer kicked Lambo in the leg during training camp and used demeaning language toward him.
The latest story appears to be the straw that broke the camel's back, but his firing was inevitably coming.
While Meyer may never get another head coaching job in the NFL, some college programs will likely give him a shot at returning to his stomping grounds. Even so, programs should be careful before making a risky move.
With so many well-respected programs in college football, why would a recruit want to play for a coach who behaves the way the former Jaguars coach has?
Whether he gets another gig or not, Urban Meyer is a cautionary tale for head coaches at every level.
All stats courtesy of Pro Football Reference.