Carson Palmer's Brother Has Been Shaping Elite Quarterbacks for Years
Most coaches were players at some point. Curiously, they were often mediocre athletes. Retired NFL quarterback Carson Palmer didn't fall into that category, but his lesser-known brother Jordan Palmer did. Maybe it's not so surprising that an under-the-radar backup QB would become a highly requested coach despite his own success.
When your career hinges on your ability to develop your mental game to make up for physical deficiencies, it makes sense. Here's how Jordan became the go-to choice for developing the best new QBs in the NFL.
Jordan Palmer struggled throughout his NFL career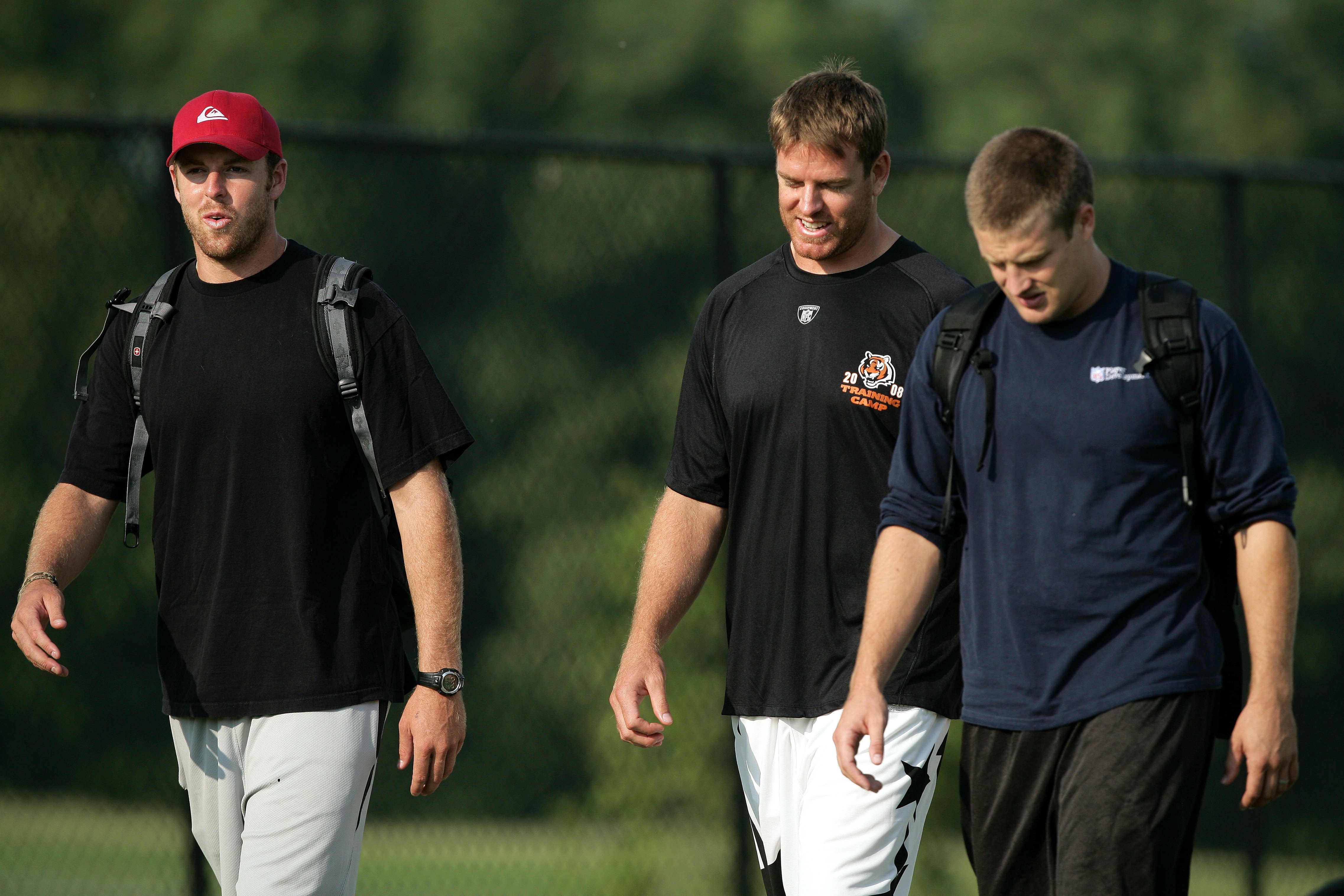 RELATED: The Worst Backup Quarterback Tom Brady Has Ever Had
Jordan struggled to make things work for the best during his run at UTEP, as seen in his Sports Reference stat sheet. In his freshman year, he paired his seven touchdown passes with 13 interceptions. The 26 touchdowns, with 13 interceptions, that marked Jordan's senior year weren't the makings of a high draft pick in the NFL. It was a miracle he went in the sixth round at all.
As the New York Times reports, he entered the league needing to prove himself more than most. The team now known as the Washington Football Team picked Jordan up and watched him throw a touchdown pass in a scrimmage game with the Baltimore Ravens. Nonetheless, he was released in the final preseason cuts.
Jordan quickly signed with an Arena Football League team, and worked his way back to the NFL. From 2008-10, he served as a backup QB with the Bengals, behind his brother Carson. From there, he bounced between the Jaguars, Bears, Bills and Titans, before finally calling it quits in 2014. Jordan never threw a single touchdown pass during a regular-season game.
How Palmer found his purpose after his time as a football player
RELATED: What Tom Brady Really Thinks About Every Backup Quarterback He's Had
For years, Jordan Palmer was a curiosity rather than the center of attention. He was like the Antetokounmpo brothers in the NBA not named Giannis, spoken of almost entirely in relation to his famous brother. After his career wrapped, Jordan didn't leave football behind for good. Instead, he became a coach, leveraging his experience as a struggling NFL backup QB.
The Chicago Tribune reports that Jordan got his start after successfully interviewing for a position with EXOS, an NFL draft prospect training center. Despite his poor record as a player in the NFL, the breadth of his knowledge was obvious. Jordan had to learn five different offensive systems. He pushed himself mentally to become relevant. It didn't pay off in the league, but in player development, Jordan found his calling.
Jordan Palmer is now the go-to private QB coach for top draft picks
Essentially Sports reports that Jordan's client list quickly grew, thanks to rave reviews early on from his time with New York Jets QB Sam Darnold. That led him to work with a who's-who of top draft picks from the last few years. The likes of Patrick Mahomes, Deshaun Watson, Josh Allen, and most recently Joe Burrow all credit Jordan with preparing them for the NFL.
According to ESPN, he regularly holds events that would leave most football fans paralyzed with excitement. Jordan's irregular wine nights involve gathering his current and former clients, all top QB prospects and current NFL stars, to drink wine and talk shop. They watch tape and analyze the minutiae of the decisions someone like Aaron Rodgers makes in just a few seconds.
Jordan was never anywhere close to Rodgers. He didn't have the physicality to make that happen. But his need to leverage his mental game made him uniquely capable of understanding a player like Rodgers, better than most. Today, Jordan passes that hard-earned knowledge on to young stars like Burrow and Mahomes, giving them the best possible chance to succeed where he wasn't able to.