Despite Their Recent Loss, Carson Wentz and the Colts May Soon Get the Piece They Need to Become True Super Bowl Contenders
The Indianapolis Colts had been one of the hottest teams in the NFL heading into Week 17 as the Carson Wentz-led squad had won eight of its last 10 games.
Then, the Las Vegas Raiders came to town.
After beating some of the NFL's best in the New England Patriots and Arizona Cardinals during its last two games, Indy struggled against a mediocre Raiders squad on Sunday, putting its postseason hopes in jeopardy. 
But fans shouldn't be too worried. While the Colts have a great chance to clinch a playoff spot in Week 18 with a win over the 2-14 Jacksonville Jaguars, they could also get an additional weapon back for their potential playoff run.
Wentz and company could soon welcome wide receiver Parris Campbell back to the field.
The Indianapolis Colts were one of the hottest teams in the NFL prior to Week 17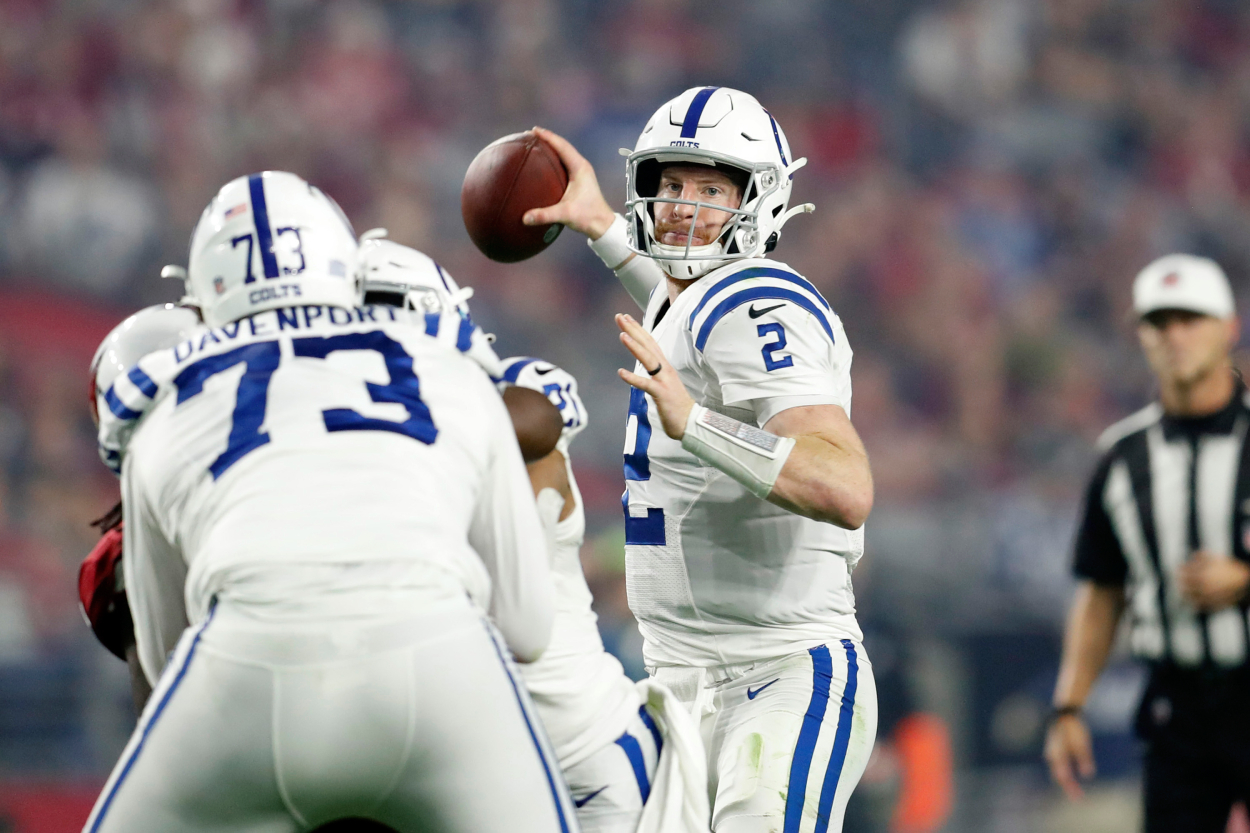 Before their recent loss, the Colts looked like a team no one wanted to play in the playoffs. They had won eight of their last 10 games and defeated the New England Patriots and Arizona Cardinals in consecutive weeks.
Their success was in large part due to the stellar play of both Jonathan Taylor and their turnover-forcing defense.
Taylor has run for a league-leading 1,734 yards to go with 18 rushing touchdowns and two receiving touchdowns. He has carried the offense on his back at times and has proven to be a true MVP contender.
The defense, on the other hand, has forced an NFL-leading 33 turnovers behind the play of Defensive Player of the Year candidate Darius Leonard. The All-Pro linebacker has 114 total tackles, seven forced fumbles, and four interceptions in 15 games.
However, against the Raiders, Indy looked like anything but the team that had been so hot in recent weeks.
Carson Wentz, who the Colts received via trade from the Philadelphia Eagles last offseason, struggled to hit his targets at times, and the defense couldn't contain Raiders receivers Zay Jones and Hunter Renfrow. Those combined issues resulted in a 23-20 loss as Vegas made a game-winning field goal on the last play. 
Now, the Colts, who could have clinched a postseason berth with a victory over the Raiders, must win in Week 18 to make the playoffs.
But if they do, they will still be a force to be reckoned with, especially if their third-year receiver returns to the field.
Parris Campbell could potentially be back for the Colts' playoff run
Former Ohio State Buckeyes receiver Parris Campbell has had an injury-plagued career throughout his first three NFL seasons with the Colts. He played in just seven games in 2019 before only suiting up for two last season. He then appeared in five of the team's first six games this year before suffering a foot injury and missing every contest since Week 6.
However, Indy designated Campbell to return from injured reserve last week, and according to Zak Keefer of The Athletic, he is looking pretty good.
"Watched Parris Campbell for quite a while during warmups — smooth routes and moving at full speed," Keefer tweeted before the Colts' game against the Raiders. "Bet he returns next week, and still think he could give the offense a deep threat come the playoffs."
No, it is not 100% certain that Campbell will be back for the Colts, but if he does play again this year, his return could have major implications for this team's potential postseason run.
Parris Campbell could be what Carson Wentz and the Colts need to make a run to the Super Bowl
The Colts have almost all the pieces they need to make a run to the Super Bowl. Their running game is elite, their defense is one of the best in the NFL, and Carson Wentz has proven that he can be a serviceable-to-good quarterback.
But they've been missing another weapon in the passing game for Wentz.
When you look at other AFC teams like the Kansas City Chiefs, Cincinnati Bengals, or Buffalo Bills, they all have multiple pass-catching threats. The Colts, though, have only had Michael Pittman Jr. this year. Pittman has 82 catches for 1,018 yards. No other player has gained over 380 receiving yards for Indianapolis.
Campbell could become that second option in the passing game.
While he has dealt with several injuries in his career, he has shown glimpses of what he can be for the Colts. His speed makes him a legit deep threat, and he proved that in Week 6 when he had a 51-yard touchdown catch. He has even been a gadget guy at times, as he has six carries in his 14 career games for 50 yards, averaging 8.3 yards per attempt.
If you want any more proof of just how dangerous Campbell can be, look at his college film.
In his senior season at Ohio State, he had 90 catches for 1,063 yards and 12 touchdowns. Campbell also had 23 career carries at OSU for 210 yards and two TDs. His athleticism and versatility are major reasons why the Colts selected him in the second round of the 2019 NFL Draft.
Yes, Wentz and Indy had a disappointing performance against the Raiders. But the Colts have been one of the hottest squads in the NFL for the past couple of months, and a healthy Campbell could make them a tough matchup for any of the AFC's top teams.
Stats courtesy of Sports Reference and Pro Football Reference