Carson Wentz's Attempted Heroics Will Do Nothing More Than Set Him and the Indianapolis Colts Back Indefinitely
The Indianapolis Colts had to put the brakes on Carson Wentz returning to form as a Pro Bowl quarterback. The Super Bowl champion is ready to smash his foot on the gas pedal already.
Wentz, who turns 29 in December, is understandably itching at the bit to return from recent foot surgery. However, his desire to hit the field by any means necessary could create significant problems for him and his new team.
Carson Wentz reportedly wants to try rushing back from foot surgery
In Colts head coach Frank Reich's own words, Wentz is feeling "antsy" right about now.
The Colts' official website transcribed comments Reich made when he addressed reporters on Wednesday, Aug. 18. The fourth-year head coach made it clear that his quarterback is already experiencing the cabin fever which comes when a player is injured.
"[Wentz is] wanting to push the envelope, as I would expect. But he's gotta be patient and just stay focused on the mental side of it right now, and we gotta let things take their course. But at the same time, there's a time to push things, and we'll keep doing that as it's appropriate."

Frank Reich
Wentz did not play in the Colts' preseason opener on Aug. 15. The 2017 Pro Bowl selection is not expected to participate in either of the team's remaining preseason games. Sam Ehlinger, a rookie from Texas, and 2020 fourth-round pick Jacob Eason are currently splitting the quarterback reps.
As of publication, the Colts had not ruled Wentz out for the Week 1 opener against Russell Wilson and the Seattle Seahawks.
Wentz and the Colts cannot afford to get things wrong here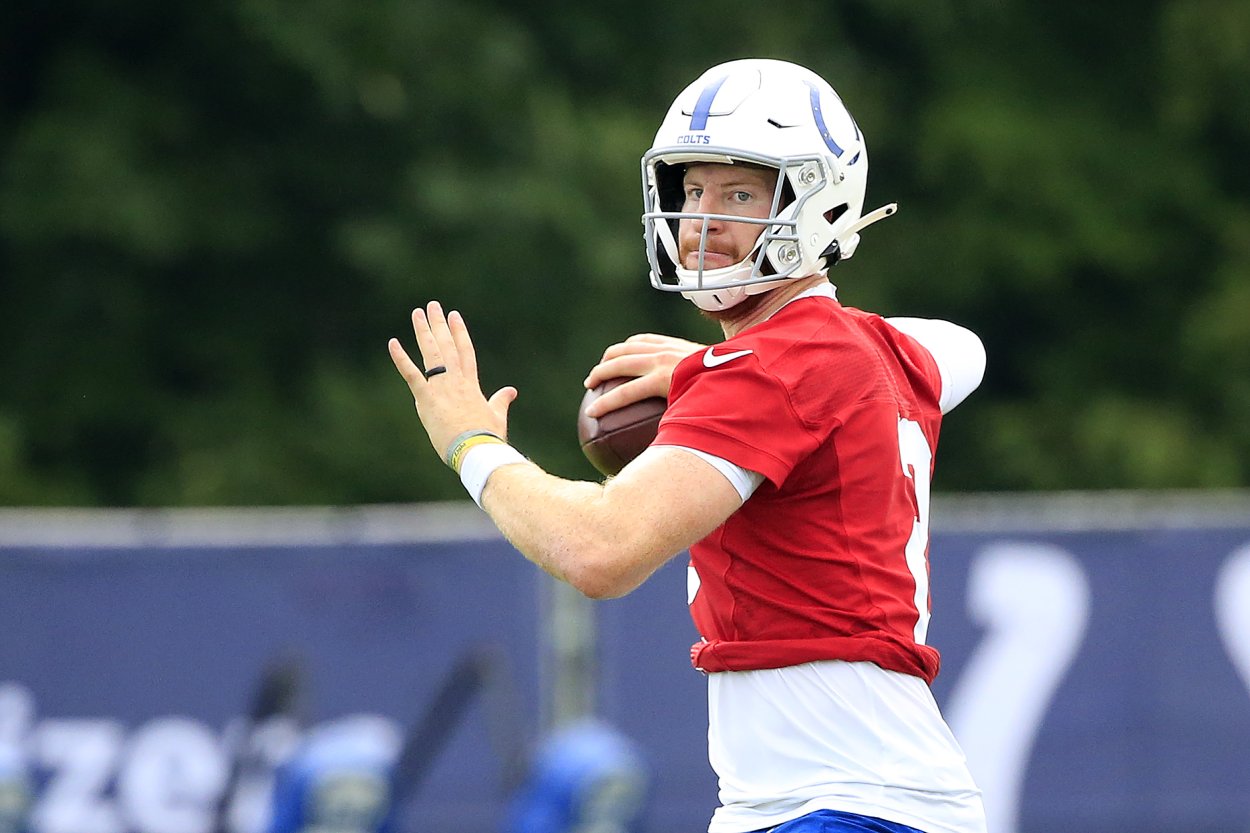 It's hard to fault Wentz for wanting to get back onto the field. He's battled numerous injuries over the last few years and missed the Philadelphia Eagles' Super Bowl run in early 2018 because of a torn ACL.
By this point, however, Wentz should know the value of patience and not wanting to rush back from an injury. This isn't someone missing time with an upset stomach or an ingrown toenail. He's working back after foot surgery for an injury he unknowingly had for years.
Monday, Sept. 13, is one day after the Colts' opener against the Seahawks. It'd also mark six weeks to the day since Wentz went under the knife. When Wentz first underwent surgery, the team announced a recovery timeline of 5-12 weeks.
The best thing Wentz can do is take things one day at a time. If he rushes back and aggravates the injury, the Colts could be without him for an indefinite period. That's far from ideal for a team looking to reach the AFC Championship Game for the first time since January 2015.
It's also worth noting the Colts open against the Seahawks and the Los Angeles Rams, the latter of which still has NFL legend Aaron Donald at defensive tackle. Suddenly, the idea of saving Wentz for a Week 3 matchup with the Tennessee Titans, a team with a much-less frightening defense, doesn't sound like an awful idea.
The Colts need to play it safe and start Eason or Ehlinger if Wentz can't go at full strength in Week 1
Recovery timelines are often nothing more than glorified estimates. They're date ranges that don't take into account the possibility of a severe setback.
Let's say Wentz isn't ready to play at full strength in Week 1, which could wind up being the case. The Colts need to ask themselves which makes more sense: starting Wentz, who is at 85% and might need another week of rest, or turning things over to Eason or Ehlinger in the opener.
The Eagles faced a similar situation in 2018 involving Wentz and Nick Foles, the reigning Super Bowl MVP. Eagles head coach Doug Pederson started Foles for the first two games before Wentz returned for a Week 3 showdown with, fittingly, the Colts.
History has a way of repeating itself. For the Colts' sake, playing things safe with Wentz in the early going to keep him healthy and fresh for the stretch run might be in everyone's best interests.
Like Sportscasting on Facebook. Follow us on Twitter @sportscasting19.