Carson Wentz Challenged by Colts Head Coach Frank Reich Ahead of Indy's Final Playoff Push: 'That'll Have to Happen'
Criticizing Indianapolis Colts quarterback Carson Wentz is almost the cool thing to do. His bonehead plays make for hilarious tweets, and since people love to hop on the making-fun-of-Wentz bandwagon, the posts receive enough likes to give people validation for the next two months.
In reality, though, Wentz has not been that bad for the Colts this season. He has cut down on his mistakes and has played well enough to put his team in a position to make the playoffs.
However, if Indianapolis wants to go on a deep postseason run, the sixth-year quarterback will have to be much better than "not that bad." And his head coach Frank Reich knows it, recently sending out a challenge for him ahead of Indy's final playoff push.
Quarterback Carson Wentz has been good (but not great) for the Colts this season
Carson Wentz had an atrocious year for the Philadelphia Eagles last season. He threw for 16 touchdowns and an NFL-leading 15 interceptions in just 12 games. He also led the league in times sacked with 50. Philly went 3-8-1 in games he started.
Following his trade from the Eagles, though, Wentz has been much better this year. He has thrown for 3,005 yards, 23 touchdowns, and only six interceptions in 14 games. He has also only taken 23 sacks and has led the Colts to an 8-6 record.
But he has benefited tremendously from a strong running game.
While Indianapolis is 26th in the NFL in passing yards with 3,030, it is No. 2 in team rushing yards with 2,198. Running back Jonathan Taylor has become an NFL MVP candidate by carrying the offense on his back several times this season, running for a league-leading 1,518 yards and 17 touchdowns. He has also gained 336 receiving yards and has caught two touchdown passes.
Eventually, though, Taylor may struggle to find open holes, meaning, if the Colts want to go on a deep playoff run, they will have to rely on Wentz to win games.
Frank Reich sent out a challenge for his Colts quarterback ahead of their team's final playoff push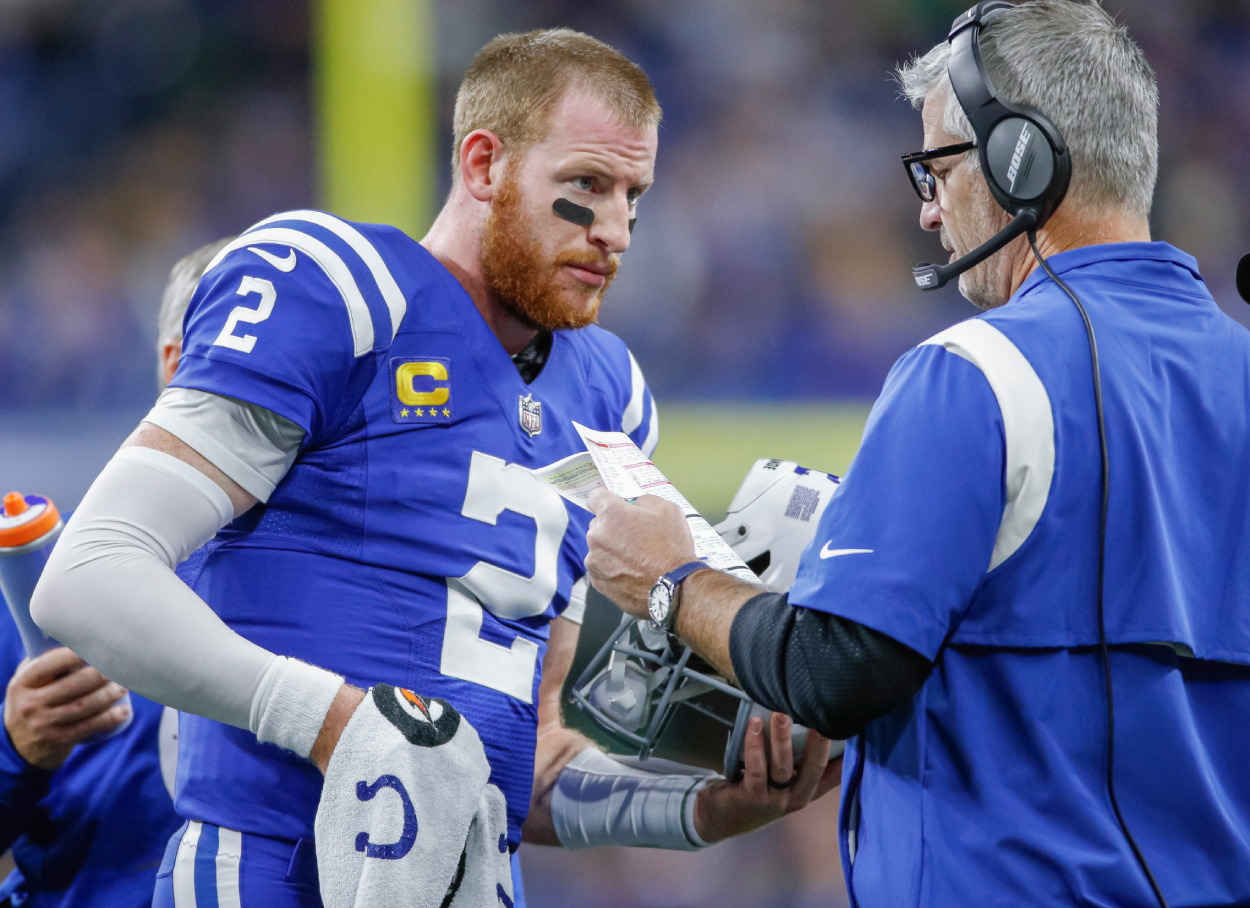 The Colts are coming off their biggest win of the season in Week 15, as they beat the the New England Patriots, who were the No. 1 seed in the AFC before the game, 27-17. Indy is now 8-6 with three games left, which is good for the No. 5 seed in the AFC, and is just one game back of the Tennessee Titans (who own the tie-breaker over them) in the AFC South.
After starting the year 1-4, the Colts are arguably the hottest team in the NFL right now. But if they want to go on a deep playoff run, they need Carson Wentz to play like a star, and Frank Reich knows it, which led to his recent challenge.
"I think he's developed in several ways," Reich said of Wentz on Dec. 21, per the Colts' YouTube. "… I think fundamental and technique-wise, we've gotten back to some basics on some things. He's worked very hard at it. … I think our identity is what it is. It's a run-first deal, but chunk-play, play-action stuff, RPO stuff; I do think Carson has had many good games. I think for us to go where we're gonna want to go, I think there are gonna be games where Carson will be the quote-unquote star of the game. I think that'll have to happen."
So, while Reich is confident in his team's ability to run the ball, he believes Wentz will have to have a big game if they want to go deep in the playoffs and even to the Super Bowl.
And he's absolutely right.
Can the Colts go on a run while leaning solely on Jonathan Taylor offensively?
When it comes to Carson Wentz, the fact of the matter is this: He has had some big games this year. He threw for 402 yards and two touchdowns against the Baltimore Ravens and 272 yards and three touchdowns against the New York Jets. However, Indy is 3-6 in games where he has thrown 30 passes or more. It has also relied on Jonathan Taylor in its biggest wins of the season.
This is a run-first team.
But, as shown against the Tampa Bay Buccaneers, the Colts will play defenses that are tougher against the run in the playoffs. For instance, three teams in the AFC postseason hunt are in the top four in the NFL in rushing yards allowed in the Ravens, Tennessee Titans, and Cincinnati Bengals. The Colts won't win games against those teams by just solely relying on Taylor and their offensive line; Wentz will have to be "the quote-unquote star of the game."
And while he has had big performances, Wentz has also hurt the team tremendously at times, specifically with his two interceptions against the Titans in Week 8 and two picks against the Buccaneers in Week 12. He will have to stay away from making big mistakes just for the sake of trying to carry the offense on his back if he wants to help Indianapolis win more big games.
All in all, Carson Wentz has had a solid season. But if the former Pro Bowl quarterback wants the Colts to go on a deep playoff run, he will have to be a much stronger adjective than "solid."
Stats courtesy of Pro Football Reference and NFL.com