Carson Wentz Challenges Bill Belichick's Potential Game Plan for the Colts: 'We're Gonna Still Do Our Thing'
NFL fans will get to see what could be a potential playoff matchup on Saturday when Bill Belichick's New England Patriots take on Carson Wentz's Indianapolis Colts. The Patriots enter the game as the No. 1 seed in the AFC, while Indianapolis is currently the No. 6 seed.
But while Belichick will likely do what he does best (slow down Indy's strengths), Wentz doesn't seem too worried about it heading into the game. In fact, the Colts' quarterback somewhat challenged Belichick's potential game plan.
Jonathan Taylor has become arguably the best running back in the NFL for the Colts
Heading into the Colts' Week 15 matchup with the Pats, Indy has arguably the best running back in the NFL in Jonathan Taylor. Sure, Derrick Henry likely deserves that title due to his success in the past two seasons, but since he's injured, Taylor is the best running back who is currently playing.
After rushing for 1,169 yards and 11 touchdowns as a rookie last season, Taylor has gained an NFL-leading 1,348 rushing yards and 16 touchdowns so far this year. He has been remarkable on the ground with a 5.6 yards-per-carry average and 103.7 rushing yards per contest. But he has also been a threat in the passing game with 36 catches for 336 yards and two more TDs.
So, when the Patriots play the Colts on Saturday evening, Bill Belichick and company will have to try to slow him down. But Carson Wentz is still confident in his teammate.
Colts quarterback Carson Wentz challenged Bill Belichick's potential game plan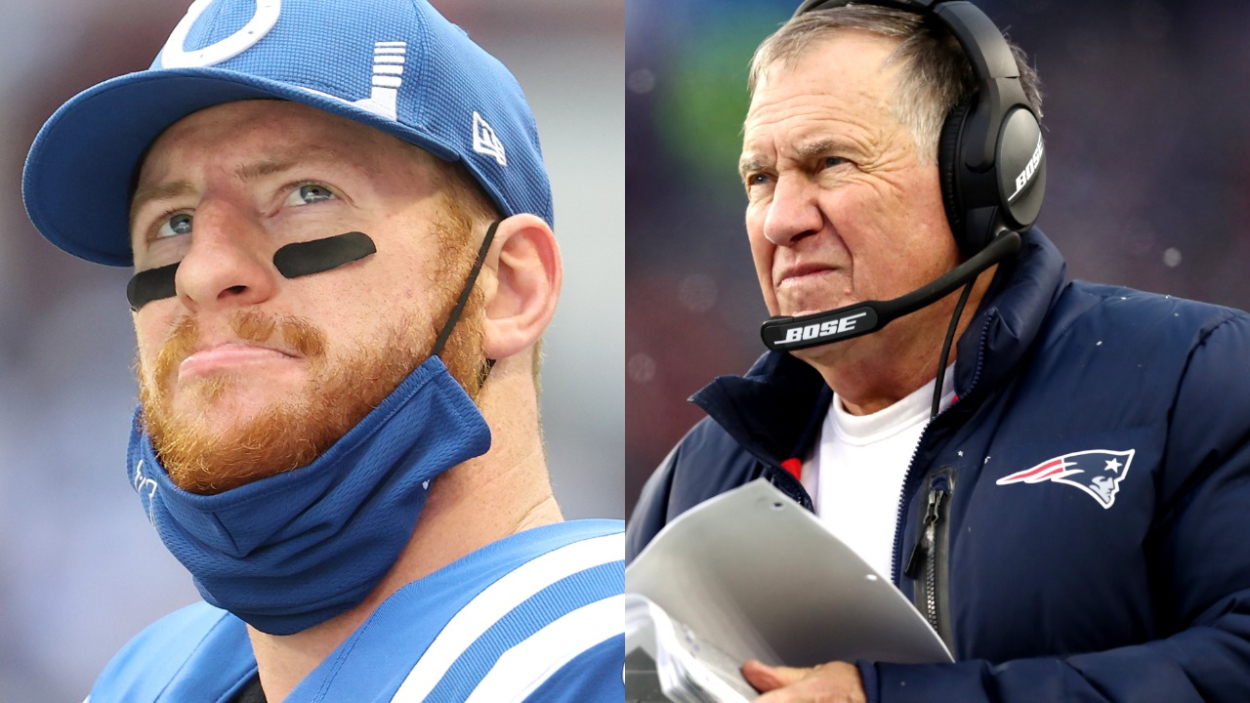 While discussing the upcoming game against the Pats, Colts quarterback Carson Wentz said Indy will have its work cut out for itself. New England currently has the top-ranked defense in the NFL in terms of points allowed per game, so the Colts' offense won't get anything easy.
But since Bill Belichick is known for taking away teams' strengths, Wentz received a question about how the coach's game plan could center around making things difficult for Jonathan Taylor.
The quarterback, though, didn't seem too worried. He essentially said that JT will still be the Colts' guy.
"I'd say a lot of teams have done that as of late," he said during Dec. 14 media availability, per the team's YouTube. "For us, JT's still as good as it gets at that position in the league, and we trust our big boys up front no matter the looks to get it done. So, for us, it's gonna still be the same thing: We're gonna try and run the ball, and I'm confident that we're going to be able to and we're gonna still do our thing. And like we always say, within a game, make adjustments as needed."
So, Wentz still seems confident in Taylor finding success despite the Patriots having an elite defense and the greatest coach of all time.
But is he correct to feel that way?
Can Carson Wentz's Colts find success against Bill Belichick's Patriots?
Although Bill Belichick's defense is the toughest in the NFL, only allowing 15.4 points per game and a total of 2,542 passing yards to go with 19 forced interceptions, Carson Wentz should feel confident in Jonathan Taylor and the Colts' run game.
While New England's defense has arguably been the best against the pass this season, it has just been average against the run. The Pats have allowed 1,488 rushing yards(14th in the NFL) and 4.4 yards per carry (11th). They are stingy in terms of touchdowns, though, as they have only allowed a league-low six rushing TDs this season.
Given that the Colts are either first or second in rushing yards, rushing touchdowns, yards per carry, and rushing first downs, they certainly have a great chance to find success against the Pats on Saturday.
All in all, we know Belichick will have his defense ready for Taylor, but we also know that Colts head coach Frank Reich is one of the best playcallers in the NFL. His Eagles offense even won Super Bowl 52 over Belichick and the Patriots, so he knows how to attack the Pats.
This game could be a fun chess match between two of the league's best.
Stats courtesy of Pro Football Reference