Carson Wentz and the Colts May Soon Steal Patrick Mahomes' Pro Bowl Teammate
Carson Wentz is getting a fresh start with the Indianapolis Colts, but while he is on a team with a much better roster, Indy still has one major hole to fill: left tackle. Ten-year veteran Anthony Castonzo retired in January, which — while Indy has an excellent offensive line — left them without a solid LT as Wentz tries to turn his career around in Indianapolis.
Many thought the Colts would address the need in the draft but failed to do so. However, it appears Wentz and the Colts could fill the void Castonzo left by potentially stealing Patrick Mahomes' Pro Bowl teammate on the Chiefs. That teammate is former No. 1 overall pick Eric Fisher.
Eric Fisher became a Pro Bowler with the Chiefs
Eric Fisher was a highly reliable tackle for the Kansas City Chiefs through the first six seasons of his career. Kansas City selected him with the No. 1 overall pick in the 2013 NFL draft out of Central Michigan, and he then only missed two games from 2013 through 2018, even earning Pro Bowl honors in 2018.
However, Fisher has struggled with injuries each of the past two seasons.
In 2019, Fisher only played in eight games due to a core injury, according to the IndyStar. He did, though, appear in all of the team's offensive snaps in the postseason, which helped Kansas City win the Super Bowl. Fisher then played in 15 games for the Chiefs in 2020 and even earned his second Pro Bowl selection, but he suffered a torn Achilles in the AFC Championship Game.
The former No. 1 pick, of course, missed last season's Super Bowl, which played a significant role in Mahomes running for his life throughout the game and the Chiefs ultimately losing. Mahomes had the fifth-best sack percentage in the league throughout the regular season, as he threw it 588 times and was only sacked 22 times, but the Buccaneers sacked Mahomes three times in the Super Bowl and hit him nine times. That's compared to the Chiefs' two QB hits on Tom Brady.
Kansas City later released Fisher in March. The team has since added other star pieces to its offensive line, like Orlando Brown Jr.
Carson Wentz and the Colts could bring Mahomes' former teammate to Indy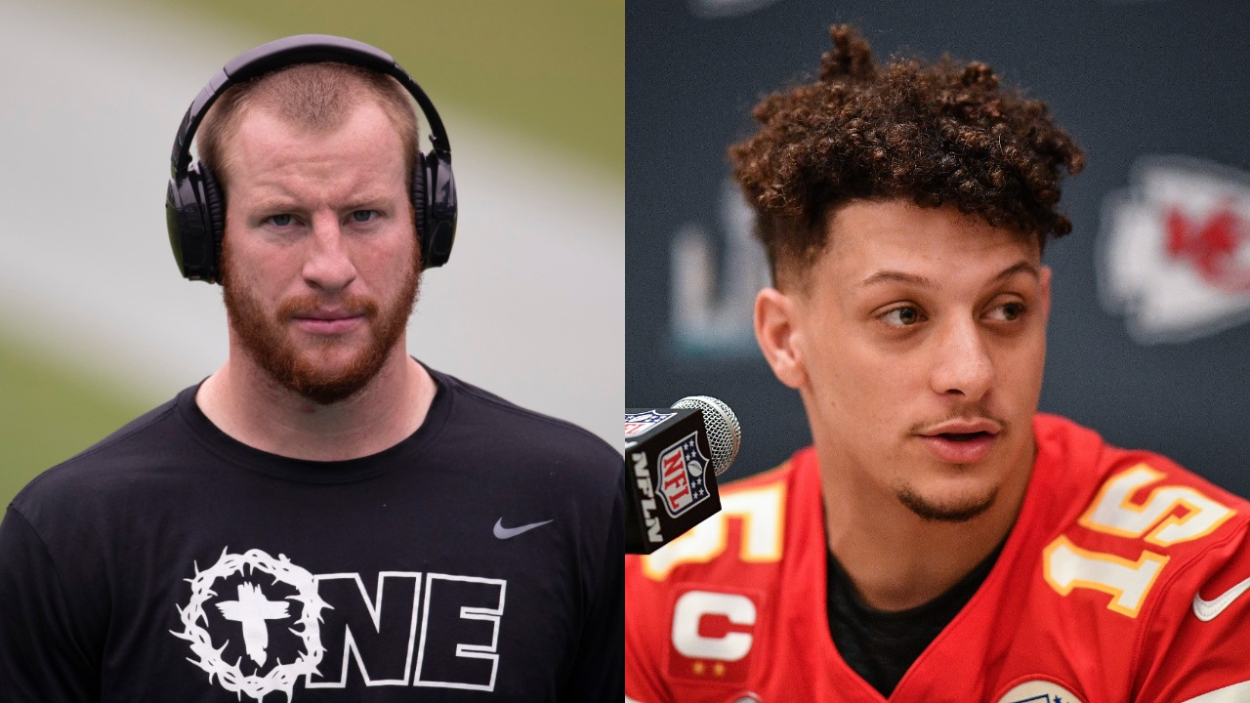 Fisher is currently without a team, but NFL Network's Tom Pelissero reported on May 4 that he is planning to visit with the Colts this week.
The move could be precisely what the Colts need, as Castonzo retired in January, and Indianapolis has since only signed a less-than-stellar replacement in former Chargers lineman Sam Tevi. Indy has one of the best offensive lines in football, highlighted by Quenton Nelson at left guard. The team struggled, though, in games Castonzo missed last season, so adding a Pro Bowl left tackle in Fisher could ensure they become Super Bowl contenders in the AFC. That's, of course, as long as Wentz plays at a higher level in 2021 than he did for the Eagles in 2020.
Indianapolis also hopes to keep Wentz from hitting the ground too much in 2021, as the Eagles allowed him to get sacked a league-leading 50 times in only 12 games last season. Fisher would obviously help with this.
The biggest question-mark surrounding Fisher, though, is his Achilles. However, before they cut him, the Chiefs thought he could return by mid-August, per Sports Illustrated. Additionally, according to The Athletic, Brandon Brooks of the Eagles tore his Achilles back in January 2019 but started in all 16 games in 2020, so Fisher suiting up for the Colts in Week 1 is not out of the realm of possibility.
Signing Fisher would not only fill a hole for Indianapolis, but it could also help Wentz become a top QB in the league again.
Carson Wentz looks to become a top QB again after leaving the Eagles
The Eagles had a lot of hope for Wentz after selecting him with the second overall pick in 2016. He then appeared as if he was living up to the hype in 2017 when he earned Pro Bowl honors by throwing for 3,296 yards, 33 touchdowns, and only seven interceptions in 13 games.
However, Philadelphia only allowed Wentz to get sacked 28 times that year. He then only threw seven picks in each of the next two seasons and only went down 31 and 37 times. In 2020, though, sacks were a major problem for the Eagles and Wentz, as he went down a league-leading 50 times. This led to him throwing an NFL-leading 15 interceptions.
Despite last year's struggles, Wentz has a much better roster to work with in Indy. The Colts went 11-5 with an aging Philip Rivers last year, which proves they could easily find success with a 28-year-old Wentz.
2021 could be a make-or-break season for Wentz, and being teammates with Fisher could significantly help him turn things around.
Stats courtesy of Pro Football Reference