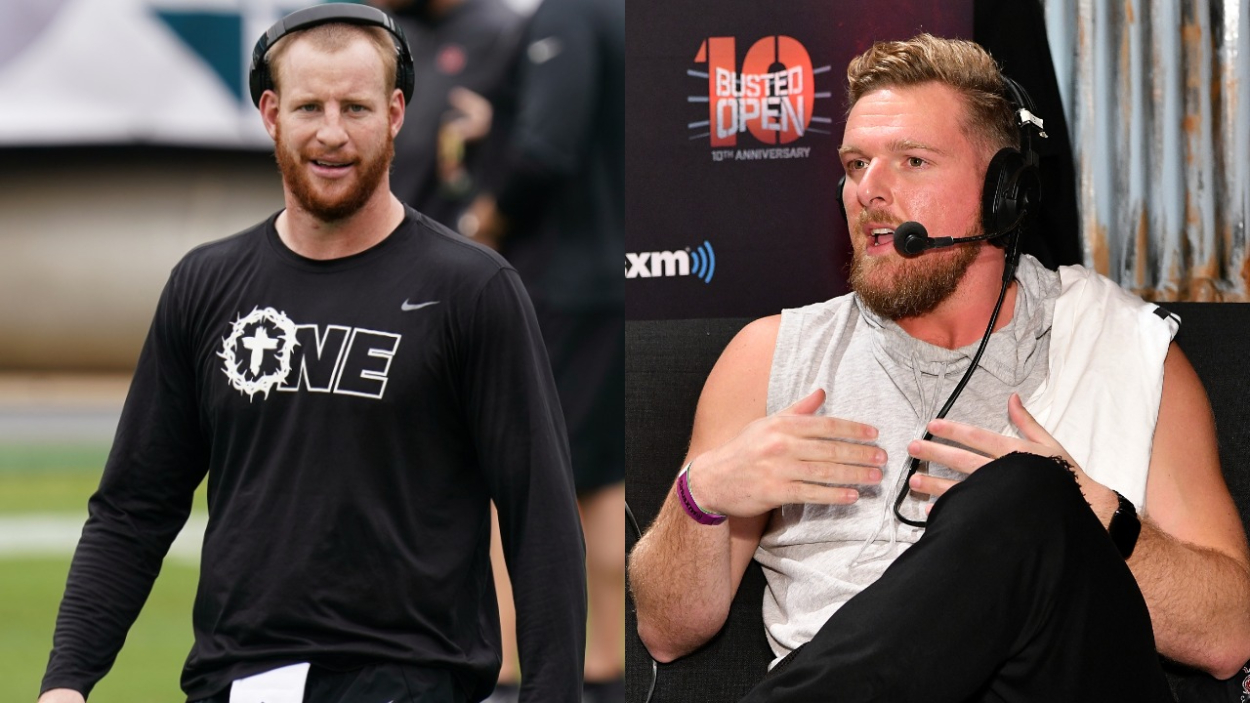 Carson Wentz Finally Confronts His Hater Pat McAfee in a Face-to-Face Meeting
When Carson Wentz was still the quarterback for the Philadelphia Eagles, former Indianapolis Colts punter Pat McAfee hated the idea of him coming to Indy. Now, with Wentz being the Colts' new quarterback, they recently met face-to-face, and Wentz finally confronted his hater.
Before Carson Wentz saw the Philadelphia Eagles trade him to the Indianapolis Colts, there was already a ton of speculation on whether Wentz could end up moving to Indy. Someone who was not a fan of this speculation was former Colts punter Pat McAfee, as he made it widely known that he did not want Carson Wentz on the Colts. Now, with Wentz officially being the Colts' new QB, he and McAfee recently met face-to-face, and Wentz wasn't afraid to bring up McAfee's past comments.
Pat McAfee slammed the idea of Carson Wentz going to the Colts
During the 2020 season, when Carson Wentz was still on the Philadelphia Eagles, many people began to speculate on whether he could go to the Colts due to his connection with head coach Frank Reich. The latter was his offensive coordinator during his best season in 2017.
Pat McAfee hated this speculation.
"I'm not having it, don't do it. People are doing it on the internet; we don't need it," McAfee said on the Dec. 11 episode of The Pat McAfee Show, per a December Sportscasting article. "Nah, nah, nah, we don't need Carson Wentz out here, OK? No, no. … We don't need to be the team that just coddles you and puts you back together. We got a team over here. OK? We got a great defense; we got great special teams, we're going to have to get somebody if he don't re-sign T.Y. [Hilton], we got a good offense. We just need a quarterback that we know is good at football."
He continued: "We don't need to be bringing somebody in here that's very, very pricey, even though we do have cap space, and being like, 'Yeah, listen, we'll bring you back to life, and then we'll play you.' We don't need that. So, why is everybody putting Carson Wentz on the Colts? Because Frank Reich? I get it, Frank Reich and he had a lot of success together. Guess who also had great success with Frank Reich? Nick f******* Foles. Should Nick Foles be coming here, too? Should Nick Foles be coming here as well? Let's go ahead and relax for a goddamn second before we put Carson Wentz in the goddamn horseshoe."
Well, this is awkward.
Carson Wentz confronted Pat McAfee face-to-face
Carson Wentz — who officially become a member of the Indianapolis Colts this week — appeared in studio during the March 19 episode of The Pat McAfee Show. At one point, McAfee asked, "Whenever you were potentially available, did you hear everything that was being said?"
"Just from you," Wentz said.
McAfee then started to walk his comments back a bit, but Wentz replied by saying, "You can be a hater, and you can change. You can change; we can change your opinion."
However, McAfee still, of course, tried to explain himself.
"At that point, since you did not come out and say, 'Yo, I am not telling (former Eagles coach) Doug Pederson I hate him with my eyes, and I hope he dies with my eyes,' and there's this fractured beyond repair this whole thing," McAfee said. "I'm like, 'Are we sure that just because Frank knows Carson that they're going to be able to get Carson back to what he was at?' So, I want to let you know; you probably did hear me say some things; that was in a much different time."
Wentz wasn't buying it.
"You can backtrack," Wentz said. "It's cool; we're here face-to-face, you can change. People change."
McAfee then admitted that Wentz is "much bigger than" he thought he was, but it doesn't appear that Wentz completely bought everything that McAfee said to him. At least, there doesn't seem to be any bad blood, and, as Wentz said, McAfee can change his mind if Wentz ends up balling for the Colts in 2021.
Can Carson Wentz have a good season with the Indianapolis Colts?
Carson Wentz had the worst season of his career in 2020, but he is now in a much better situation on the Indianapolis Colts than he was on the Philadelphia Eagles.
Not only are the Colts a well-run organization, but the Indy also has a much better offensive line than the Eagles, a couple of decent receivers, and three talented running backs. This, of course, includes Jonathan Taylor, who ran for over 1,000 yards in his rookie season in 2020. Indianapolis' running game can potentially take a lot of pressure off Wentz, and the Colts' top-tier defense can be a difference-maker for him as well.
It's hard to know what the Colts will get from Carson Wentz in 2021 after seeing him throw an NFL-leading 15 interceptions in only 12 games for the Philadelphia Eagles in 2020. We do know, though, that Indy has him set up to succeed. So, if he can take advantage of it, he may be able to have the best season of his career. We'll see if he can do it.
Stats courtesy of Pro Football Reference