Carson Wentz's Disastrous Colts Run Has Forced Frank Reich Into a Make-or-Break Season
One more season, Carson Wentz has just one season to prove he's a starting quarterback in the NFL.
Wentz looked like a franchise QB a few years ago. He was an MVP candidate for the Philadelphia Eagles in 2017, and he earned the lone Pro Bowl selection of his career. However, he will now play on his third team in as many seasons following a trade that sent him from the Indianapolis Colts to the Washington Commanders.
But Wentz isn't the only person who now has to prove himself. His disastrous run in Indy has forced a couple of people into a make-or-break season. There's, of course, general manager Chris Ballard, who pulled the trigger on the 2021 trade that brought Wentz over from the Eagles. Head coach Frank Reich, though, deserves most of the blame for the move. And he now must use the 2022 campaign to prove he's the right man to lead the Colts' franchise.
Frank Reich has proven he's a solid coach for the Colts
Before we look at why Frank Reich is essentially on the hot seat, let's discuss how he has proven he's a solid coach.
After playing a significant role in the Eagles' 2017 Super Bowl win as the team's offensive coordinator, Reich has since found a lot of success with very little to work with in Indy.
That's not a dig at the Colts' roster. They actually have an outstanding roster. But following his lone season with Andrew Luck in 2018, Reich has seen Indy have a revolving door in the QB room.
Jacoby Brissett started in 2019 and led them to a 7-9 record. Philip Rivers then played for the Colts in 2020, and he took them to the playoffs with an 11-5 campaign. But after Rivers' retirement last offseason, Carson Wentz came in and embarrassingly choked Indy's season away in 2021. The team went just 9-8 and missed the playoffs.
It's hard to do your job when you have a new starting quarterback every season, but Reich has been tremendous given the unordinary circumstances his team has been in. Through his first four seasons with the Colts, he is 37-28 overall and has taken them to the playoffs twice.
But his relationship with Wentz turned into a liability for the franchise. It cost them draft capital and an entire season.
The Colts head coach 'stuck' his 'neck out' for Carson Wentz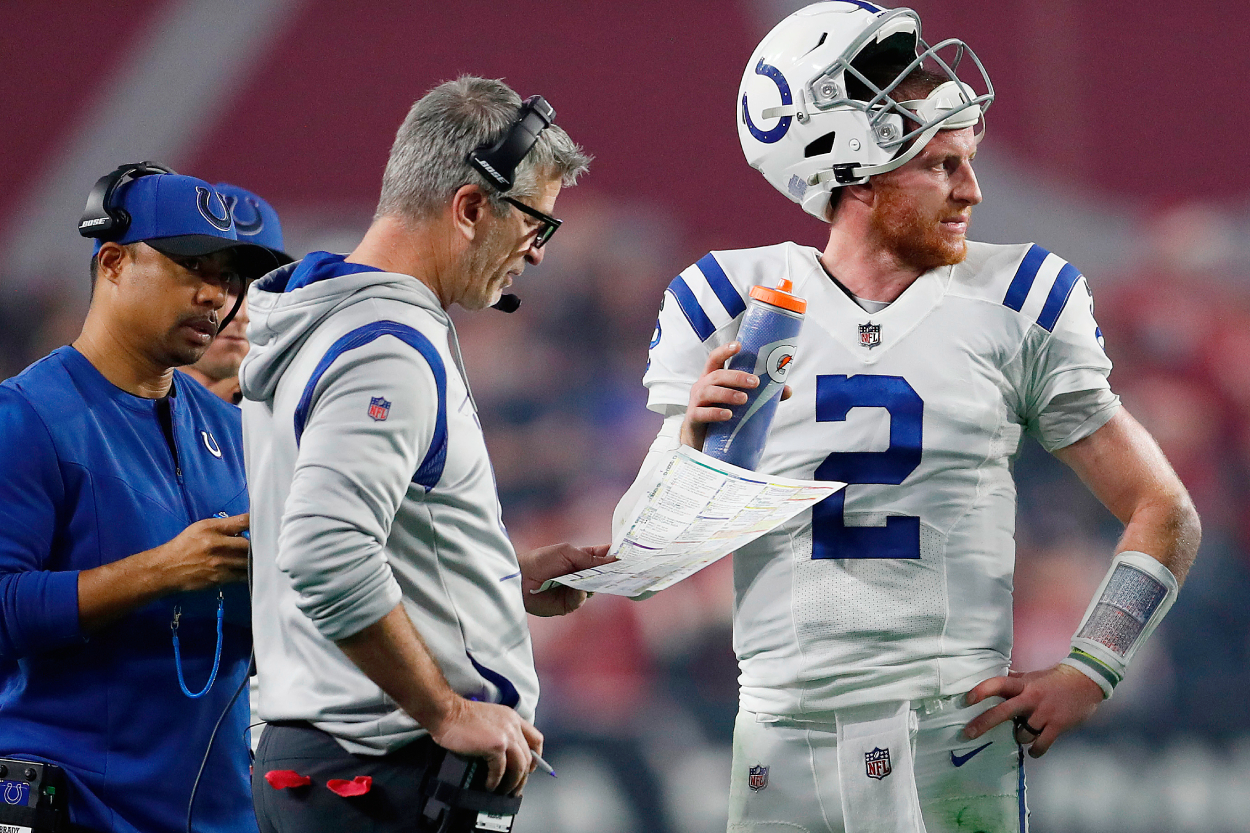 Carson Wentz's best NFL season came when Frank Reich was his offensive coordinator for the Eagles. Wents threw for 3,296 yards, 33 touchdowns, and seven interceptions in 13 games in 2017, earning a Pro Bowl selection.
So, Wentz's success with Reich played a major role in the Colts trading for him last offseason.
"Stability is ideal, continuity is ideal, you long for that," Reich said earlier this month, per USA Today. "I believe in Carson. I stuck my neck out for him last year. I was a big part of that decision to get him here and I believe he's going to have a lot of success as a quarterback whether that's here or somewhere else."
Reich essentially thought he and Wentz could run it back and have the same success they had in Philly. But that one successful year was an outlier, and it appears he essentially ignored Wentz's 2020 campaign.
Carson threw for an NFL-leading 15 interceptions in 2020, and the Eagles eventually benched him for Jalen Hurts. While that season may have also been somewhat of an outlier (Wentz threw for only seven interceptions with the Colts in 2021), it was closer to reality than his 2017 season.
Wentz isn't a franchise quarterback, and Reich should have never treated him like one.
Frank Reich will now enter a make-or-break season
After getting an endorsement from Frank Reich, Carson Wentz choked the Colts' season away. They needed just one win in the final two weeks to make the playoffs, but they lost both games, dropping one to the NFL's worst team, the Jacksonville Jaguars. Wentz averaged only 170.6 yards in the team's final eight games and turned the ball over six times.
So, the Colts wasted a season with Wentz at QB and lost a first-round pick by trading for him last year. They hurt their present and future.
All because Reich thought he was a Wentz whisperer.
And this isn't the first time Reich has praised a mediocre quarterback. He once called Jacoby Brissett a top-20 QB, but, like Wentz, Brissett's inconsistency kept Indy out of the playoffs.
Frank Reich has proven he's a great leader. His compassion jumped through the TV screen during the team's in-season version of Hard Knocks. However, that same characteristic potentially cost the Colts an entire season and part of their future. He stuck his neck out for a struggling QB in Wentz, and he is now entering a make-or-break season.
If Indy doesn't show signs of playoff/championship contention sooner rather than later, Reich's seat could become scorching hot.
Stats courtesy of Pro Football Reference
RELATED: How Carson Wentz Trade Impacts the Indianapolis Colts in the 2022 NFL Draft