Carson Wentz Hasn't Played 1 Game for the Colts but Has Already Suffered a Big Loss
Carson Wentz is getting a fresh start with the Indianapolis Colts. With how stacked the Colts' roster is, Wentz has a chance to win a lot of games in Indianapolis if he can stay healthy and not turn the ball over. However, despite not playing one game as the Colts' quarterback yet, Carson Wentz has already suffered a significant loss, as the former Eagles star will now be saying goodbye to No. 11.
Carson Wentz has worn No. 11 since North Dakota State
Carson Wentz was a star quarterback in college at North Dakota State. In his redshirt junior season, he set school single-season records for passing yards, attempts, completions, and total offense per game, according to his NDSU bio. He threw for 3,111 yards, 25 touchdowns, and 10 interceptions that year and was second on the team in rushing yards with 642. Wentz also led his team to back-to-back FCS national championships in 2014 and 2015.
His play in college helped Wentz go to the Philadelphia Eagles with the No. 2 overall pick in the 2016 NFL draft, too.
In the NFL, Wentz then had a nice start to his career, as he earned Pro Bowl honors in 2017, with 3,296 yards, 33 touchdowns, and seven interceptions in 13 games. He also ultimately threw for more than 20 touchdowns and only seven interceptions in each season from 2017 through 2019, leading the Eagles to the playoffs in each of those seasons.
However, after having a horrible year in 2020, throwing for a league-leading 15 interceptions, the Eagles have since traded Carson Wentz to the Colts.
Wentz certainly had some ups and downs with the Eagles, but the thing that never changed was his jersey number. Wentz wore No. 11 in college and during his five seasons with the Eagles.
That appears to be changing with the Colts, though.
Carson Wentz will not wear No. 11 with the Indianapolis Colts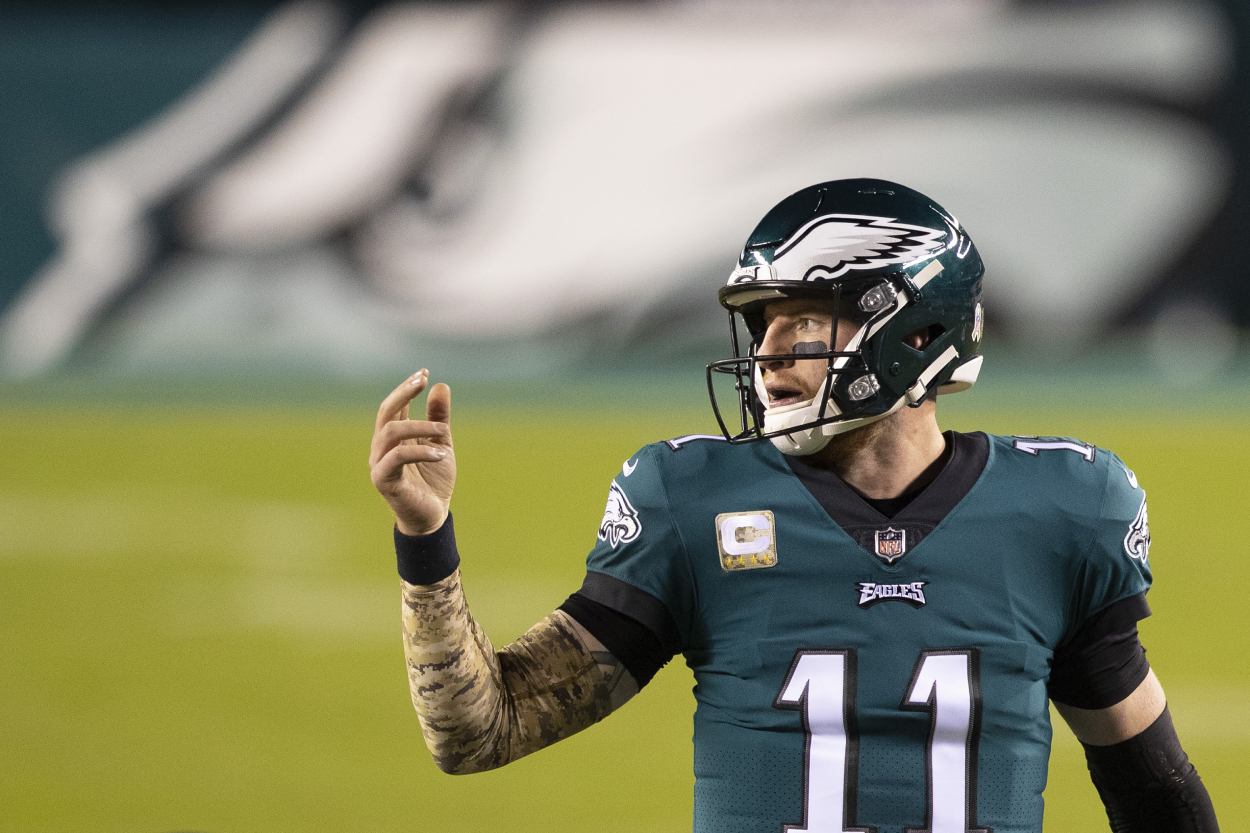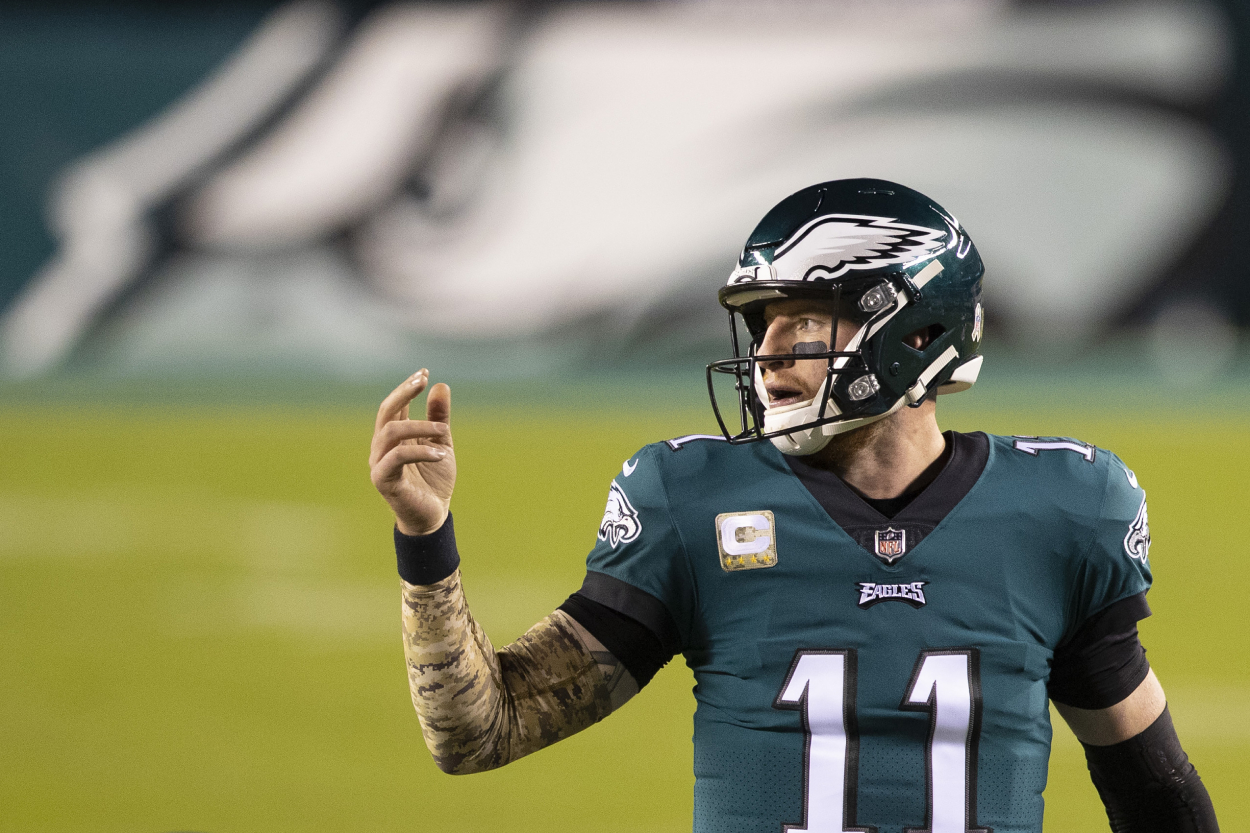 Players have found many ways to keep their jersey numbers when switching teams. Many have even bought expensive gifts for their teammates who wore their numbers in the past.
In Carson Wentz's case on the Colts, though, it appears that he is the one switching numbers.
Despite wide receiver Michael Pittman Jr. just finishing his rookie season, Wentz's new target seems set on keeping No. 11.
"(Wentz) asked me how locked in I am on No. 11," Pittman said on Twitch, according to the IndyStar. "I told him I'm pretty locked in. He said, 'Alright, that's fine. I'm going to change anyway.'"
Pittman also said: "I'm staying No. 11."
So, what number will Wentz wear? Well, according to the IndyStar, Wentz wore No. 20 in high school, but NFL quarterbacks must wear something between 1 and 19, so that's a no-go. There are several numbers between 1 and 19 completely free on the Colts, but he can also probably get a number that's currently unavailable if a player isn't 100% "locked in" on it.
Whichever number he chooses, though, it's also probably a good thing that he's keeping Pittman happy, as Pittman has a chance to become Wentz's top target.
Michael Pittman can help make Carson Wentz's life as the Colts' quarterback a lot easier
Carson Wentz and the Colts have a chance to have a lot of success together. Indianapolis went 11-5 with Philip Rivers in 2020, as they have a great offensive line, a really talented running back in Jonathan Taylor, and a top 10 defense. However, one player who can really help Wentz, especially if the Colts don't re-sign T.Y. Hilton, is Michael Pittman Jr.
Pittman went to the Colts in the second round of the 2020 NFL draft out of USC. This came after he caught 101 passes with the Trojans in his senior year for 1,275 yards and 11 touchdowns. He then had a nice rookie season with the Colts but really started playing well toward the end of the year. Pittman — who stands at 6 feet, 4 inches tall, and is 223 pounds — caught 40 passes for 503 yards and a touchdown in 2020. He recorded 368 of those yards from Week 10 to Week 17, though. Pittman also caught five passes for 90 yards in the Colts' playoff game against the Buffalo Bills.
Carson Wentz has a chance to have a ton of success as the Colts' quarterback. Michael Pittman can help him have a lot of that success, too.
Stats courtesy of Sports Reference and Pro Football Reference