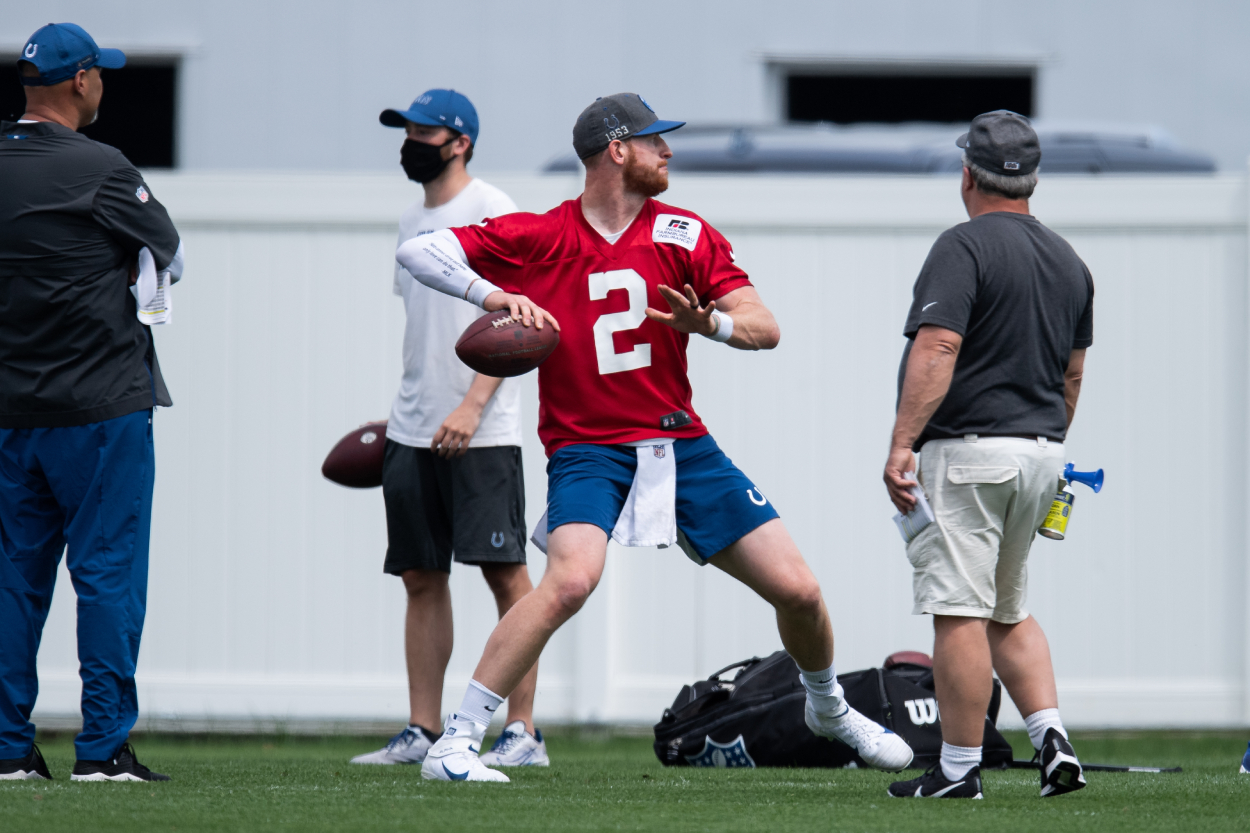 Carson Wentz Hasn't Played in 1 Game for the Colts but Is Already Proving Some of His Loudest Critics Wrong: 'He's Caring'
During his time on the Philadelphia Eagles, Carson Wentz had some loud critics. The quarterback is now getting a fresh start with the Indianapolis Colts, though, and, although he hasn't played in one game in Indy yet, he has proven some of those haters wrong by bonding with his teammates in more than one way.
Former Philadelphia Eagles quarterback Carson Wentz is getting a fresh start with the Indianapolis Colts, and he's already proving some of his biggest haters wrong. No, Wentz hasn't played in a single game for the Colts so far, but he's showing he's not the person people said he was throughout his time with the Eagles.
In Philly, people said Wentz was a horrible leader; in Indy, he's proving that narrative completely false.
Carson Wentz saw his leadership questioned on the Eagles
Wentz had some success throughout his five years on the Eagles. He even earned Pro Bowl honors in 2017 by throwing for 3,296 yards, 33 touchdowns, and seven interceptions in 13 games. After seeing the Eagles win the Super Bowl with Nick Foles that year, though, many people began to question whether Wentz was a guy a team could actually rally behind.
Then, there were the reports that came out in 2019.
"The true Wentz is more nuanced and complicated, with sources describing him as 'selfish,' 'uncompromising,' 'egotistical,' one who plays 'favorites' and doesn't like to be 'questioned,' one who needs to 'practice what he preaches' and fails 'to take accountability,'" Joseph Santoliquito of PhillyVoice.com reported, per Bleacher Report.
Multiple other claims came out about Wentz, as well. One even said he "acts like he's won 10 Super Bowls," per Bleacher Report.
However, Wentz's teammates defended him on Twitter.
"None of that is true; Carson is a great teammate and great player. We are all behind him 100%," Eagles defensive tackle Fletcher Cox said in part of a tweet.
Despite several teammates shutting the reports down, the questions about Wentz's leadership hung over him like a dark cloud throughout the rest of his time on the Eagles.
But with the Colts, he is already proving that narrative wrong.
He is proving his critics wrong on the Colts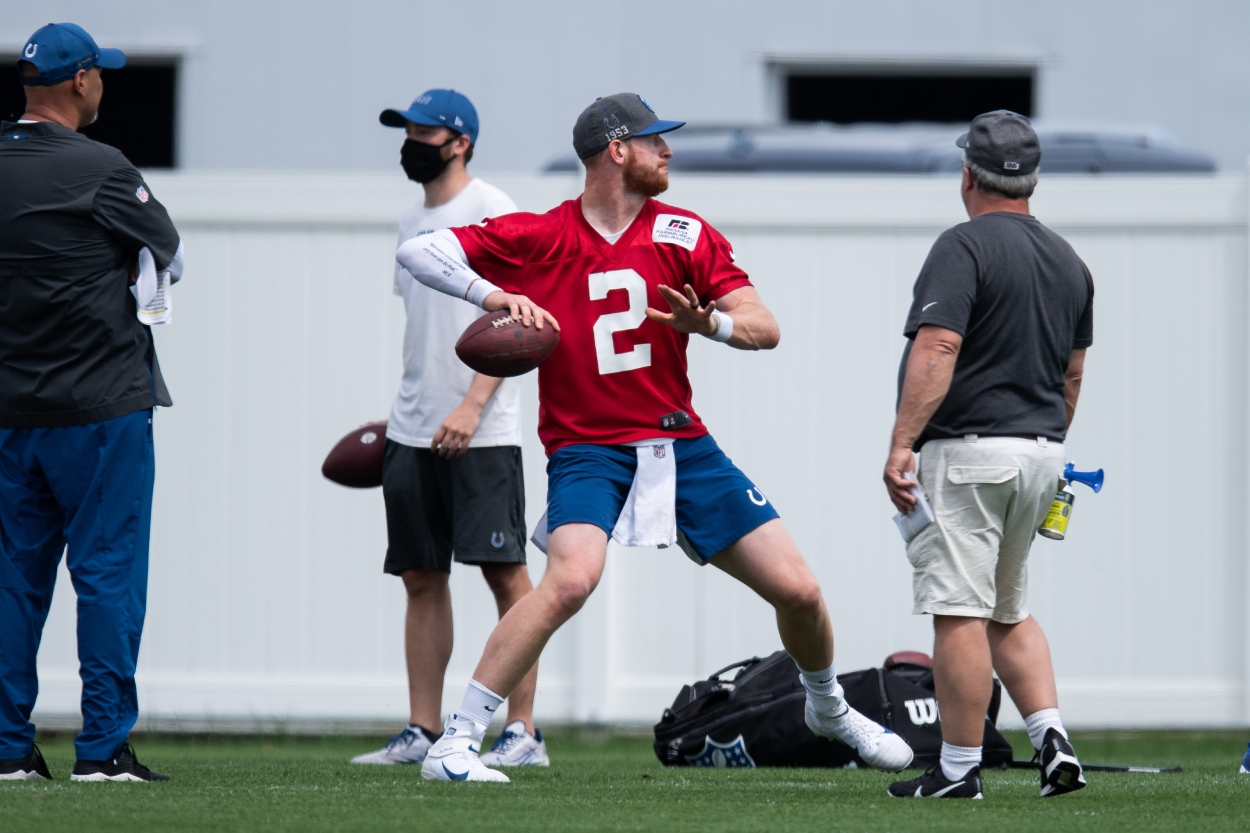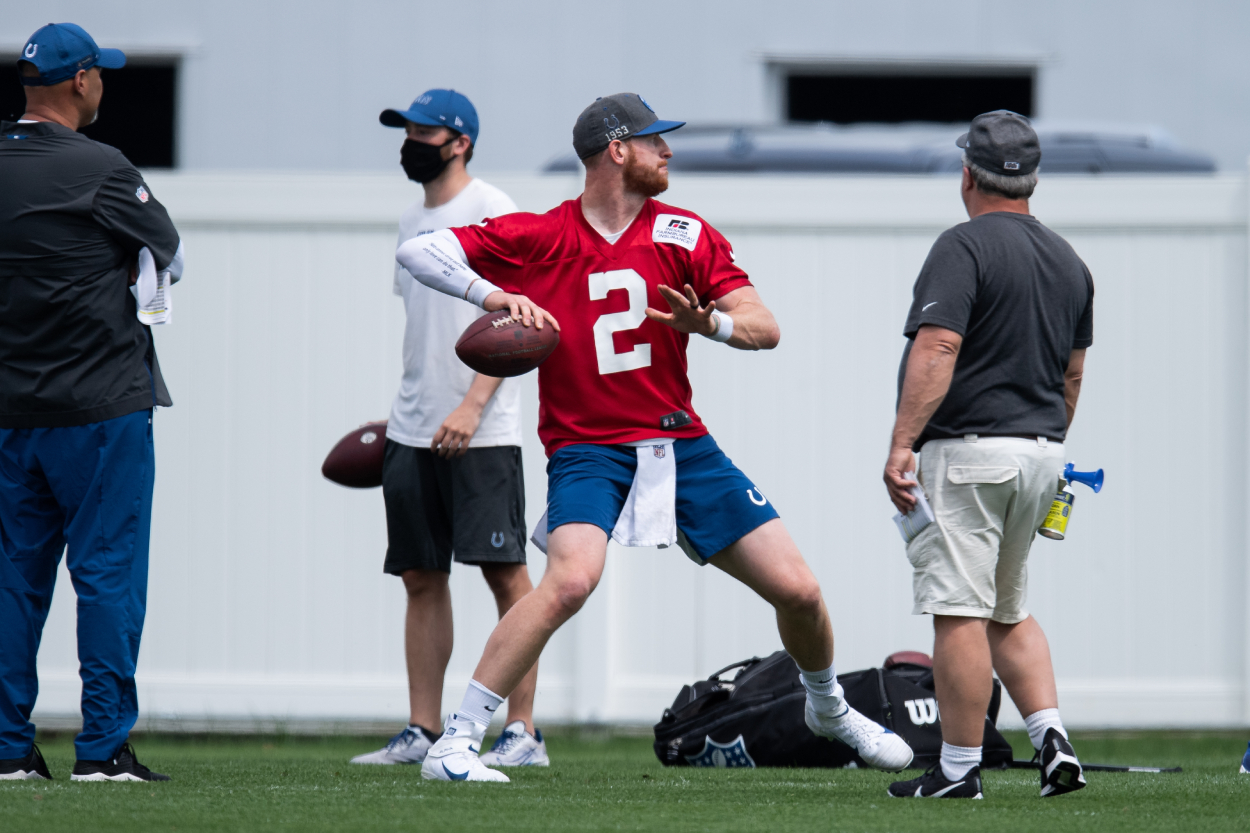 After a poor 2020 season that saw the Eagles bench Wentz, the 2016 No. 2 overall pick is getting a fresh start with the Colts, and his teammates already seem to be enjoying his presence.
"He comes in and asks about my family, my sister, and things like that," Colts running back Nyheim Hines said, per ESPN. "As a new guy, it's pretty cool. It shows that he's caring and trying to take care of us."
In addition to already working out with teammates in California in March, Wentz said he plans to get some of them together again before training camp starts.
"I'm not 100% sure of the details yet," Wentz said, per ESPN. "We'll get together maybe even here in June and then probably in July as well. I've done that in the past in Philly as well and it's just a great time to not just get the physical work on the field, but to get together and bond outside of football and get to know the guys. I look forward to that every summer and I look forward to doing that again once or twice this summer as well."
Does that sound like a guy with a leadership problem?
Carson Wentz even battled a Colts teammate in knockout
While getting teammates together is something many quarterbacks do, it appears Wentz has also shown his fellow Colts that he knows how to have a good time. During OTAs, he battled tight end Mo Alie-Cox — a former Division I college basketball player — in the famous playground basketball game, knockout, per a tweet from the team.
With all their teammates watching, Wentz and Alie-Cox went shot for shot in a battle that looked like no one would lose. That was until Alie-Cox's hoops experience eventually helped him get the W. All of their peers were screaming, cheering, and seeming to be having a good time while Wentz appeared to be having a lot of fun as well, which we didn't really see from him in Philly.
While Wentz still needs to answer several questions about himself, he is slowly but surely proving many of his critics wrong. We'll see if this translates to the field.
Stats courtesy of Pro Football Reference