Carson Wentz's Haters Make Colts Coach Frank Reich 'Cringe': 'I'm Confident That We Got the Right Player'
Quarterback Carson Wentz is getting a fresh start with the Indianapolis Colts, but his biggest critics can't get over his final season with the Philadelphia Eagles. Wentz had the worst season of his career in 2020, which led to him getting benched and eventually traded to Indy. However, his current coach, Frank Reich, who was his offensive coordinator during his best year in 2017, absolutely hates when he hears one criticism about his quarterback.
Carson Wentz had a horrible season with the Eagles in 2020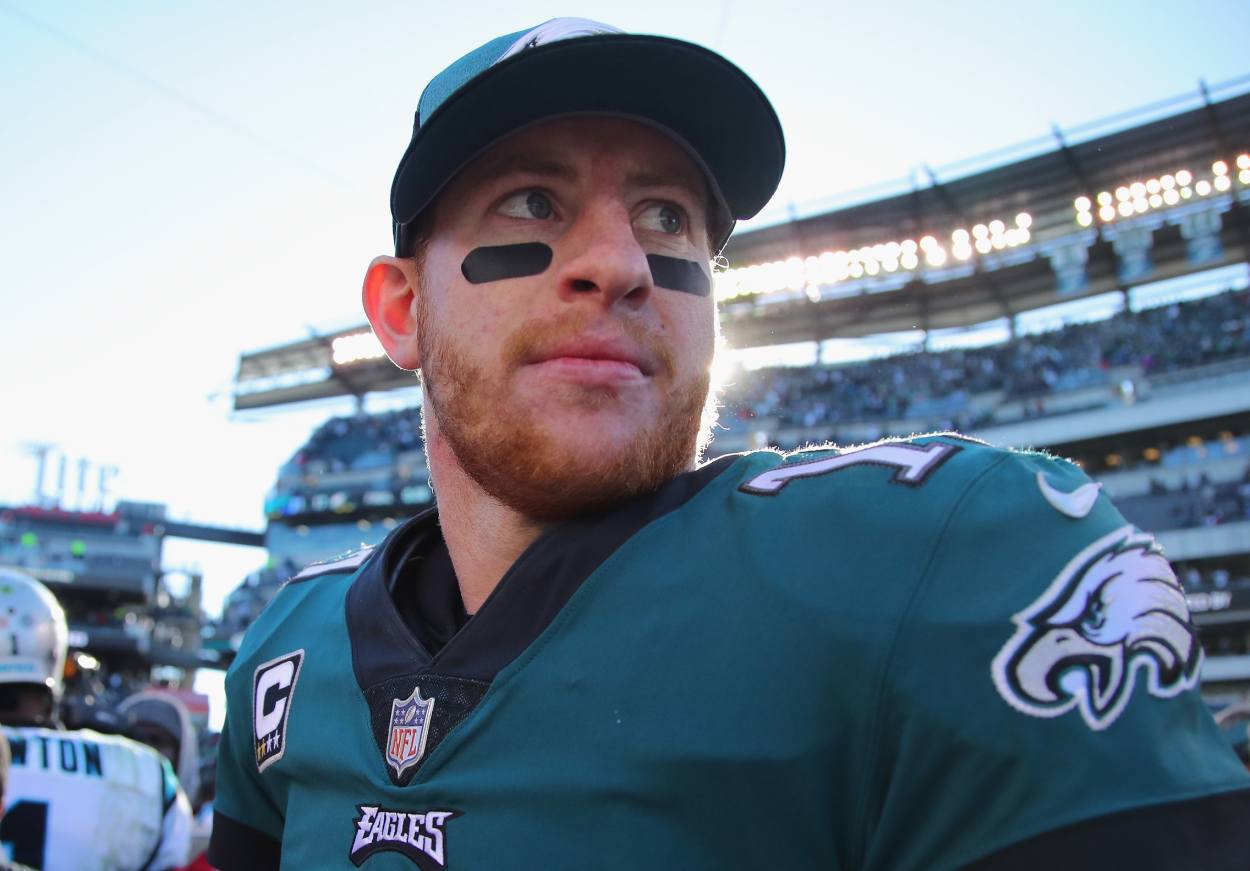 Wentz has had an up-and-down career so far, to say the least. 
He looked like an elite QB during his second season in 2017 with the Eagles, throwing for 3,296 yards, 33 touchdowns, and seven interceptions in 13 games. He even earned Pro Bowl honors for his play.
However, after two mediocre seasons in 2018 and 2019 where he played well but not as well as he did in 2017, Wentz had an atrocious year in 2020. In 12 games, the former North Dakota State star threw for 2,620 yards, 16 touchdowns, and an NFL-leading 15 interceptions. He then eventually got benched for rookie quarterback Jalen Hurts, which, in part, led to him getting traded to the Colts.
The interceptions certainly weren't great, but they weren't all his fault, as Wentz found himself running for his life the entire year. The Eagles allowed him to get sacked a league-leading 50 times in 12 games, which gives the Colts hope that he can get back to how he played in 2017, given that they have one of the best offensive lines in football.
Still, though, Wentz's critics are loud, and they will be until he proves he was just in a bad situation in Philadelphia.
1 criticism about the Colts quarterback makes Frank Reich 'cringe'
Many people believe that Reich is a big reason Wentz had so much success in 2017, as the QB's play dropped off once Reich became the Colts' head coach in 2018. Reich, though, has consistently proven how much he respects Wentz as a player and thinks he can be great for the Colts.
However, while Reich understands that Wentz needs to prove himself , he hates the suggestion that the former Pro Bowler is "broken."
"I just cringe when I hear stuff like that, not that a player shouldn't be accountable for poor play on the field," Reich recently said, per NFL.com. "Carson has to answer to that, and he has answered to it. And until you get out there and prove otherwise, that's what you live with. But I just know that playing the position of quarterback, there are so many factors that go into it. We talked about why the poor play last year, I'm just very confident that he has a team around him." 
He continued: "It's just I think the culture fit. You guys know how I feel about the Eagles, how highly I feel about that organization. But sometimes in sports, this is one of those transitions I think it's going to end up being good for both organizations, I think it's going to be good for Carson. I think we got to be patient with it. … But I'm confident that we got the right player."
So, Reich certainly seems confident in Wentz, and if the Colts, indeed, have "the right player," they can be a dangerous team come playoff time.
Carson Wentz can be just what the Colts need at quarterback
The Colts have one of the best rosters in football; they just need a quarterback. If Wentz can play somewhat near the level he did in 2017, Indy can be a true Super Bowl contender.
Offensively, Indianapolis has three excellent running backs in the backfield in Jonathan Taylor, Nyheim Hines, and Marlon Mack. The team also has some solid receivers in T.Y. Hilton and Michael Pittman Jr., as well as one of the best offensive lines in football, led by All-Pro guard Quenton Nelson.
Defensively, the Colts were a top-10 unit in 2020. They have two superstars in Darius Leonard and DeForest Buckner, as well as some other talented players in Kenny Moore II and Xavier Rhodes.
With all the talent around him, Wentz could reenter the MVP conversation and help the Colts go on a deep playoff run, but only if he plays at a high level. If the former No. 2 overall pick doesn't improve, questions could emerge about Reich's job security and whether Wentz will ever get back to where he was with the Eagles in 2017.
Stats courtesy of Pro Football Reference