Carson Wentz Is the Perfect QB for Ron Rivera to Take a Gamble on
Carson Wentz needs to find a new home this offseason. There's no way around that reality. While it would make sense for the Indianapolis Colts to attempt to mend relations and bring him back for the 2022 NFL season, the damage is seemingly already done.
Colts general manager Chris Ballard has spent all offseason bashing Wentz and scapegoating him for Indy's failures this past season. A trade or release (most likely a release) feels inevitable at this point.
The Washington Commanders have already had talks about acquiring Carson Wentz
Wentz stock may be at an all-time low this offseason. However, the good news for the 2016 No. 2 overall pick is that several teams are in desperate need of a new starting quarterback this offseason. Solid QB play is always at a premium in the NFL, and Wentz's top-10 quarterback rating this past season will surely interest a number of front offices.
At the top of that list is the Washington Commanders. Not only has head coach Ron Rivera already publicly stated his team's need for a new QB1, but they've also reportedly called every single team in the NFL looking for QB help.
This means Washington has called Indianapolis about Wentz, which means the Washington front office has already had some sort of conversation on the possibility of Wentz being their starting quarterback in 2022 (and possibly beyond).
Ron Rivera should take the gamble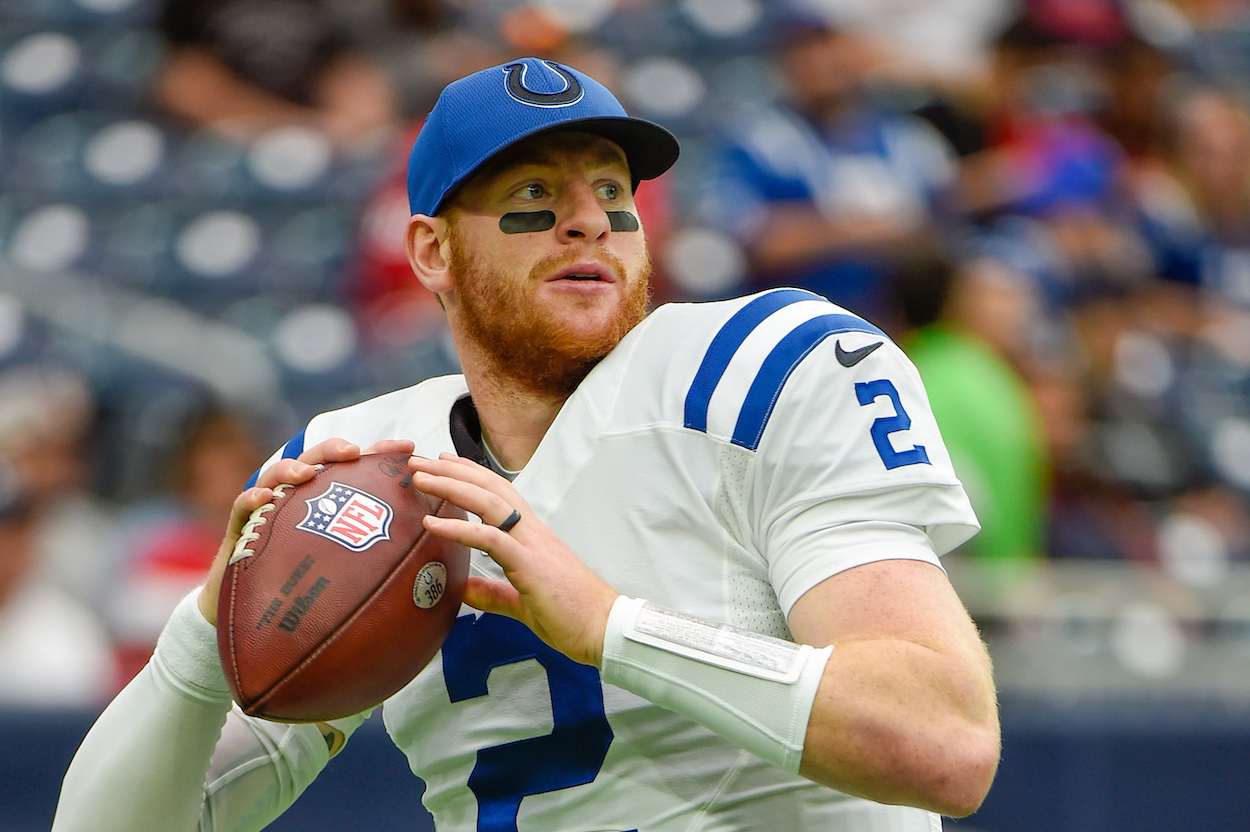 There's no doubt that Wentz is one of the more inconsistent quarterbacks in the NFL right now. He has some seriously elite traits that make for the occasional wonder throw. However, these are typically offset by the odd brainless fumble or interception.
With that said, Wentz has tremendous upside, and Washington isn't in the position to be picky.
Ron Rivera would undoubtedly prefer landing one of the marquee veteran quarterbacks this offseason (Russell Wilson, Aaron Rodgers, Deshaun Watson). However, the odds of one of these superstars agreeing to play for the Commanders is slim. Wilson has already publicly voiced a lack of desire to play football on the east coast.
On the other hand, Wentz is going to be far more obtainable. The Colts will likely release him sometime next week, paving the way for Washington to acquire him without giving up draft capital in a trade. Once upon a time, Wentz was considered the best quarterback in the NFC East. There's an argument to be made that he still could be, which puts the Commanders in a highly favorable position in 2022.
Carson Wentz should be interested in Washington as well
If Wentz does get released, he'll obviously have to agree to sign with Washington via free agency. However, it's hard to imagine a scenario where he wouldn't be interested in it.
Wentz has experienced a ton of success playing in the NFC East, and Washington can offer him a much-improved cast of weapons. Terry McLaurin would be the best WR Wentz has thrown to by a considerable margin.
There's also the added bonus of playing Philadelphia twice a year — an opportunity for Wentz to enact some revenge for being replaced in 2020.
Acquiring Wentz is a gamble for all teams this offseason. However, it's a gamble Ron Rivera and Washington should be willing to take. If Wentz can replicate his 2021 season, the Commanders could sneak into a playoff spot.
All stats courtesy of Pro Football Reference.
RELATED: Carson Wentz Is the Ultimate Scapegoat for Colts GM Chris Ballard