A Carson Wentz Bounceback Should Not Be Counted Out Despite Latest Injury Setback to T.Y. Hilton
The injuries keep piling up for the Indianapolis Colts, but T.Y.Hilton's injury should not be regarded as a death sentence for quarterback Carson Wentz. The former Eagles signal-caller is preparing for a new chapter in Indy after a rather ugly exit from Philadelphia and is in a good position after reuniting with head coach Frank Reich. Although Hilton's injury deprives him of a No. 1 receiver, Wentz still has the receivers and balanced offensive scheme to help him thrive in Indy.
Carson Wentz is without his No. 1 target
The Indianapolis Colts have a pretty strong lineage at the wide receiver position, one that T.Y. Hilton carries on.
Peyton Manning's ascent to becoming one of the best quarterbacks in the NFL coincided with Marvin Harrison's rise to becoming a Hall of Fame receiver. Reggie Wayne was teammates with both Manning and Harrison and is sure to join the two in Canton. Hilton made his first Pro Bowl in Wayne's final NFL season. He was quietly one of the best receivers of the 2010s.
The 31-year-old made four consecutive Pro Bowls between 2014 and 2017. He led the NFL with 1,448 receiving yards in 2016. Hilton is a legitimate staple in Indy, which partly explains why he re-signed with the team this spring. He also figured to be Carson Wentz's top target.
Unfortunately for Wentz and the Colts, Hilton is once again dealing with injuries. Stephen Holder of The Athletic reported Hilton would miss "multiple weeks" with an unspecified injury. ESPN's Adam Schefter later clarified Hilton was being evaluated for an upper back and neck injury.
Hilton is the veteran leader of the receiving corps and often finds a way to play through injuries. It doesn't seem as though he can gut this one out. That puts pressure on Wentz to involve the rest of his receiving corps, but that group is full of talented guys.
The Colts have plenty of talent in the receiving corps
Carson Wentz will likely spread the wealth with T.Y. Hilton out for the time being. The Colts will need multiple guys to step up, but there's reason for optimism on that front.
Zach Pascal has emerged as a guy who can get yards after the catch and occasionally stretch opposing secondaries over the top. Michael Pittman Jr. was even better at making plays with the ball in his hands, averaging 7.3 yards after the catch. He could be poised for a breakout sophomore season.
Indy likely hopes that last statement will ring true for Parris Campbell. The 24-year-old was the 59th pick in the 2019 NFL Draft. He is a burner who can take the top off and made strides as a route-runner in camp last season. He simply hasn't been able to stay on the field.
Campbell played in just seven games in his rookie season. He had six catches for 71 yards in Week 1 last year, only to suffer a PCL injury early in Week 2. The former Ohio State standout would not play the rest of the year. Still, the Colts are high on Campbell's talent, and he might be the dynamic playmaker who can help.
Not to mention, the Colts can take pressure off Wentz by leaning on their rushing attack.
Indy has the kind of balanced offense to offset injury issues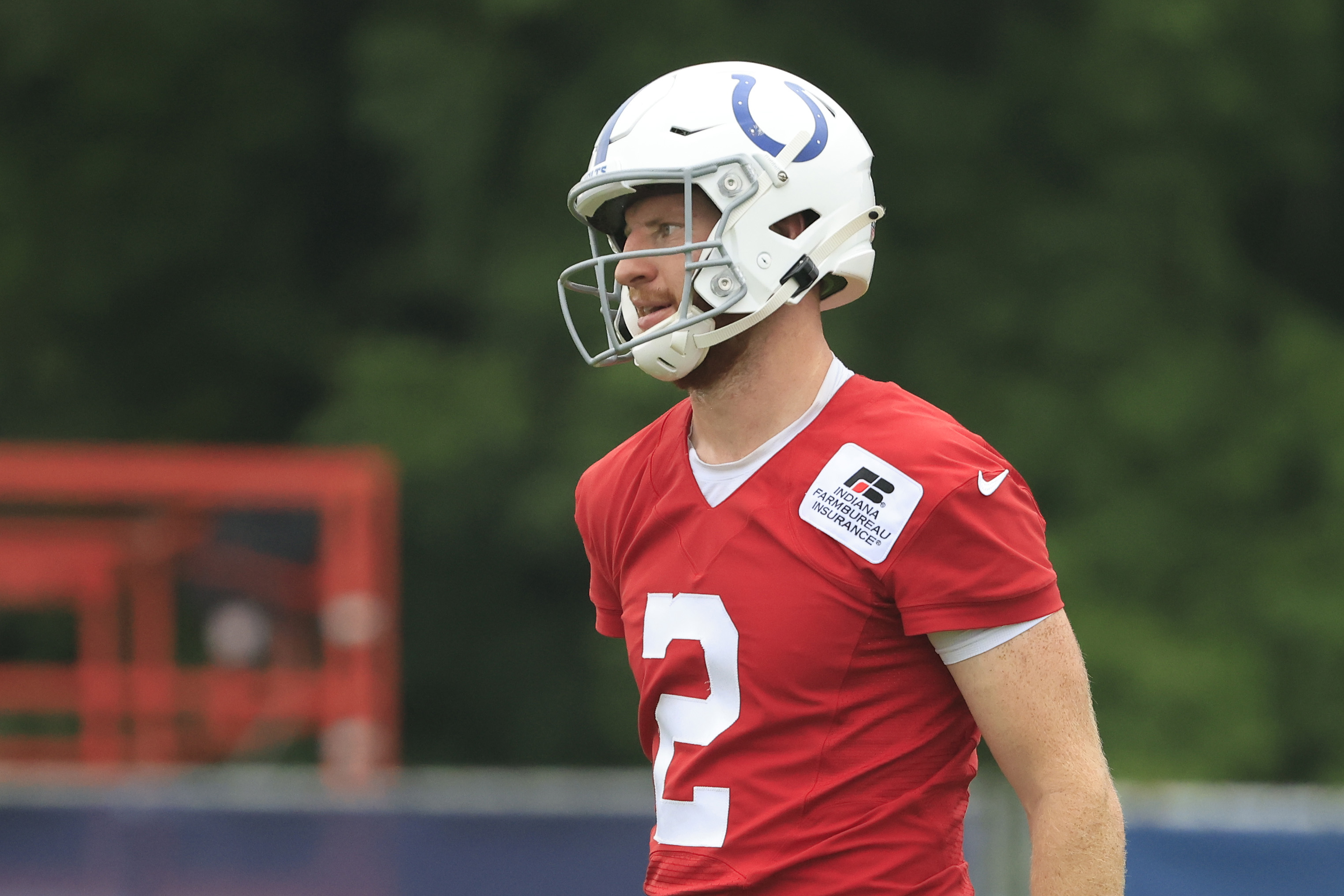 Carson Wentz needs to worry about his own health first.
Wentz has been nursing a foot injury for the majority of camp. The initial expectation was that he could miss time at the start of the regular season, though he's been ramping up the activity in the hopes of being ready for Week 1.
The Colts have been wracked by other injuries, as well. All-Pro offensive guard Quenton Nelson had a similar foot injury to Wentz before being placed on the COVID-19 list. Left tackle Sam Tevi was on the fringes of the 53-man roster before suffering a torn ACL.
The injuries aren't ideal. It remains to be seen if Wentz's foot issue will limit his mobility. Still, Indy can sort of hide the issues by asserting dominance on the ground.
Second-year running back Jonathan Taylor was terrific in his rookie season. Taylor rushed for close to 1,200 yards and averaged 5.0 yards per carry as he established himself as the featured back in Indy's backfield. Expect the Colts to lessen Wentz's load by giving Taylor more carries and establishing a balanced attack.
Skeptics might feel that all the injuries will set him back in his first year with the Colts. However, this Indianapolis team is built to sustain some tough injuries. Wentz also has a deeper talent pool (not to mention a much stronger offensive line) than he did in Philadelphia.
Do not count Carson Wentz out just yet.
Stats courtesy of Pro Football Reference.