Carson Wentz's Latest Instagram Post Proves He's the Complete Opposite of Joe Burrow
People are supposed to work in silence and let their success make the noise for them. But with Instagram, Twitter, and various other social media platforms out there, it's easy to brag about how hard you're working, even if it doesn't show in the results.
That seems to be the case for Indianapolis Colts quarterback Carson Wentz.
Despite all the questions surrounding his leadership and future with the Colts, Wentz recently took to Instagram to show everyone how much effort he is putting in this offseason. And his post not only proved he's the opposite of Joe Burrow, but it also showed that he might not actually be done in Indy after all.
Carson Wentz posted photos with Colts teammates on Instagram
There has been a lot of noise surrounding Carson Wentz and the Colts this offseason.
Indianapolis had two weeks to get one win, and they played the worst team in football, the Jacksonville Jaguars, in one of them. However, Wentz and company choked, embarrassing themselves out of a playoff berth.
Indy's leadership has yet to commit to Wentz this offseason, and numerous rumors have suggested that the Colts plan to move on from the quarterback. With options like Russell Wilson and Aaron Rodgers potentially out there, why wouldn't they try to get a big fish?
But despite all the noise, Wentz recently took to Instagram with some of his Colts teammates.
The North Dakota State product posted multiple photos in which he was throwing passes to wide receivers Michaell Pittman Jr. and Dezmon Patmon. Pittman and Patmon were also wearing their Colts helmets in the shots.
For the caption, Wentz wrote, "Another day at the office with the guys."
So, what's wrong with this? Nothing on the surface. It was just some photos of Wentz and his teammates working out.
But it actually shows that Wentz is the opposite of Cincinnati Bengals quarterback Joe Burrow, and it has fueled more questions about his future in Indy.
The Colts quarterback is the opposite of Joe Burrow
Having a dominant quarterback who can carry your team proved to be the recipe for success in this year's NFL playoffs. Colts owner Jim Irsay even pointed that out on Twitter.
And it looks like several young quarterbacks will run the AFC for years to come, including Bengals QB Joe Burrow.
Burrow had a breakout year, winning the AP Comeback Player of the Year Award. So, during his and Cincy's run to the Super Bowl 56, he received a question about what advice he would give to young athletes.
"Focus on getting better," he said, per Bleacher Report. "Don't have a workout and go and post it on Instagram the next day, and then go and sit on your butt for four days, and everyone thinks you're working hard, but you're really not. Work in silence. Don't show everybody what you're doing; let your game on Friday nights and Saturday nights and Sunday nights show all the hard work that you put in. Don't worry about all that social media stuff."
Burrow focused on working hard after suffering his 2020 knee injury, and the results showed. He led his team to the Super Bowl. Wentz, on the other hand, is coming off a season in which he choked a playoff trip away and is showing everyone how hard he is working.
One of these QBs has a chance to win multiple MVPs in the near future. The other will likely continue playing at a mediocre level, no matter what team he is on.
Is Carson Wentz staying in Indy?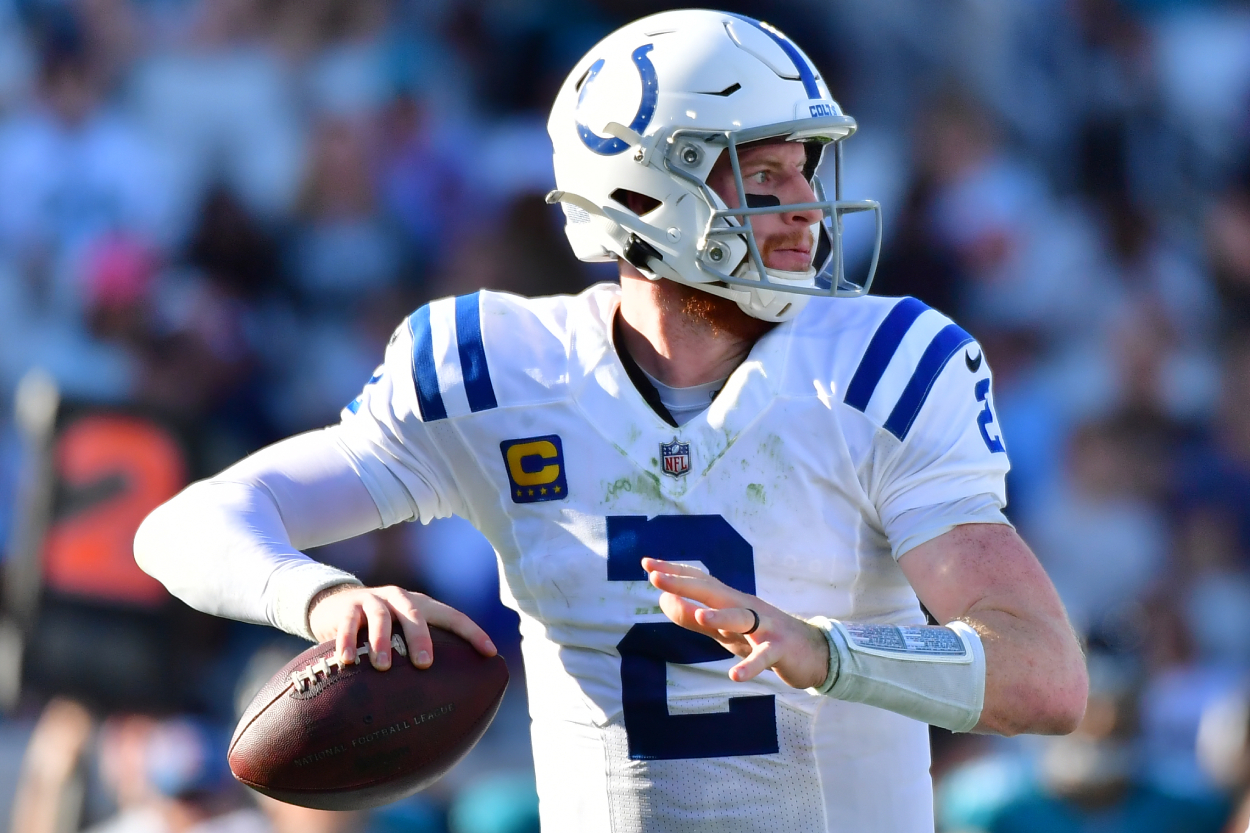 Carson Wentz's Instagram post didn't just prove he's the opposite of Joe Burrow. It also fueled more questions about his future in Indy.
He, of course, is still on the Colts roster, so seeing him with his teammates isn't that big of a deal. But if Indianapolis wants to save money, it has to cut him by March 18. That's just a few weeks away. If the team plans on releasing (or trading) him, shouldn't it be discussing the potential moves with Wentz at this point?
His teammates are also acting like he's staying.
In addition to Pittman, Indy's No. 1 receiver, working out with him, star running back Jonathan Taylor commented on the photo, saying, "Cooking something up." And wide receiver Parris Campbell posted a fire emoji.
All in all, Wentz's Instagram post might have been a whole lot of nothing. There's a chance he was just working out with his bros. But why would he continue working out with his Colts teammates if he is about to leave?
And why does he have to show everyone how hard he is working?
Maybe, he wanted to send a message to the front office. Maybe, he is trying to silence the haters. Or perhaps he just really likes the photos. Whatever his reasoning was, though, Wentz should be working in silence after how he ended his 2021 season.
RELATED: Indianapolis Colts: Colin Cowherd Shocks With His 2022 Starting QB Prediction