Carson Wentz Loves Football So Much He Once Got Caught Watching Film While on a Date
Indianapolis Colts quarterback Carson Wentz has received plenty of criticism throughout his NFL career so far. Whether it has been for his tendency to hang in the pocket too long, resulting in him getting hurt frequently, or his NFL-leading 15 interceptions for the Philadelphia Eagles in 2020, hate has seemingly come in bunches for Wentz. 
However, his love for football is something no one can question.
Wentz has displayed a deep passion for his sport through his competitive nature over the years, and he hasn't kept it limited to just practice or games. In fact, the quarterback once even got caught watching film while on a date.
Quarterback Carson Wentz has proven his love for football on the Eagles and Colts
Carson Wentz showed off his immense talent early for the Philadelphia Eagles. After going to Philly with the No. 2 overall pick in the 2016 NFL Draft, Wentz threw for 3,782 yards, 16 touchdowns, and 14 interceptions as a rookie, proving why the Eagles selected him so high.
However, after getting off to a great start in his second year, posting 3,296 yards, 33 touchdowns, and seven interceptions in 13 games, Wentz displayed his deep love for football during one of his darkest moments.
In Week 14 of that 2017 season, Wentz's incredible year came to an end, as he tore his ACL in a game against the Los Angeles Rams. But after suffering the knee injury, he still stayed for four more plays and even threw a touchdown pass to Alshon Jeffrey.
That's a combination of toughness and passion.
His legend didn't end there, though.
The North Dakota State product is now on the Colts, and in his first season in Indy this year, he played an entire game on two sprained ankles.
"It was definitely a challenge," Wentz said on the Oct. 8 episode of The Rich Eisen Show. "… I knew my limitations. I probably never felt those limitations to that extent as far as trying to make a play and everything, but I still felt confident in my ability to drive the ball, throw the ball from the pocket."
Sure, his toughness is something to marvel at, but Wentz has proven his love for the game in other ways as well.
Carson got caught watching film while on a date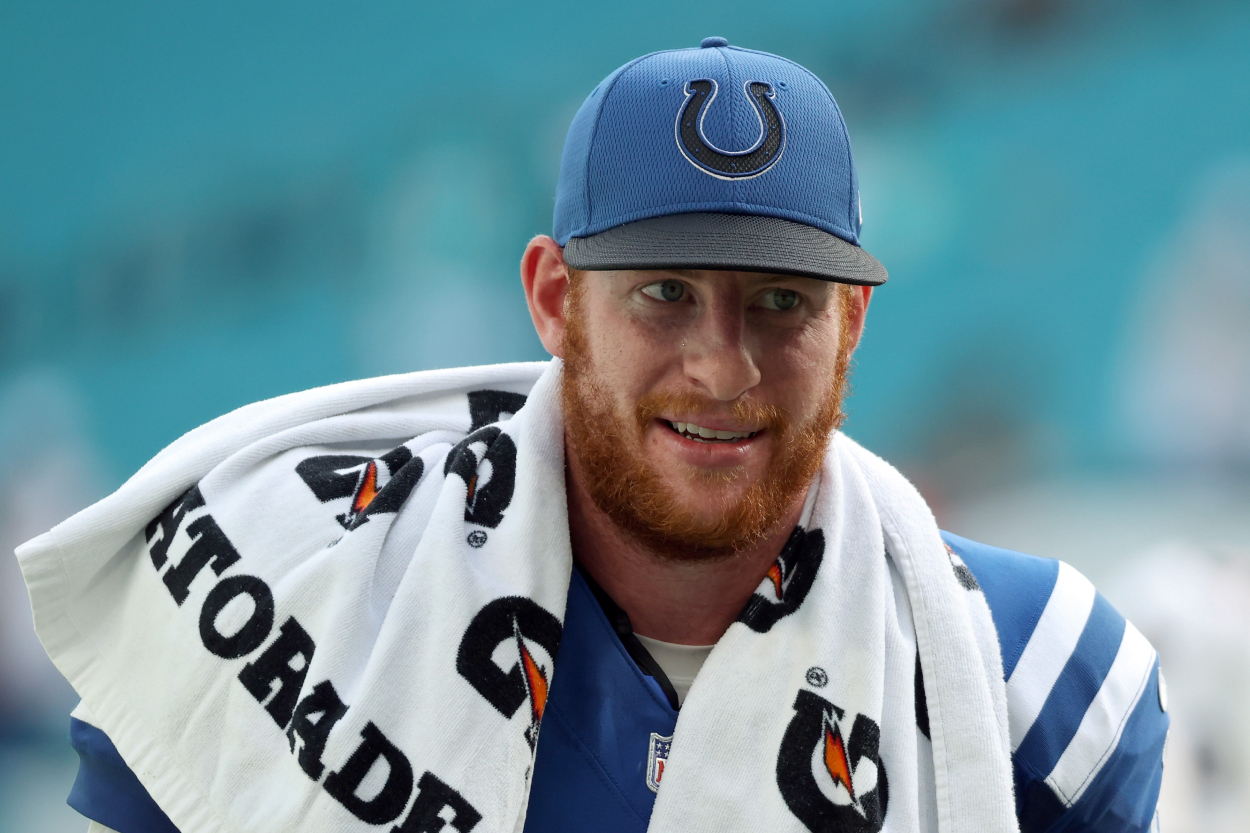 During Carson Wentz's rookie season with the Eagles, the New York Post wrote a story about his then-girlfriend Melissa Uhrich. Although they were high school sweethearts and dated through college, the two have since broken up, and he is now married to Madison Oberg.
But the story on Uhrich had a funny anecdote about the quarterback.
"While Wentz has since turned pro and become Philadelphia's prized franchise quarterback, Uhrich continues to support him as she did during their college years," Jaclyn Hendricks of the New York Post wrote. "And while she won't hesitate to take his cell phone away during date nights — he was caught watching game film under the dinner table — she understands how much her boyfriend is dedicated to his craft."
Incredible. While some sports fans try to sneak and watch games during dates or other social gatherings, it appears Wentz attempted to study up and watch an old one.
Technology has just made it that much harder for athletes to have a work-life balance.
Hopefully for Wentz, though, his dedication will result in some massive success.
Carson Wentz still has the potential to be a successful quarterback for the Colts
Following his disappointing Eagles tenure, it appears people have given up on Carson Wentz. But many fans seem to forget that Philly had several injuries along its offensive line in 2020, which resulted in Wentz getting sacked an NFL-leading 50 times and throwing 15 picks while frequently trying to make something out of nothing.
Prior to that season, the 2017 Pro Bowler had 20 or more touchdowns and only seven interceptions in each of the three previous years.
Now, Wentz is the quarterback for the Colts, who, when healthy, have a strong offensive line. He is also back with Frank Reich, Indy's head coach, who was his offensive coordinator in Philadelphia during his best season in 2017.
The Colts' talent and Wentz's connection with Reich certainly have the potential to help him turn his career around. And since it appears that he doesn't lack love for the game, he likely has a good chance of doing just that.
Stats courtesy of Pro Football Reference
RELATED: Peyton Manning Once Savagely Kicked His Fellow Colts Teammate out of a Film Room Despite Not Even Playing That Entire Year Due to Injury