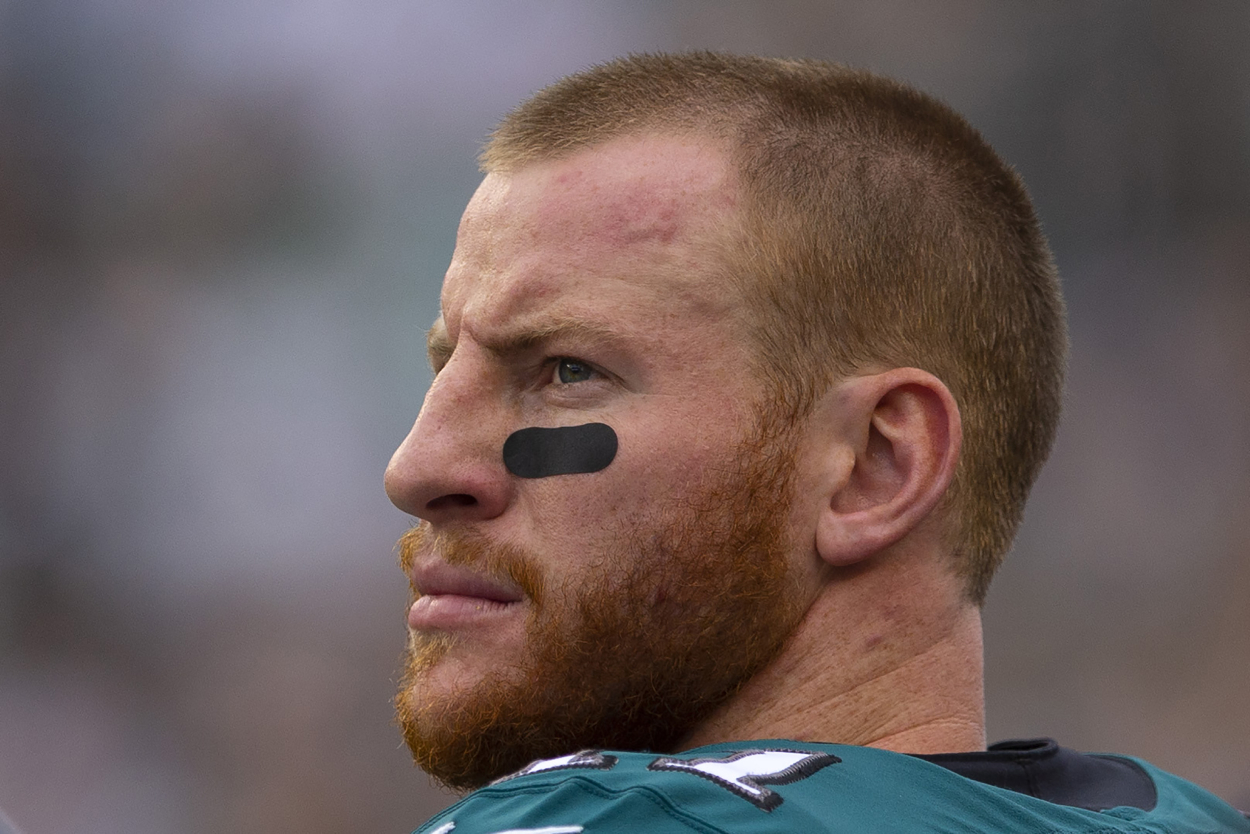 Carson Wentz Is a 'Man on a Mission,' According to His New Colts Teammate: 'I Don't See All the Things That They Were Talking About in Philly'
There were many questions about Carson Wentz during his Philadelphia Eagles tenure, as some people even wondered about his leadership. However, his new Indianapolis Colts teammate had a lot of praise for the quarterback and even said that he is on a mission as he heads into the 2021 NFL season.
One of the more ugly NFL divorces in recent memory was between Carson Wentz and the Philadelphia Eagles. It wasn't ugly because of anything Wentz or the Eagles said, but instead, it had a lot to do with the controversial reports that came out about their situation. However, Wentz now has a new team, as the Eagles traded him to the Indianapolis Colts, and the quarterback seems to be leaving a good impression on his new teammates. In fact, defensive tackle DeForest Buckner has nothing but praise for him.
Carson Wentz's leadership was questioned during his Eagles tenure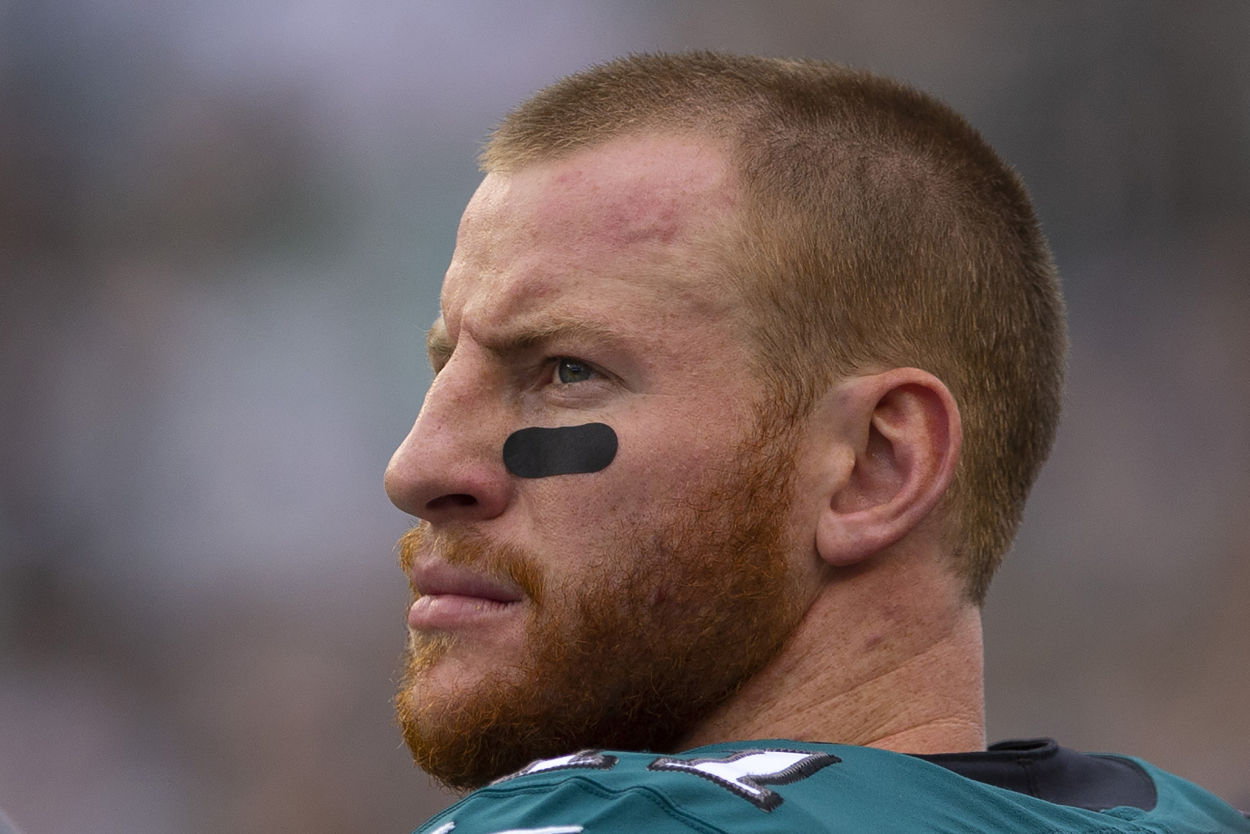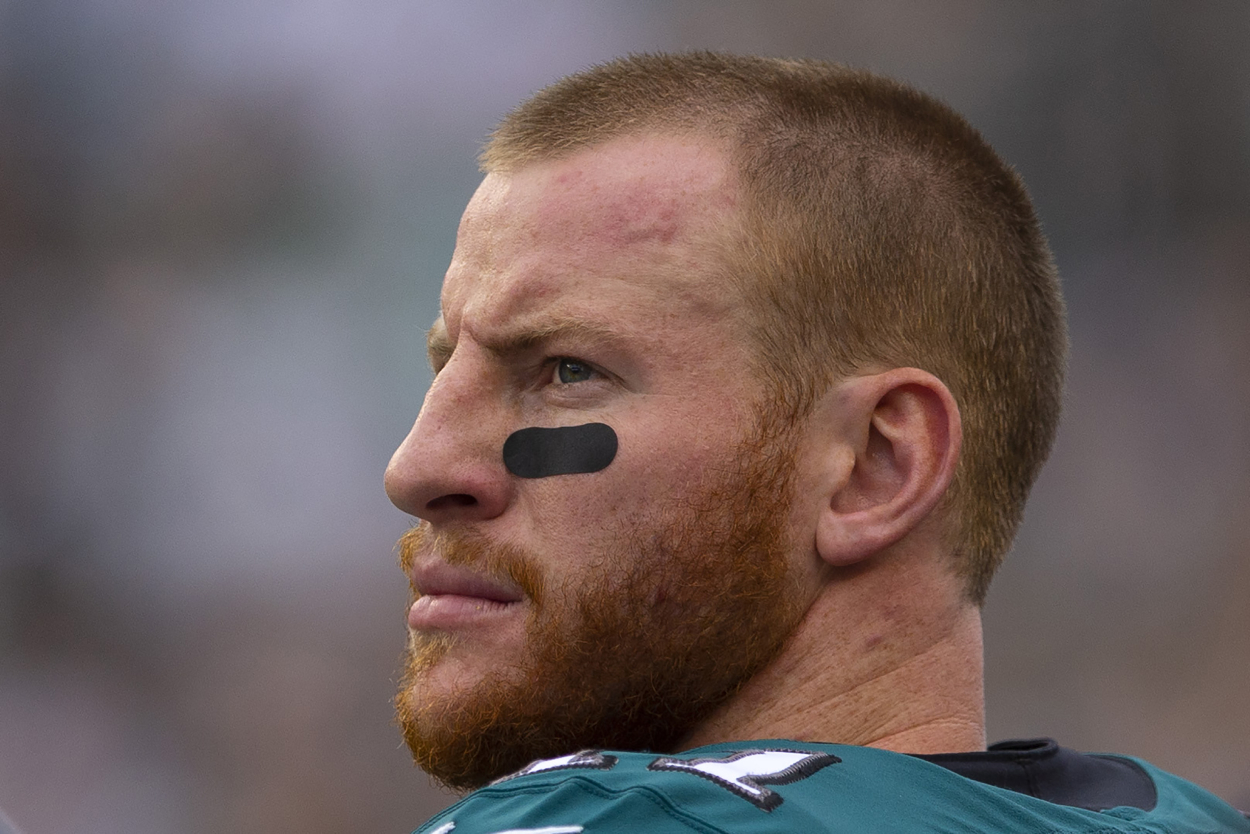 It looked like Wentz was on track to become the Philadelphia Eagles' franchise quarterback. He earned Pro Bowl honors in 2017 after throwing for 3,296 yards, 33 touchdowns, and seven interceptions in 13 games.
However, after Wentz suffered an injury that year, and Nick Foles ultimately led the Eagles to a win in the Super Bowl, some people began questioning whether Wentz was a guy who could lead an entire franchise.
Concerns about his leadership, though, surfaced in 2019.
According to Bleacher Report, Joseph Santoliquito of PhillyVoice.com reported that unnamed members of the Eagles said the quarterback was "'selfish,' 'uncompromising,' 'egotistical,' one who plays 'favorites' and doesn't like to be 'questioned,' one who needs to 'practice what he preaches' and fails 'to take accountability.'"
Multiple other claims also attacked Wentz, but some of his teammates publicly stood up for him.
"None of that is true; Carson is a great teammate and great player. We are all behind him 100%," Eagles defensive tackle Fletcher Cox said in a tweet.
Like Cox and the other teammates who stood up for Wentz, Buckner also has nothing but great things to say about his new Colts quarterback.
DeForest Buckner praised his new Colts quarterback
Buckner played in his first season with the Colts in 2020 after spending four seasons on the San Francisco 49ers to start his career. He ended up earning first-team All-Pro honors with Indy after recording 9.5 sacks.
While recently appearing on The Rich Eisen Show, Buckner had a lot to say about his new QB.
"I love the guy," Buckner said on the June 18 episode. "I don't see all the things that they were talking about in Philly, whatever was going on last year, or the type of player they were saying he was, or the mental state. He came in ready to work. He's a man on a mission."
Buckner even said that his and Wentz's family got together for dinner at Buckner's house.
"Carson's a great guy on and off the field," he added. "I can see the leader that he is; he's definitely a leader of men, especially at the quarterback position, which you need to be. I can't wait to see what he does this year. Being able to have that fresh start, that's what I think he just needed. He needed to get out of Philly, get a fresh start. He's got a great o-line in front of him to keep him upright, and he's got a lot of weapons on offense to dish the ball to. So, it's going to be really fun to see him come back this year."
Buckner's comments certainly sound encouraging, and if Wentz plays anywhere near the level he did during the 2017 season, the Colts have a chance to be very dangerous in 2021.
Carson Wentz and the Colts can be dangerous this season
Let's not sugarcoat anything; Wentz was horrible in 2020 for the Eagles, as he led the NFL in interceptions. However, we all saw his talent during that 2017 season. He was the frontrunner for league MVP that year before going down with injury.
If Wentz can play similar to the way he played that season, he and the Colts can be an excellent team in 2021.
The Colts made it to the playoffs with an aging Philip Rivers last year. They have one of the top defenses in the NFL with guys like Buckner and Darius Leonard, as well as a great offensive line that just added 2020 Pro Bowler Eric Fisher. Wentz will also have three great running backs in Jonathan Taylor, Marlon Mack, and Nyheim Hines, and some talented receivers in T.Y Hilton and Michael Pittman Jr.
There were many questions about Wentz during his Eagles days, but he appears to be far removed from that situation and has a chance to have a great year with the Colts in 2021.
As Buckner said, he may just be a man on a mission this year.
Stats courtesy of Pro Football Reference