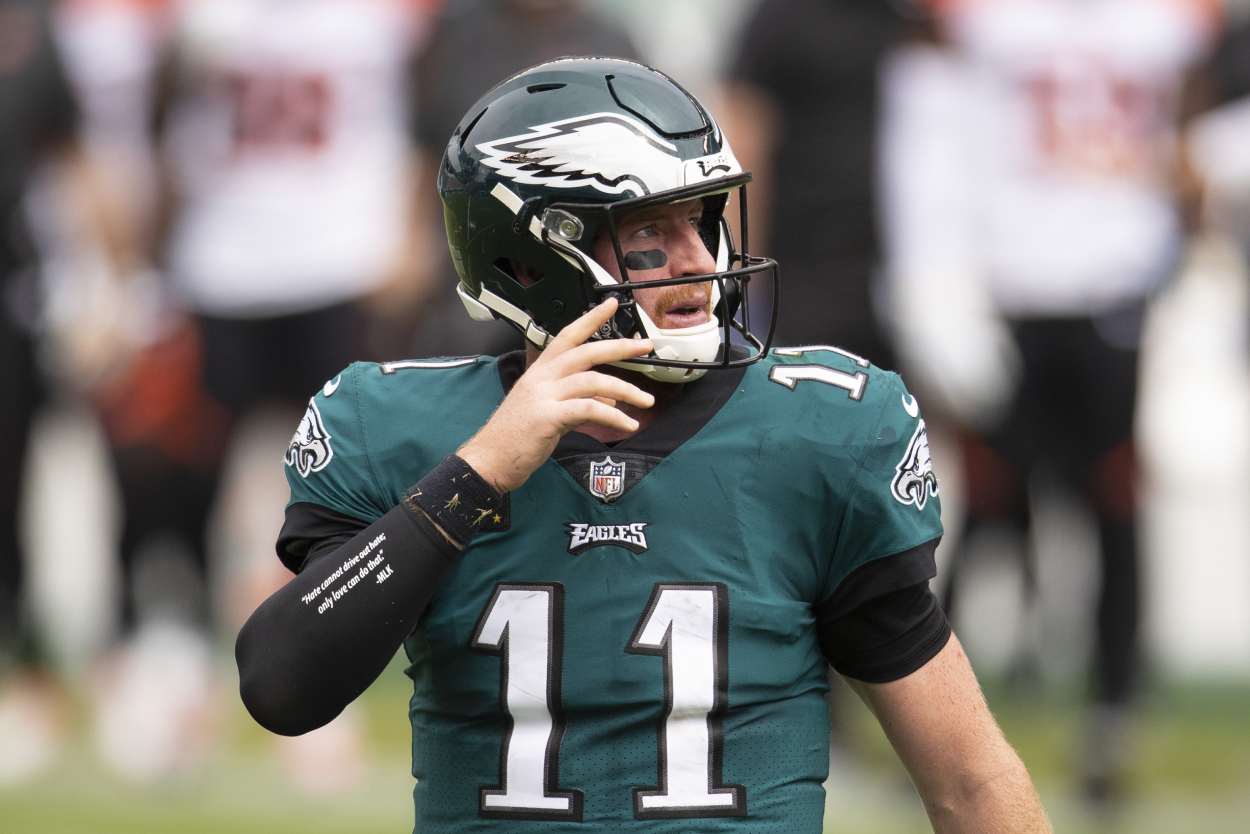 Carson Wentz May Reportedly See the Eagles Intentionally Take Advantage of Him if Their Outrageous Demands Aren't Met
Carson Wentz reportedly wants to leave the Eagles. If their demands aren't met, though, they may intentionally take advantage of him.
Carson Wentz and the Philadelphia Eagles seem to be headed toward a divorce. Or are they? Reports suggest that the Eagles have an outrageously high asking price for their quarterback, which could potentially keep him from getting traded. In fact, another report points to the team potentially taking complete advantage of Wentz if their demands aren't met.
Carson Wentz wants to leave the Philadelphia Eagles
Carson Wentz went to the Philadelphia Eagles with the second overall pick in the 2016 NFL draft. He seemed to be worth the top pick, too.
In Wentz's second season, he threw for 3,296 yards, 33 touchdowns, and seven interceptions in only 13 games, which helped him earn Pro Bowl honors. He, however, ultimately got hurt, and the Eagles still won the Super Bowl with Nick Foles as their quarterback. 
Wentz then played well but not as well during the 2018 and 2019 seasons. He threw for 3,074 yards, 21 touchdowns, and seven interceptions in 11 games in 2018. Then, in 2019, he threw for 4,039 yards, 27 touchdowns, and seven interceptions. The Eagles also made the playoffs in three consecutive seasons from 2017 through 2019, too.
However, in 2020, Wentz had a horrible season. He went 3-8-1 as a starter and threw for 2,620 yards, 16 touchdowns, and an NFL-leading 15 interceptions in 12 games. His poor play also led to the Eagles benching him for rookie quarterback Jalen Hurts, which seems to have played a role in Wentz wanting out of Philadelphia.
The Philadelphia Eagles reportedly have a high asking price for him
The Eagles parted ways with head coach Doug Pederson and have since hired Nick Sirianni as his replacement. That move did not change Wentz's mind about wanting to leave Philly, though, as Adam Schefter reported that Wentz still wants the Eagles to trade him, per ESPN.
There have been reports that the Chicago Bears and Indianapolis Colts are interested in Wentz, but the Eagles reportedly have an extremely high asking price. Schefter reported that the Eagles are looking for "a Matthew Stafford package." The Detroit Lions got Jared Goff, two first-round picks, and a third-round pick from the LA Rams for Stafford.
However, the Philadelphia Inquirer's Les Bowen reported that sources doubt the team has been offered a first-round pick for Wentz, via ProFootballTalk. It appears that the most the Eagles have been offered are two second-round picks and potentially a third or fourth-round pick from the Colts, Ron Jaworski reported, per ProFootballTalk.
That is very far away from what the Eagles are looking for, and, because of this, Philly could ultimately just take complete advantage of Carson Wentz in 2021.
The Eagles may take complete advantage of Carson Wentz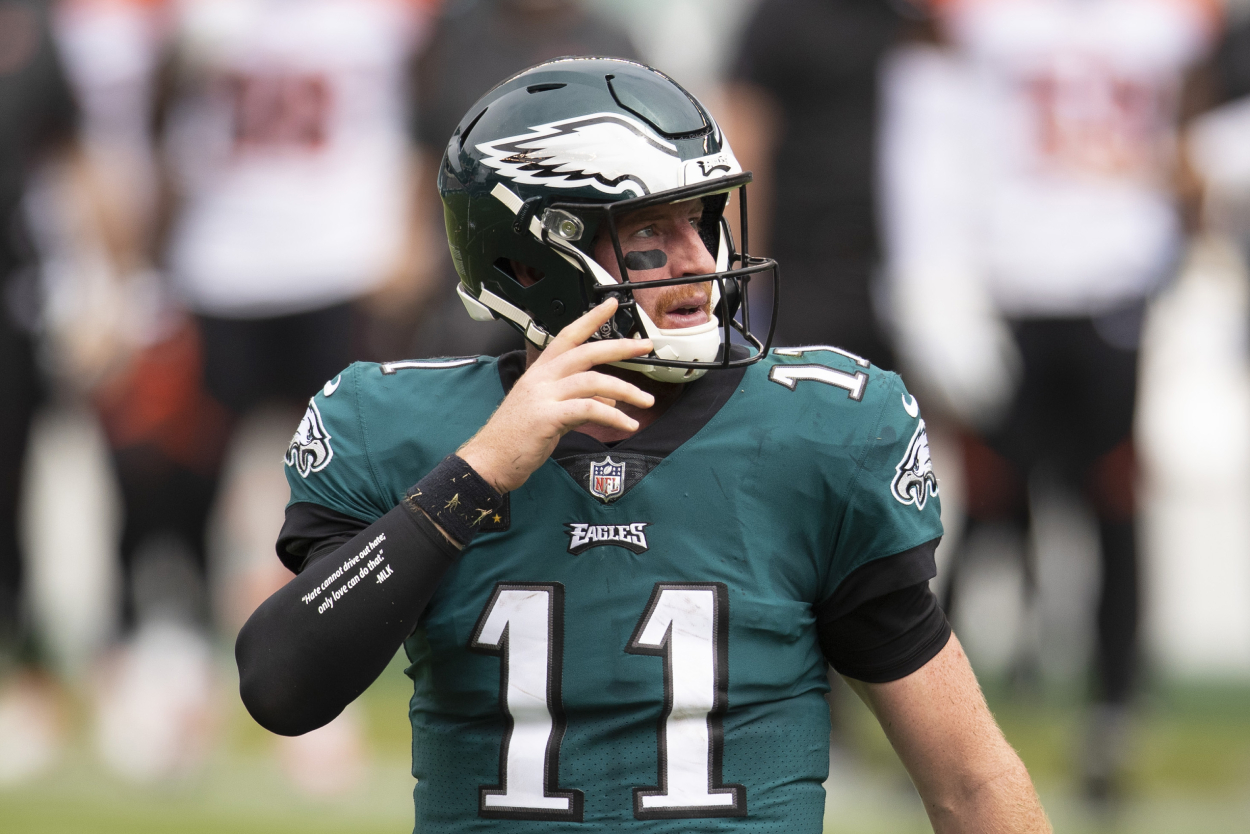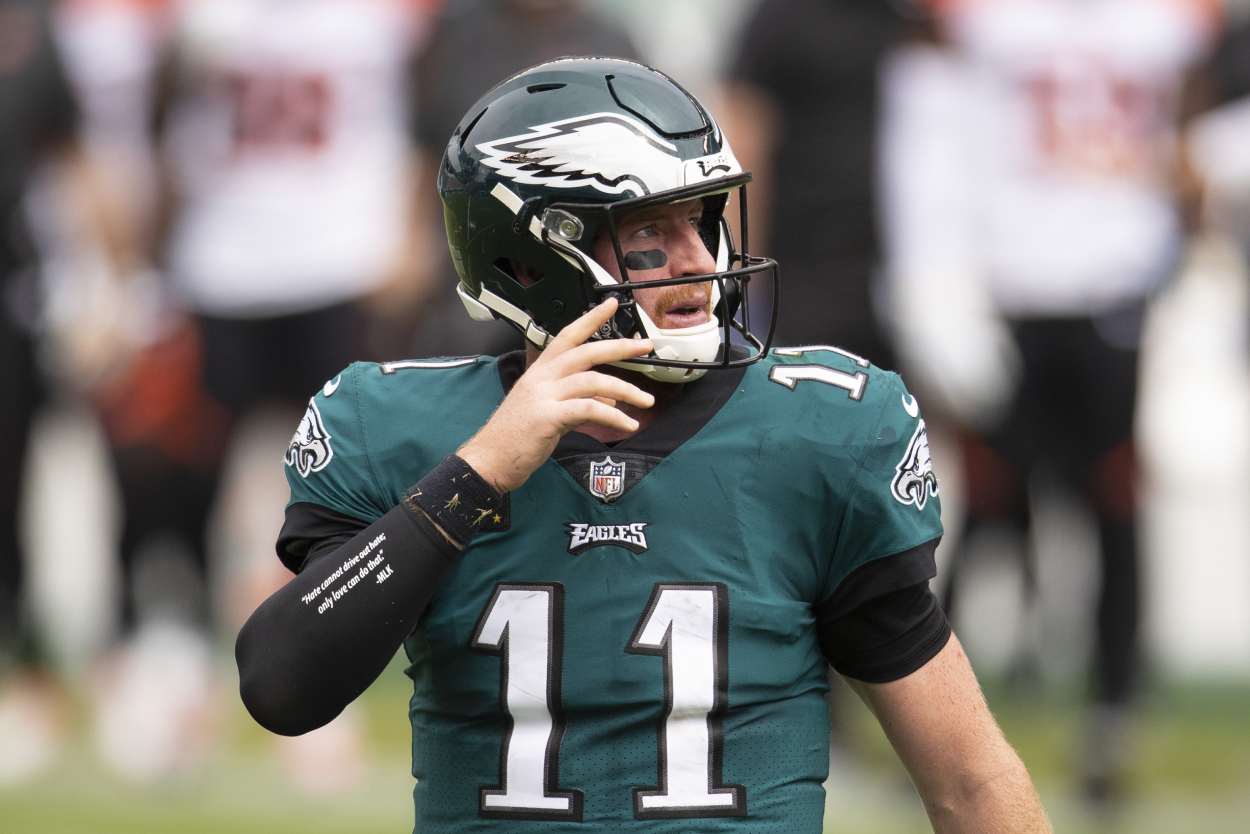 The Eagles may not get what they want out of Wentz. If they don't get that specific offer, they reportedly aren't afraid to keep him, either.
AP Eagles reporter Rob Maaddi reported that he believes that the "Eagles feel they don't have to trade Carson Wentz because they know he's not a troublemaker. He'd come back, compete, and honor his contract. It's not ideal but they know his character. It's an advantage IF they don't get an acceptable offer."
Maaddi still said that he thinks a trade is more likely. He just doesn't think that the Eagles would flat-out not bring Wentz back because of his unhappiness in Philly. "They know who he is and he's not that guy who will force his way out and be a malcontent if he doesn't get his way," he said.
Carson Wentz is an easy-going guy that doesn't cause too much trouble. While that is an NFL team's dream, it also may result in the Eagles taking advantage of him if their demands aren't met.
For Wentz's sake, though, hopefully, the Eagles come down on their outrageous asking price a bit. It certainly doesn't appear that any team will offer them a first-round pick for his services, so he could end up stuck in Philadelphia if the Eagles don't start thinking realistically.
Stats courtesy of Pro Football Reference