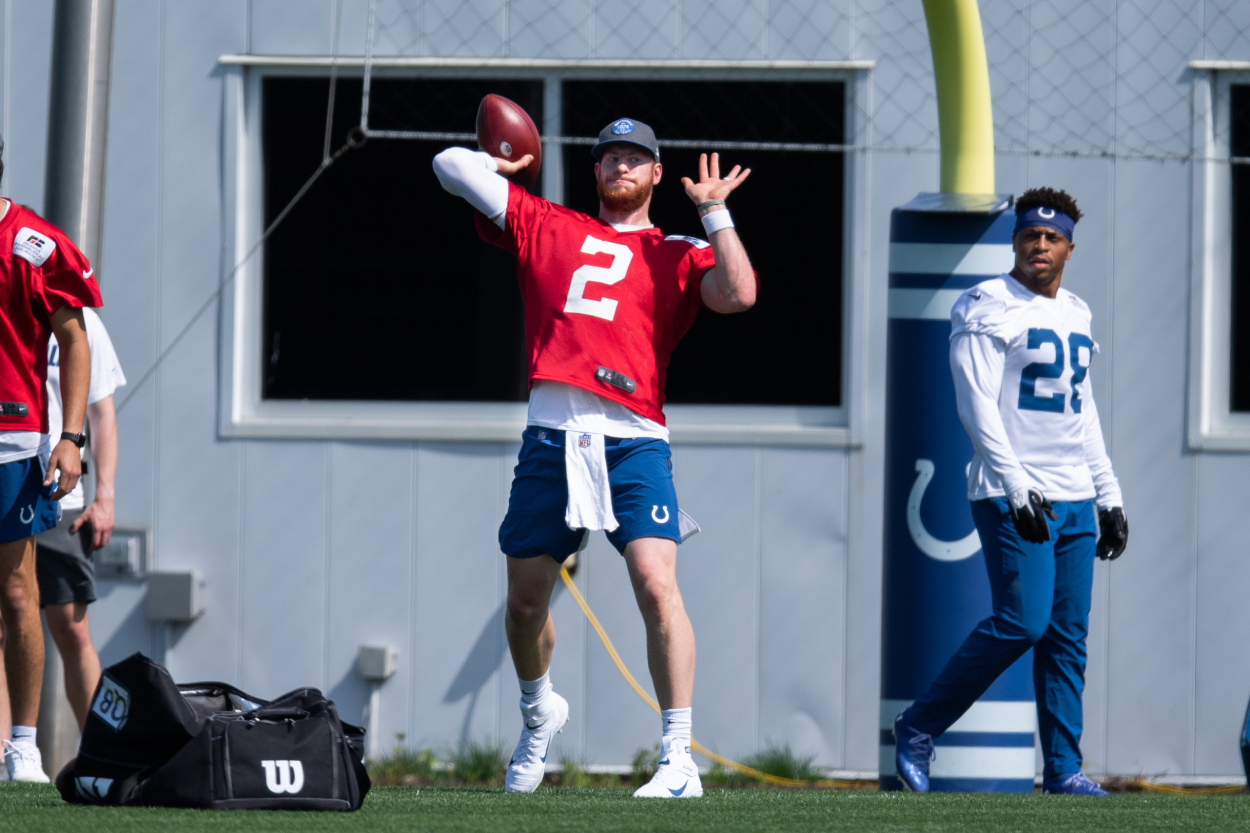 Carson Wentz's Offseason Move Could Help Him Have a 'Helluva Year' for the Colts: 'He's Worked His Tail Off'
Quarterback Carson Wentz is looking to have a bounce back year for the Indianapolis Colts in 2021. He is coming off the worst season of his career with the Philadelphia Eagles, and most likely wants to get back to the level he played at in 2017. Wentz's offseason move could help him do just that.
A few years ago, Carson Wentz had football fans saying he could become the next great NFL quarterback. Last season, Wentz was the punchline to many of their jokes, as his atrocious play with the Philadelphia Eagles confused fans everywhere. Now, though, with Wentz on the Indianapolis Colts, the quarterback looks to get praised again — rather than mocked.
So, what has he done to achieve that? According to a quarterback guru who has recently spent a lot of time with Wentz, his work this offseason could help him and the Colts have "a helluva year."
Carson Wentz worked with QB guru Adam Dedeaux in the past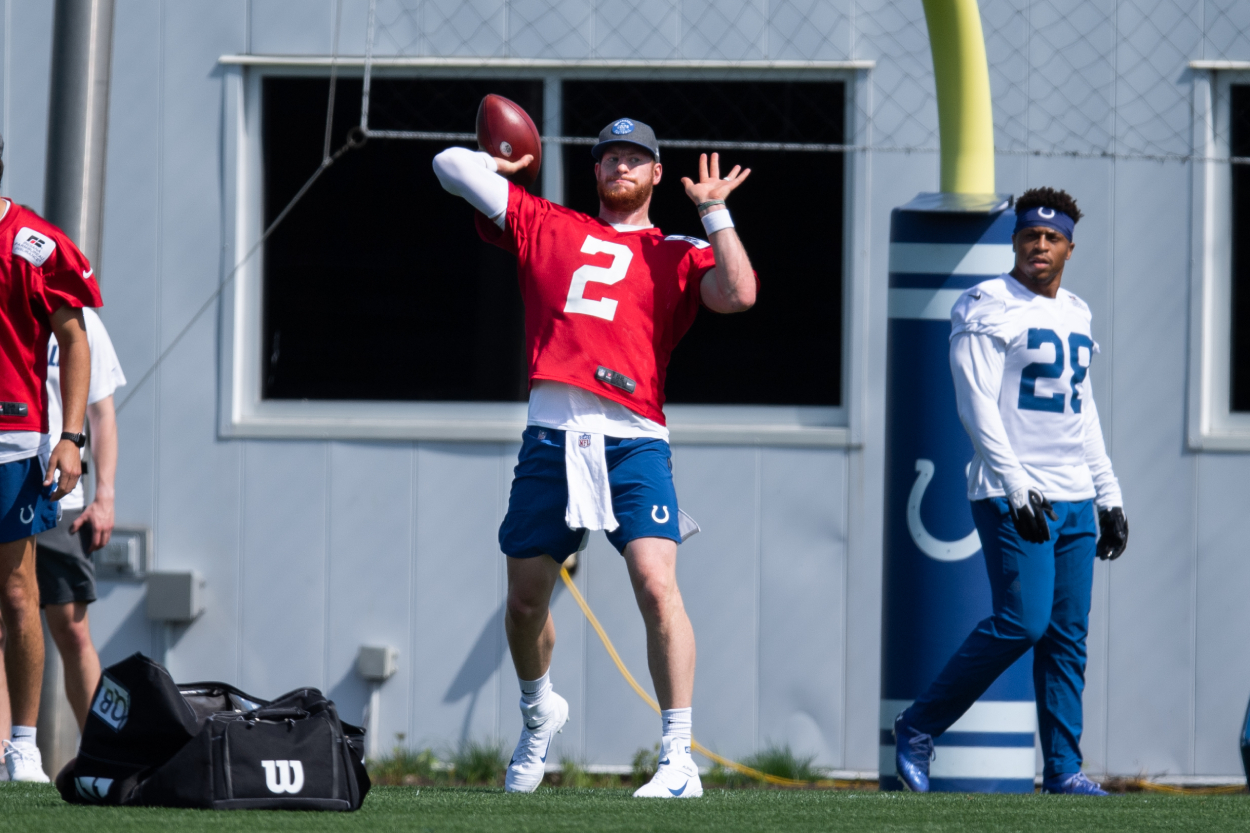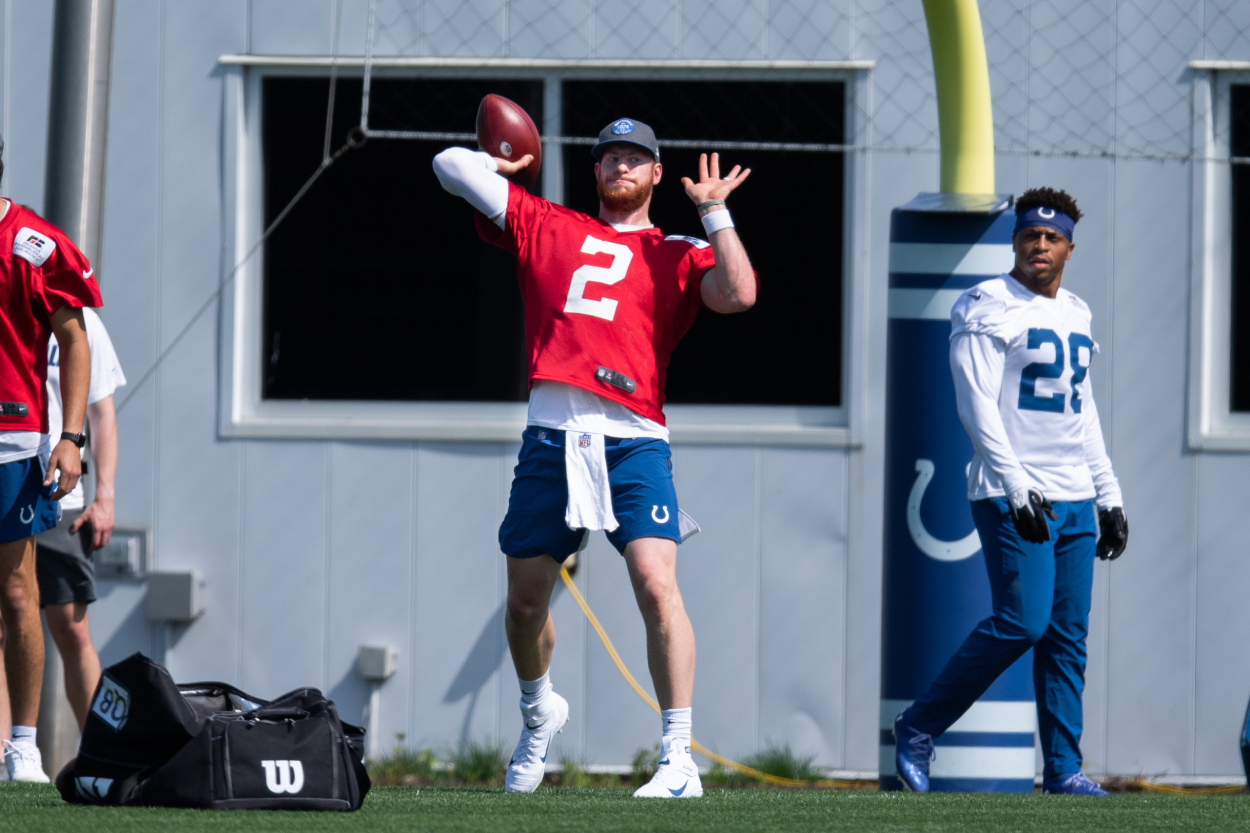 Adam Dedeaux is a quarterback guru who has worked with many top quarterbacks like Matt Ryan and Dak Prescott.
In 2017, Wentz started working with him while still playing for the Philadelphia Eagles.
"The biggest thing with Carson then is he was a big, strong guy but he would muscle balls. He would come up sore at times as a result," Dedeaux said, per SI.
According to Sports Illustrated, the way Wentz aligned his body and improperly used the lower half of it led to him putting a lot of pressure on his arm. So, to take the soreness away, Dedeaux worked on helping Wentz get his entire body to work together for him as a passer.
"We helped him get a better understanding of being more efficient, using his body correctly, and understanding mechanically what is efficient for him," Dedeaux said, per Sports Illustrated. "After that, a lot of the soreness he experienced went away."
Wentz then took this specific advice — and other advice he received while working with Dedeaux — and ran with it. He became one of the best quarterbacks in the NFL in 2017, earning Pro Bowl honors by throwing for 3,296 yards, 33 touchdowns, and only seven interceptions in 13 games.
Now, with the Colts, Wentz hopes to play at that level again.
The Colts quarterback has worked with Dedeaux this offseason
Since getting traded to the Colts, Wentz has resumed working with Dedeaux, the man who played a big part in his breakout year in 2017.
This comes after Wentz had the worst season of his career with the Eagles in 2020. He threw for 2,620 yards, 16 touchdowns, and an NFL-leading 15 interceptions in only 12 games.
"This was by far the most work and the hardest he's worked with me. He has not backed off one minute," Dedeaux said, per Sports Illustrated. "I'm having to make sure he is getting his breaks and getting his body right. I think he will have the opportunity to operate more efficiently this year."
Wentz and Dedeaux have been working together since February, and, as Zach Hicks of Sports Illustrated noted, Wentz doesn't seem to just be happy with being away from the Eagles; he seems more focused on playing well for the Colts.
"(He's) motivated to change a narrative that has been out there about him and his ability. Mentally, just in a much better headspace," Dedeaux said, per SI. "He's confident in what he's doing and confident where he is at. He's in the headspace where he knows there's no excuses anymore and he is in a place where he can go and succeed now."
He continued: "He's worked his tail off and I'm super excited for him. I think it is going to be a helluva year for him and the Colts."
Carson Wentz has the pieces around him to have a special year for the Colts
If Wentz's work with Dedeaux pays off, he can have an excellent year this upcoming season. Indy has him in a much better position to succeed than Philly did in 2020.
The Colts don't only have decent weapons in Michael Pittman Jr. and T.Y. Hilton, but they also have one of the best offensive lines in football that just added Pro Bowl left tackle Eric Fisher. What made Indy so successful in 2020, though, was their running game, as they had two talented running backs in Jonathan Taylor and Nyheim Hines. In 2021, they will return former 1,000-yard rusher Marlon Mack, so they'll now have three excellent backs.
Indianapolis also has one of the top defenses in the NFL with guys like Darius Leonard and DeForest Buckner.
Wentz has a lot to prove in 2021. Many people are expecting him to fail again. But if he can take the work he has put in with Dedeaux and run with it — like he did in 2017 — the Colts can have an incredible year and become one of the top contenders in the AFC.
Stats courtesy of Pro Football Reference